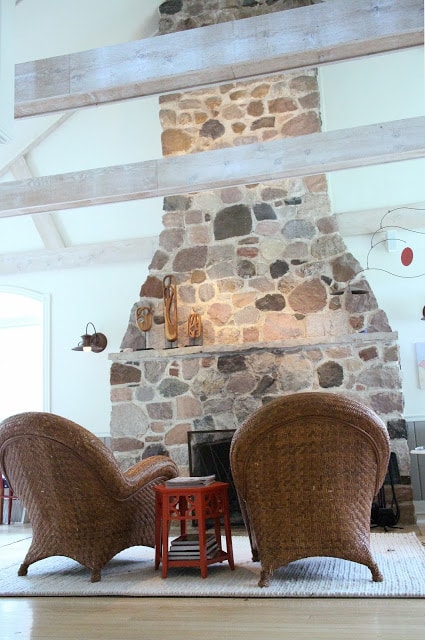 Pretty much the whole point of having a big fireplace is to decorate it for Christmas, right? So it was a big relief when last night we finished (for now) a project that will actually allow me to do that. Yes, I know it's December 20. I'm working on it!
I've mentioned before that I have a real problem decorating our mantel. Christmas is generally the exception to this, because if you pile enough greens on a mantel it will look Christmassy. The rest of the year is a challenge though.
While I like the stone mantel, it makes it very hard to set anything on it because it's always crooked so I end up sticking folded up paper under candlesticks and things to avoid having them look like the leaning tower of Pisa. Also, with all that stone in what is really not that big of a room, the whole thing can be a little overwhelming.
The man (who was our neighbor when we first bought the house) who built our house put in stone walls and fireplaces similar to ours in every house he built. You can often spot his work just by seeing them, so I would never do anything that would compromise the integrity of his work.
So I came up with the idea of a mantel "sleeve," which is basically just a box missing a side that slides right onto the existing stone mantel.
So here's the before: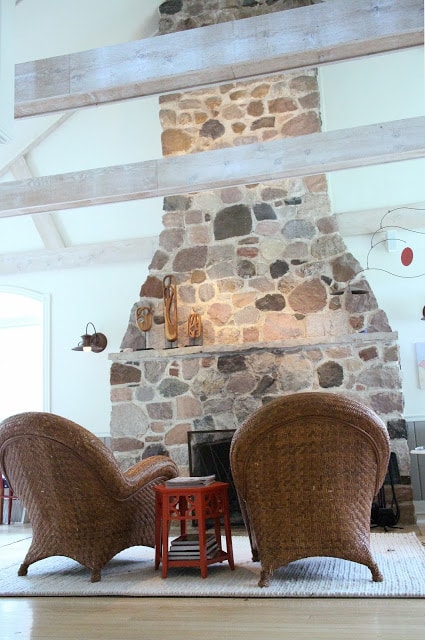 And here's the fireplace with the new mantel sleeve (in not nearly as nice lighting):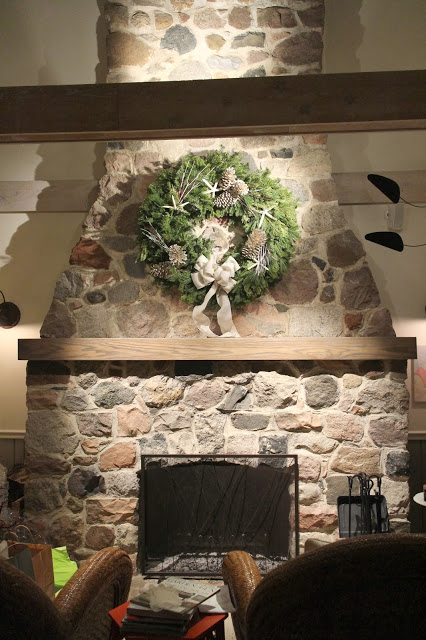 The hold up has been in the finishing, which is always an adventure to me. I love paint. If you paint something you know exactly what it's going to look like. But you never really know with stain. It's always a crapshoot. At least it is with me. And as with other stain projects, I probably did a lot of extra steps that I ended up not needing to do.
I'll run it down quickly for you. We used red oak to build it, only because the lumber options for such long pieces were limited. I think life would have been so much easier had we made it out of maple or beech, but I don't mind the oak.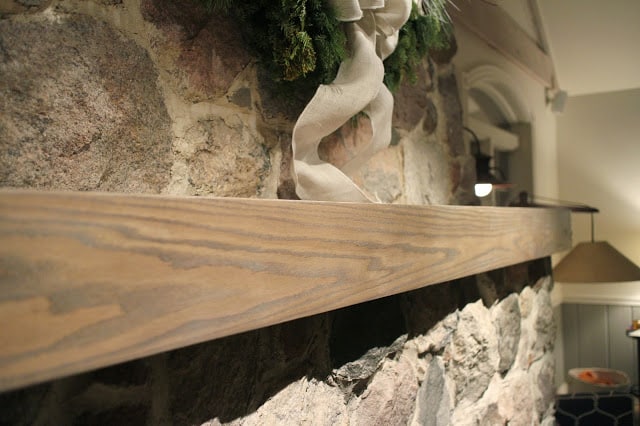 What I was really going for was a finish like this blogger did on a table. Unfortunately the instructions on how to get to that finish were a bit lacking so I did my best to interpret them. I also did a LOT of sampling on cut offs from the boards.
1. Sand the whole thing, making especially sure to sand off any glue that might not have been wiped off.
2. Fill the nail holes, cracks, etc. with wood filler. I'm partial to Timbermate, which I have only found at Woodcraft stores so I always order it online. It smells like Band-aids, but it never dries out and you can change the consistency by adding water to it.
3. By this point, I had decided that the grain on my test boards was just getting too dark in my stain samples, so I made a slurry with the Timbermate to use as grain filler. This helps smooth everything out even more, and hopefully would keep that grain from soaking up too much stain.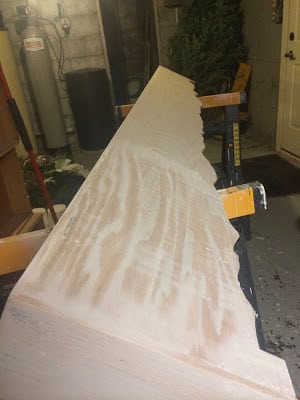 Just starting to sand after the grain filler had dried. (Notice the Christmas tree and wreath in the background!) You can also see how we (and by we, I mean Mr. Much More Patient) coped the back to go around the stones.
4. After letting the grain filler thoroughly dry, I sanded the whole thing down with 220-grit sandpaper and made sure to remove all the dust (wear a mask during this part because that grain filler makes dust almost as fine as drywall dust). I made a wash by adding water to Carrington Beige paint samples (I only needed two of the little 2 ounce sample bottles), applied it quickly and wiped it off. The idea was the pull out some of the pink tones that red oak has.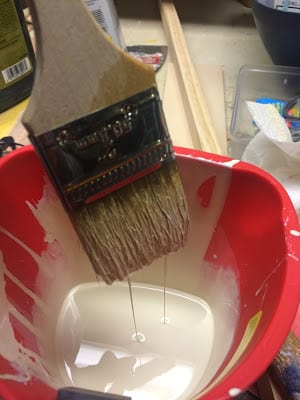 This was the consistency of the watered-down paint that I applied first.
5. Then I applied two coats of Minwax Classic Gray stain.
6.We took the mantel upstairs and tried it out and I didn't like it.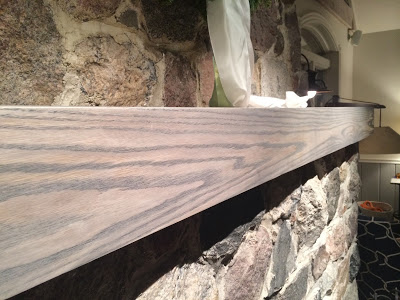 This was try No. 1 on the finish. I didn't care for it. I also changed the bow on the wreath!
7. So I sanded it all down with 220 grit again, and repeated the grain filler step (I don't really know why to be perfectly honest). I wasn't trying to start from scratch, but rather build upon what I already did.
8. Using a mixture of Classic Gray, Special Walnut, Driftwood and Weathered Oak stains (when you don't know what to do just throw 'em all in there and see what comes up, right?), I applied two coats of stain.
9. I did a light sanding, then applied one coat of Minwax Fast-Drying polyurethane in a satin finish.
10. Sand the whole thing with 400-grit sandpaper after the poly is really dry.
11. Normally you'd put on another coat of poly here, but I was running out of time and wanted to make sure I liked it before I really sealed the deal with more poly. After Christmas I'll put on another coat if I'm still happy with the look.
I'm really looking forward to decorating the mantel tonight, all while brainstorming what I'll do there after the holidays. What do you think? Are you partial to the original mantel or do you like the new twist?