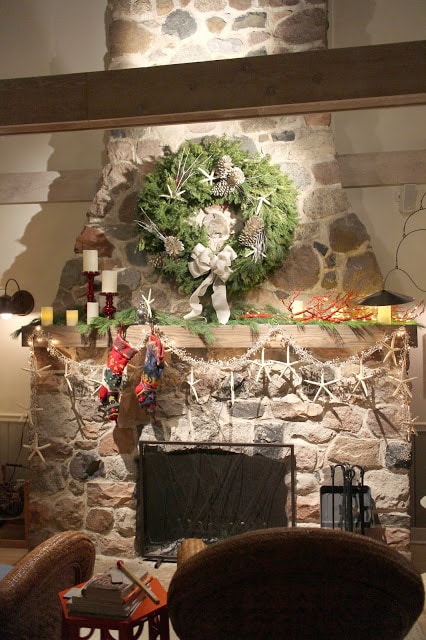 It's Christmas Eve. What's done is done and what is not done will not be. All that's left to do at this point is enjoy the holiday.
The last week and a half has been full of late nights for me as I tried to catch up on getting ready for hte holiday, so it's no surprise that I was running around the house taking pictures at 1 a.m. to show you a bit of the decorating around the joint. So let's get on with it, shall we? Because if you are nice enough to be spending your Christmas Eve looking at this blog, I'm not going to make you sit through a wordy post.
The Christmas tree is elderly dog friendly this year. I got a zinc pot (it will be home to a boxwood come spring) and cut down an $8 tree stand to fit inside it, then stuck the tree in there and cut off the bottom branches. The tree is still at least 9 feet tall, maybe 10, but Hudson can walk underneath it with no problem and because it's super skinny it takes up very little room.
Somehow I have lost the star for the tree. I have no idea how that is possible, but I officially stopped looking for it on Sunday. So this year there is just a bow and I'll search the after-Christmas sales for a new one.
I wanted something plaid for a tree "scarf" and the cheapest thing I could find was a set of flannel sheets at Target. I used the flat sheet around the pot and the fitted sheet went on the dog bed so it would match!
I made a felted ball garland this year. It was super easy (I bought the balls on Etsy rather than making them myself), but I think it kind of gets lost on the tree.
I hung large plastic ornaments from the beams. Super easy and adds a bit of Christmas without it feeling like the ceiling is falling on your head (which is why I've never liked the idea of putting garland up there).
The old balls-in-glass-container always works well. This year I threw some greens in there as well. This one, which has a fishing float in it, is in the living room.
And this one is on the kitchen table.
I finally took a better picture of the swag this morning.
That's it, folks. If you celebrate Christmas, I hope you have a very merry one. And if you don't, I hope you have a good time at the movies 🙂
May visions of sugarplums dance in your heads tonight and may you have a wonderful holiday filled with great memories.