I'm not one to draw projects out. When I get set on doing something I like to focus on it like a laser and pound it out until it's finished. I'd rather wait until I can do all of it exactly the way I want to than take it by bits and pieces or settle for something I don't really love because what I really, really want isn't in the budget at that time.
But for various reasons, that approach wouldn't have worked when it came to dealing with our garage. Never a very good looking building, we toyed with the idea of tearing it down completely for a time. But when it became clear that really wasn't in the budget, we set to improving it little by little over the past few years.
Last week we put what is hopefully the last major finishing touch on the garage that has helped take it from a pretty pathetic looking structure that you'd be hesitant to park your car in, to something that I think looks far more charming than it really is.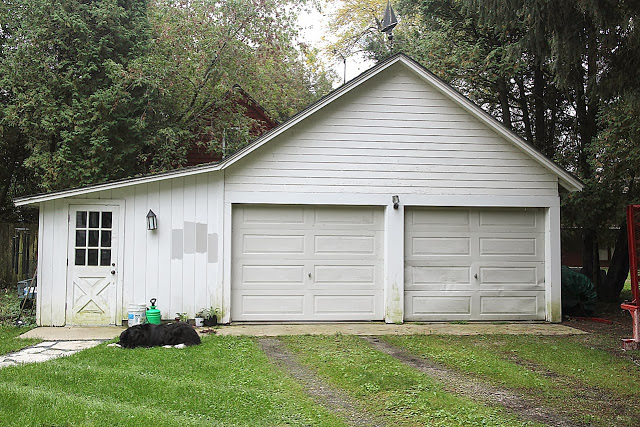 October 2013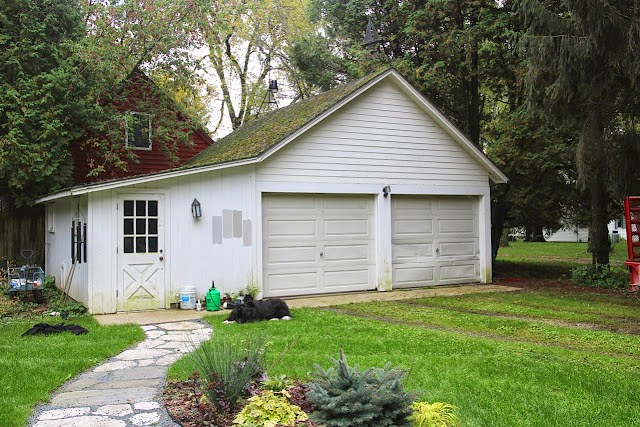 It all started three years ago almost to the day when out of seemingly nowhere, I decided I was sick of looking at a wreck of a garage, especially after we did so much work to renovate the house.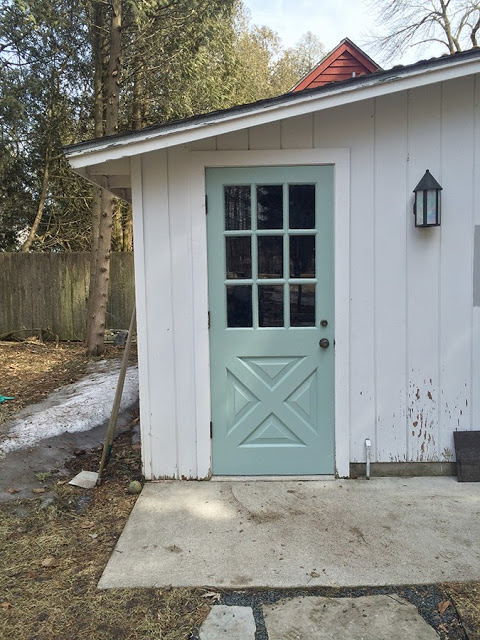 April 2014
The following spring very little progress had been made, but I satisfied my urge to do well, anything, by painting the door Benjamin Moore Wythe Blue, a color I'd been dying to use somewhere.
Later that spring we had the garage reroofed (which I can find no photos of) and that helped the look of the whole thing tremendously. We also got the driveway paved, which wasn't really on my radar but was something that Mr. Much Patient had pushed for for a long time (and in retrospect it was a good call).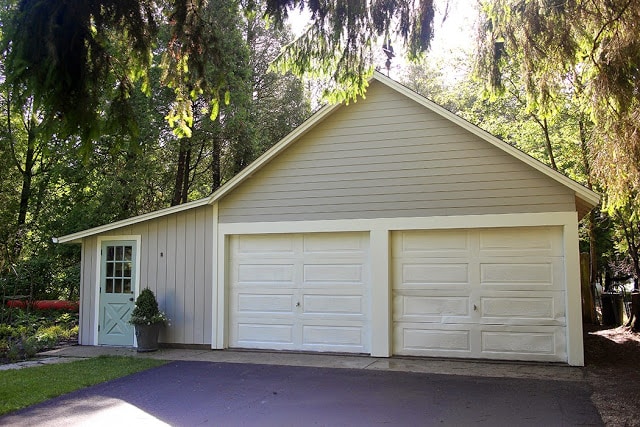 July 2014
A few months later we hired a painter to paint the garage. At first I wasn't sure I loved the color (Benjamin Moore Ozark Shadows with Simply White trim), but you great blog readers encouraged me to live with it a little and that's a good thing because now I quite like it. At this point I was feeling like it was looking much better but still a bit plain.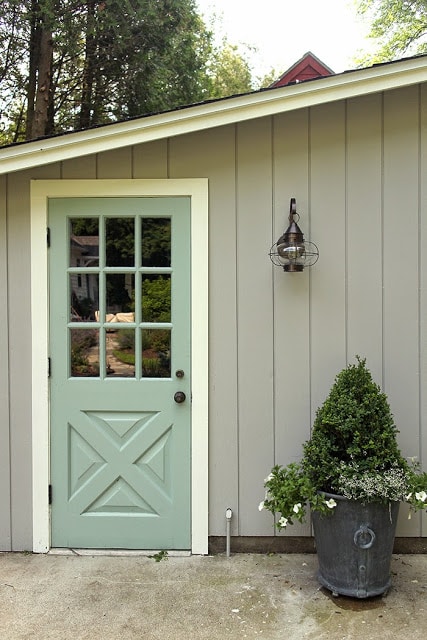 July 2014
Then we stuck a new light on it. A really small change but certainly another little improvement.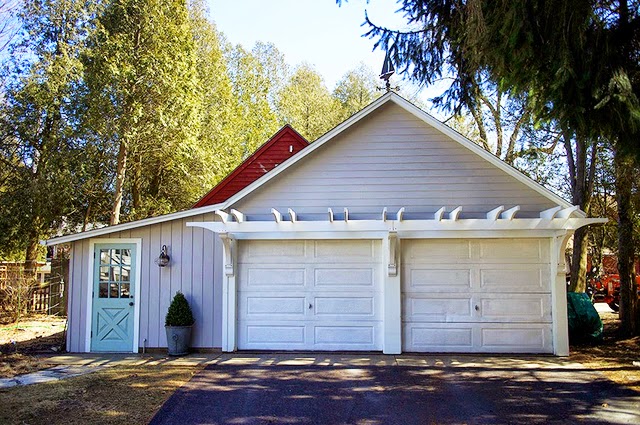 April 2015
It sat like that for several months until the following spring when we built a small pergola on it to match the pergola on our deck. Of course Mr. Much More Patient still doesn't understand what the point of it is (answer: to look pretty, obviously), but I love it.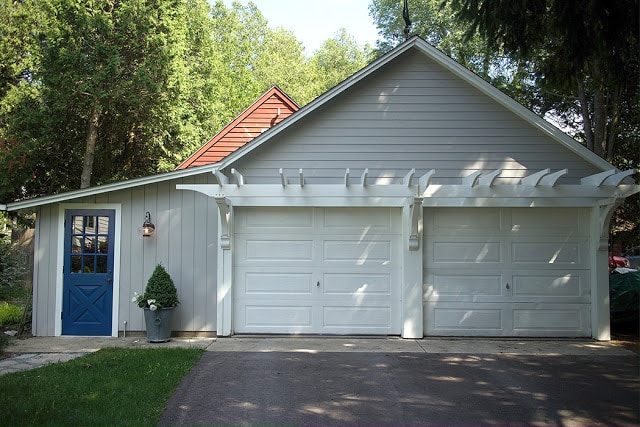 July 2015
Later last summer I decided that the Wythe Blue was never really right and I repainted the door Benjamin Moore New York State of Mind. Ah … that's much better.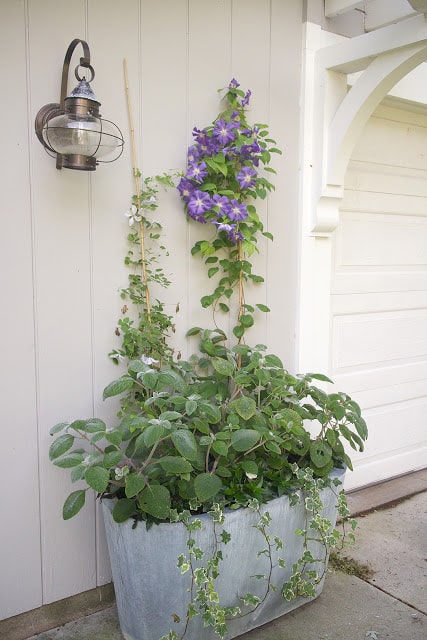 July 2016
This spring I bought a new planter for near the garage and slid the boxwood between the doors.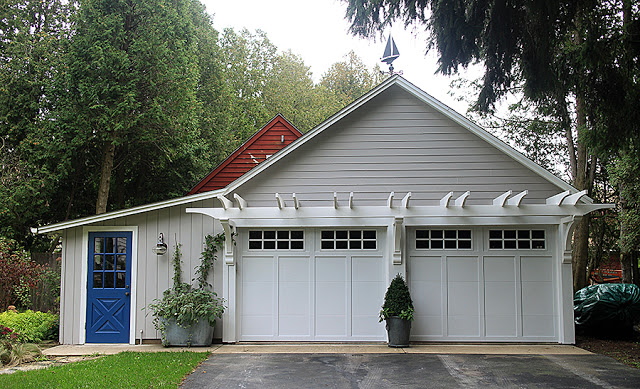 And then last week we finally did what I've been waiting ages for: We replaced those ugly, dented garage doors. I'll write a full post about that process (we did not install them ourselves) soon. For now, I'm just basking in the beauty of a garage that somehow went from pretty horrible, to pretty darn good. Fixing it up over three years never would have been my choice, but it actually worked out OK, and by spreading the cost over several years it doesn't seem like nearly such a big hit.
It's funny, since it took so long to get to this point it doesn't feel like it really changed that much, but check out this before and after.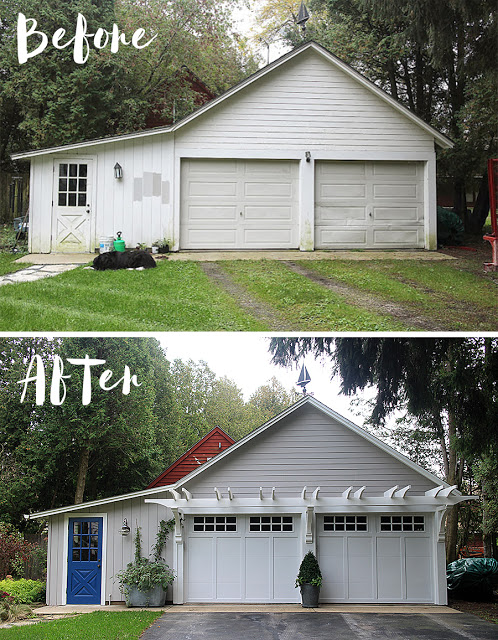 Yep, that looks just a little better. And having two garage doors that work isn't so bad either.