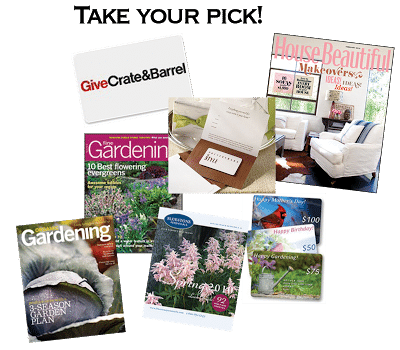 I n celebrating this 100th post on this blog since April 27, 2009 I thought a long time about what sort of giveaway I should do. Maybe give away 100 of something. A hundred plants, 100 bucks, 100 … um … paint samples (actually I'm getting dangerously close to being able to do that one, ever since the local Benjamin Moore dealer started offering mini-cans as samples).
All of those seem a bit impractical. I don't have a lot of readers, but those you who do stop by to check out the latest post are pretty loyal, and I love reading your comments and suggestions, not to mention checking out your personal blogs.
I thought you all deserved a little reward for hanging in there with me through two blog redesigns, not to mention a slight shift in focus when I ran out of gardening stuff to write about this winter.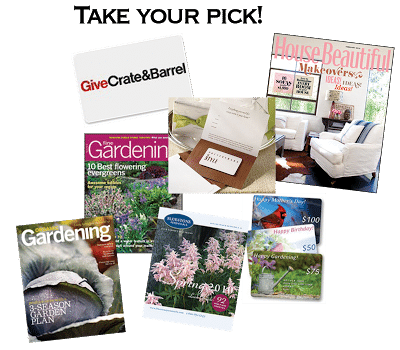 So I'm giving away one of the following, which you'll notice are all a bit like this blog: a little bit garden, a little bit home:
$30 gift card to Crate and Barrel
$30 gift card to Gardener's Supply
$30 gift card to Bluestone Perennials
$25 gift card to Pottery Barn (they don't have $30 gift cards there)
One-year subscription to Fine Gardening magazine
Two-year subscription to Organic Gardening magazine
Three-year subscription to House Beautiful magazine
Here's the disclaimer: If you are located outside of the U.S., you're only eligible for the first two.
Here's how to enter:
1. Follow this blog if you're not already
2. Comment on this post with which prize you'd like
3. If you don't have a blog I can contact you through, please include your e-mail address so I can let you know that you won!
For extra entries, just blog or tweet (or both) about this giveaway, then come back and make another comment (or two if you did both).
Entry closes Sunday, January 17 at 8 p.m. CST. I'll pick a winner using random.org.
Thank you all for reading. I'm having a lot of fun with this blog, and I hope you're enjoying it as well.