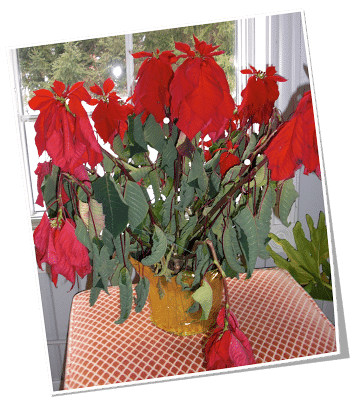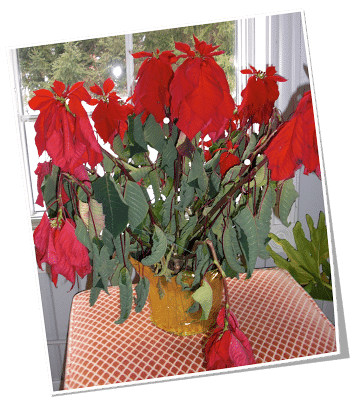 A nyone remember Urkell from that annoying sitcom? The geek who wore his pants pulled up a foot past his belly button and said in a nasal-filled voice, "Did I do that?" That's what's going through my head as I look at this picture.
I can't help it. I'm a murderer. A plant murderer. The irony here is that I have hundreds (thousands?) of plants that I tend to, talk to them (yep, I do, sometimes at least), and WILL to live. Yet every year I knowingly and willingly kill a plant.
I pity the poinsettia that has the rotten luck to be picked up by me in mid-December. It has done nothing wrong. All it does is show off its bright colors, attaining a great display of holiday glory. And for a time, I treat it with the respect it deserves. But then the holiday passes. The Christmas tree comes down. The decorations are boxed up. And there's the poinsettia. Still looking as perky as the day it came to its new home.
And it's the last thing in the world I want to look at.
So one day I'll look over and see that it looks a little limp. And I know it needs water. But I walk past. Sure, I feel guilty, but it passes. It will happen again, the next day, and the day after that. And then finally it's obvious.
It has passed.
Gone to plant heaven.
I suppose there would be more humane ways to accomplish this mission. I could chop it off like you might when dealing a death blow to a lobster. Apparently my mother-in-law once put an ill hamster in the freezer in an effort to ease its suffering until the inevitable happened. I suppose I could have, um, forgotten it outside.
I do feel guilty begging Mother Nature to save my prized plants and then allowing another to die just because I can't stand looking at it anymore, but I think this is something a poinsettia is just going to have to accept. In the past week I've met three other people (all master gardeners) who admit to poinsettia homicide of some degree.
Anyway, it is done. Whoops.
————————————————————————————-
A quick reminder: Don't forget to sign up for my
100th post giveaway
. At this rate, your odds are REALLY good!