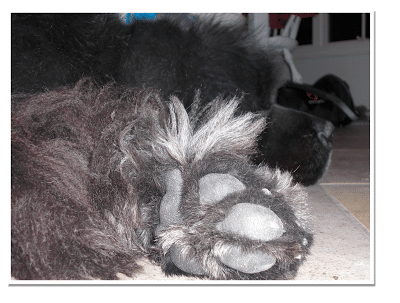 I think I predicted this was going to happen. If you recall I was on the search for a "named" white for the trim in our house. I did a bunch of testing and it turned out that Benjamin Moore's "Cotton Balls" seemed to be very close to our existing trim color, but maybe a touch brighter. The idea was that I could repaint trim as necessary without having to repaint all the trim in the house.
The back door has been in major need of a paint job for several years now. We taught the dogs to ring a string of bells hanging from the back door when they need to go outside, rather than encouraging barking or worse yet … not telling us at all. And that was a great idea and I'll probably do it again with other dogs because I now have the "mom hearing"thing going where I can be in the deepest possible sleep upstairs and I will immediately wake up if I hear the bells. The problem with it is that one of our dogs chooses to ring the bells with his paw. It is a big paw. I believe this paw is responsible for the removal of most of the paint on the door.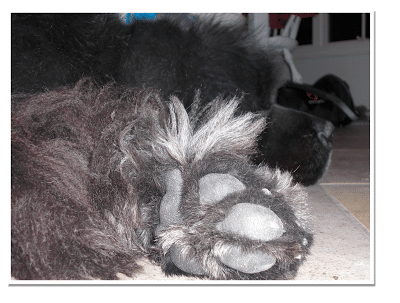 Couple the big paw situation with the fact that this is the entrance and exit we use 99% of the time. That's two people and two big dogs going in and out most of the day, every day, and well, just how long is paint supposed to last anyway?
Anyway, I sanded, filled all the holes, primed and painted the door and the door frame (I still need to do the grill) over the weekend. And then I stood back and looked at the window about 10 inches away from it. Which now looks like it is trimmed in gray. Of course this is in the kitchen, and as far as I can tell right now the cabinets are painted the same color, more or less, as the trim. So if I start working my way around the room painting the trim, at some point I'm going to end up at the cabinets, and while giving them a fresh coat of paint needs to happen at some point, it wasn't a project I planned on undertaking this year.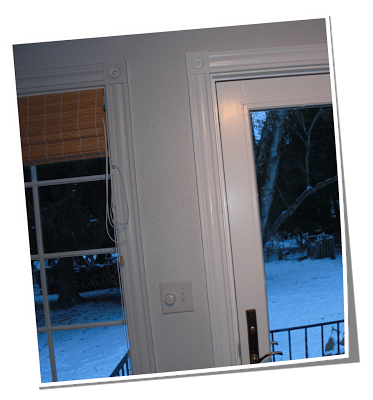 I'm not sure what I'm going to. I think I might be able to get away only painting the window next to the door and once I put some color on the wall (leading contender right now is BM's "Revere Pewter") I think I might be able to get away with not painting the rest of the kitchen.