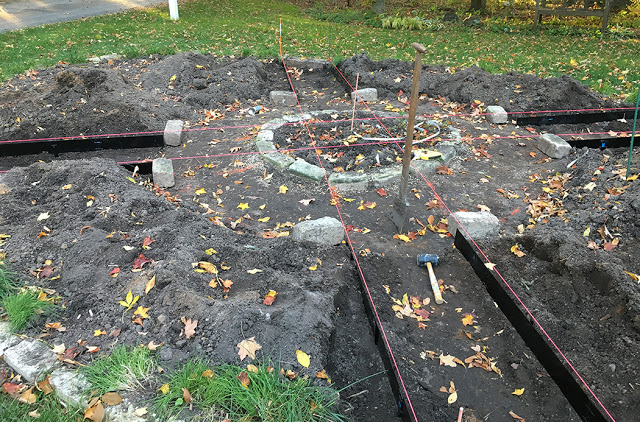 We were blessed with yet another gorgeous autumn weekend here. I can't say enough about how wonderful the weather has been for most of this year, but I feel like we deserve it after two really cruddy years. I'm still gardening in shorts most of the time and I can't think that's common for this time of year at all.
In an effort to keep you up to date with the oval circle garden progress, I thought I'd just give you a quick peek at what was happening this weekend. Frankly, I'm in full-on scramble mode, so I've not been taking much time to take pictures (or do anything else, like clean my house), but I did snap a few here and there.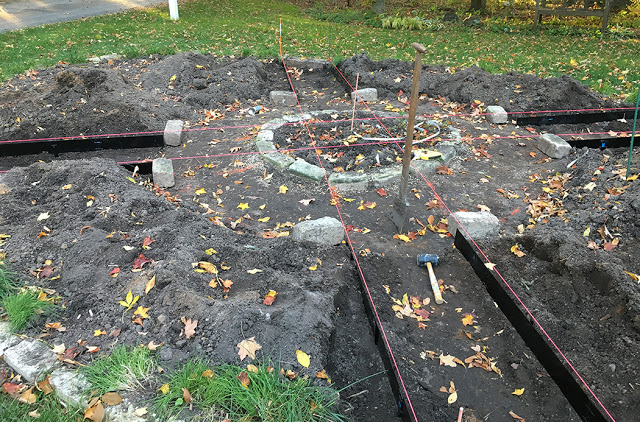 You can see how the paths are coming together here. The random cobblestones more or less show where the inner circle path will be.
The big project in the ongoing circle garden ordeal was to install the metal edging. As I mentioned, I found it at Lowe's for about $10 per 8-foot piece. I bought extra stakes that are a foot long and really much better than the ones that come with the edging. I didn't really even bother with those. I have also ordered some end stakes for the inside ends, but those should be easy to put in.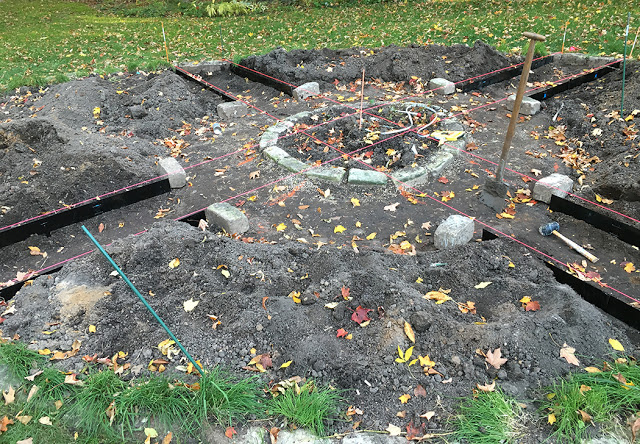 From this angle you can see that the two side segments are going to be quite small. I may have to alter the design to accommodate that.
Mr. Much More Patient was in charge of cutting using a jigsaw with a blade for cutting metal and I handled the rest. The process wasn't difficult …. just a matter of leveling each piece from end to end and then with its partner on the other side of the path. I didn't bother with leveling each path's edging to the other paths. That would be impossible and the gravel will accommodate small changes in level.
The next step will be to install the paver base and the gravel, but first I have to dig the inner path around the circle down a little bit.
As the paths become more real, I'm seeing that the side segments are quite small, which may require some changes to the design. Fortunately I have all winter to think about that.
I also spent a little time this weekend being thankful for whoever invented the bulb auger. Last spring Mr. MMP said he'd love to see the woods full of daffodils, and I told him that was no problem so long as he would help plant them. With him running the auger and me putting the bulbs in and covering them over, we cranked through 200 bulbs in less than half an hour. Earlier in the day I planted 45 alliums in an hour and a half using a traditional bulb planter. Clearly the auger is the way to go.
And the last exciting tidbit from the weekend is a find that I'm super excited about. I've been so thrilled with how the rose I'm growing in a container is performing that I decided I'd like to grow a few more that way. My plan is to put them on the corners of the driveway apron where it meets the patio, but of course this requires a pair of matching containers of some size.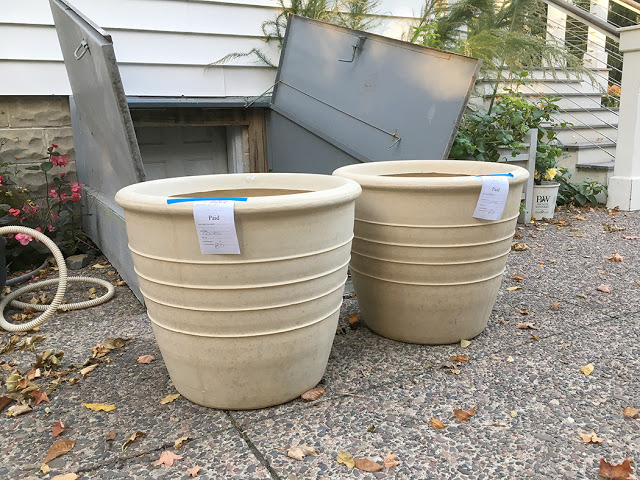 Here's the pair of planters I snatched up at a great price. I'll need to change the color though.
Although I went to the Restoration Hardware outlet store looking for a bed (I really want an upholstered bed, but that is really another issue all together), I swung by their outdoor area and saw a matching pair of their Adamo cast stone planters in the medium (24-inch) size. These babies go for $369 each on the website (really, RH? You need to get real with your pricing!), but they were marked down to $100 each at the outlet, plus there was an additional 30% off of everything that day, making them just $70 each. The color, called Honey Lemon, is sort of a light buff color and not my favorite at all, but I think I'll be able to stain them a gray color. I can't tell you what a relief it is to have found these at a great price. I struggle each year to find good containers and I feel like I often overspend. I'm envisioning a white rose in each pot with annuals around the edge.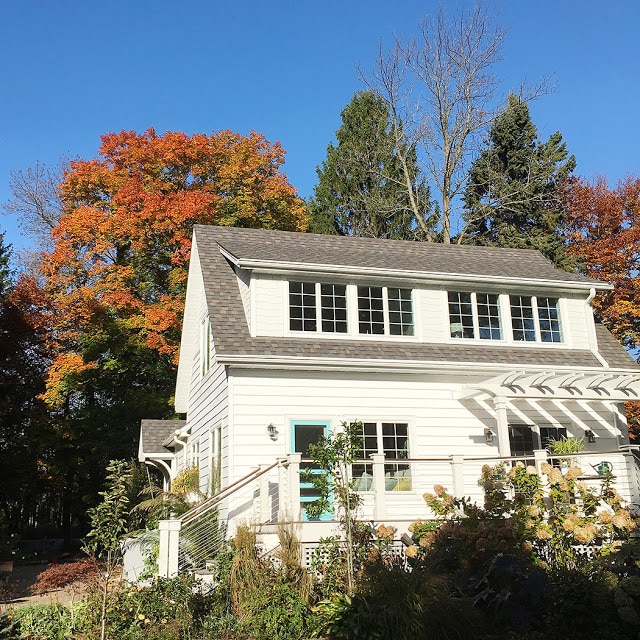 Oh, and my favorite maple tree is starting to put on a show. I shared this photo on Instagram because even people who aren't too happy about autumn, like me, can appreciate that kind of beauty.