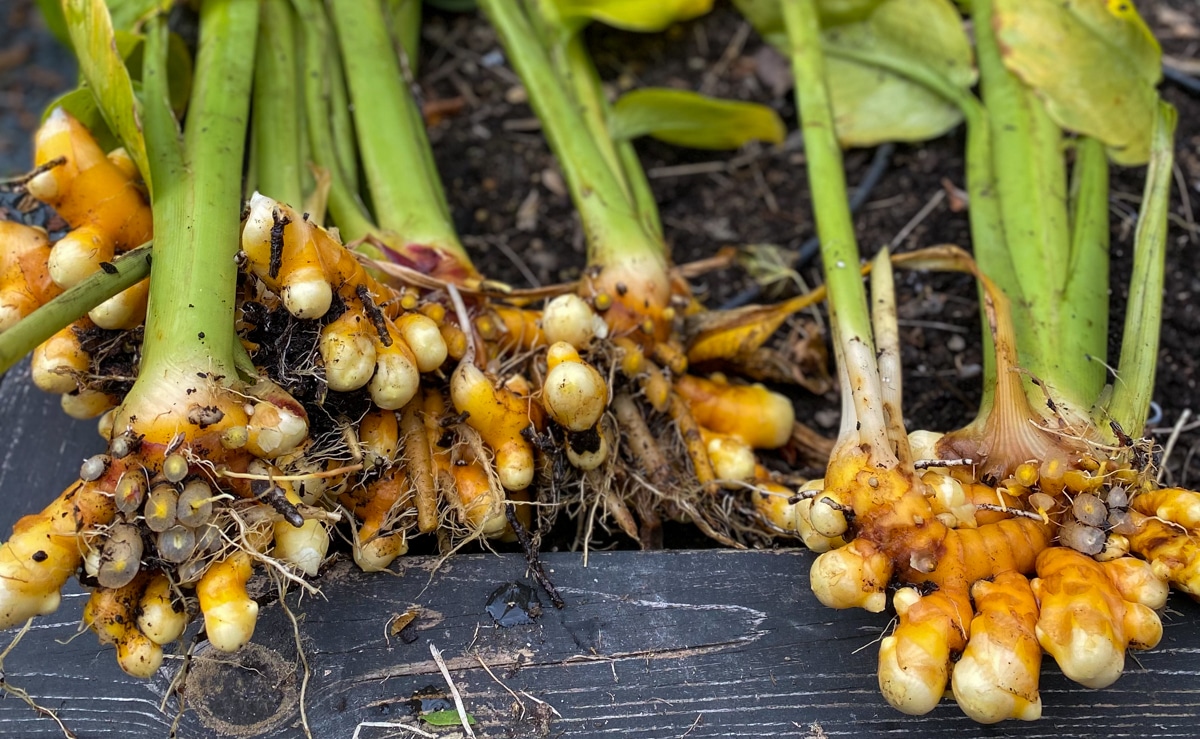 Growing oddball plants—those plants that aren't commonly grown in the area—is almost always rewarding. Since there is no real way to measure success, any sign of a plant doing what it's supposed to do is chalked up in the win column. In other words, I keep my expectations low and hope to be pleasantly surprised.
That was my plan in February when I started growing turmeric, but I didn't expect it to be the most beautiful plant I grew this year. 
I pre-sprouted turmeric and ginger bought from a Hawaiian company specializing in selling "seed" tubers about a month later than I should have. After several weeks in a shallow tray of moist soil on a heat mat, the sprouted tubers were potted up in 4-inch pots and grew under lights until June, when it was finally warm enough to move these tropical plants outside.
CONVERSATION STARTERS
I like a garden to have good talking points, which the ginger and turmeric growing in raised beds provided by mid-summer. And soon the turmeric grew into a beautiful plant; one that commanded attention not just as an oddball in the garden but as a stunning foliage accent. Its leaves, stretching more than 3 feet tall, looked like perfect lime-green canna leaves, but were devoid of the tattered edges cannas tend to sport after being assaulted by Japanese beetles. 
I had declared turmeric to be a garden-worthy plant that deserved a spot in the ornamental garden as the perfect bold foliage accent before I had any idea if it would produce any edible tubers. Frankly, I didn't expect it to. They usually need about 10 months of growing time before they can be harvested but a late start meant I had to pull them earlier than I would have liked. 
WHO KNEW?
As I unearthed them last weekend, scraping carefully around the roots so as to not break off any tubers, I couldn't believe what came out of the soil at the base of those gorgeous leaves: the most stunning orange hued clumps of tubers. Only a gardener could call a tuber beautiful, but I assure you, it was. And although I have no experience to base it on, I think it was a pretty good harvest.
I'm saving some to be eaten fresh, but the rest of the turmeric will be dehydrated and ground into turmeric powder. It should be noted that turmeric powder is easy to find and not expensive, so I'm mostly making the powder to feel smug about my gardening prowess. 
When I think of all my garden produced this year, from giant dahlias to exotic lotus flowers, it turns out that a lowly tuber will top the list of the most beautiful thing I grew.
Check out this video if you want to see the "unearthing" (as well as some garlic planting and a bit of tidying up in the vegetable garden.)