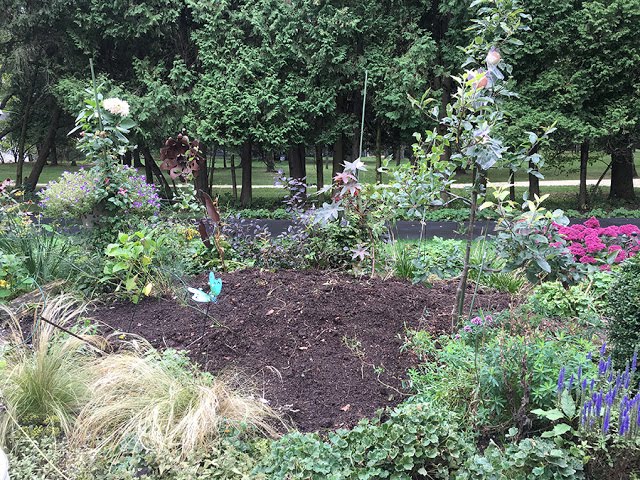 Much of the past decade of gardening at my house has been an alternating pattern of creating new gardens and improving existing gardens. A couple years ago I realized that I probably have as much garden square footage as I can handle (and frankly probably too much) at this point in my life, so my focus has shifted to refining the existing gardens, some of which were installed in haste and not well thought out.
I don't regret just getting on with those gardens, because as we know, gardens are ever changing, one of many reasons why gardening never gets boring. I've made no secret of the fact that some of the first gardens I created were not really designed at all, but had random plants plunked in them. Now, as I revisit those areas, I'm taking a much more conscious and measured approach in my plan. My color and plant palette is more restrained (although still probably not restrained enough) and I give much more thought to plants selection.
Last fall I cleaned out a large section of what I call the patio garden, the most prominent garden we have. For years, much of that part was filled with rudbeckia and anemones that were allowed to spread out. Both are excellent plants that I wouldn't be without, but I struggled to make them work in that location and constantly struggled with plant combinations. I incorporated a fair amount of compost and leaf mold to refresh the soil there so a blank slate will await me in spring.
It looks like a complete mess in this photo that I took in fall, with overgrown annuals surrounding it. But I have a vision of a more refined space.
Although I've not worked up a complete planting plan for the area, I've selected three plants that will make up a bulk of the planting there (and that I'll repeat farther east in that garden).
The first is Amsonia hubrictii. This is not a new plant. In fact it was the perennial plant of the year in 2011, but for whatever reason I didn't take note of it then. Then last year, I kept running into it at various gardens and couldn't get it off my mind. It's the foliage that I love. Wispy, threadlike leaves create a cloudlike texture that I love. And it turns a brilliant yellow in fall, which will provide some much-needed color in that part of the garden.
Side note: The Chicago Botanic Garden did a plant evaluation of hardy amsonias. These are amazing resources so I always look for them when deciding what to plant.
• • • • • • • • • • • •
The second plant is Calamintha nepeta 'Montrose White'. Again, it's not a new plant, but was one I wasn't familiar with until last year when I attended a talk by designer Carrie Hennessy from Johnson's Nursery. It was named by Mike Yanny (who is responsible for developing some amazing trees and shrubs), whose wife got it from Montrose Nursery and saw how it thrived. It's deer resistant, doesn't flop, gets no more than 18 inches tall, and is said to bloom from June through frost. It's also sterile and is said to root incredibly easy from cuttings. What more can you ask for in a perennial? I've said it before and it still holds true: The bones of a practical garden need to be no-nonsense plants. That doesn't mean you can't have divas, but they can't all need coddling.
• • • • • • • • • • • •
And lastly, I think I'm going to put in some Hydrangea serrata Tiny Tuff Stuff. I was excited when this plant was introduced last year (or maybe the year before) and everything I've read about it seems positive. I felt like the amsonia and calamintha really needed something with a coarser texture in order to show off their finer texture attributes, and this hydrangea, which is small in stature, still has nice big, thick leaves.
This won't be it, of course. I'll need some taller elements and maybe something a bit spiky or strappier. I think Verbena bonariensis would look great dotted amongst them, and perhaps some 'Howard David' dahlias would work. But these three will be the foundation for that area, one I'm comfortable with for their numerous traits and low-maintenance nature.
What's most important to you when it comes to choosing new plants to add to your garden?