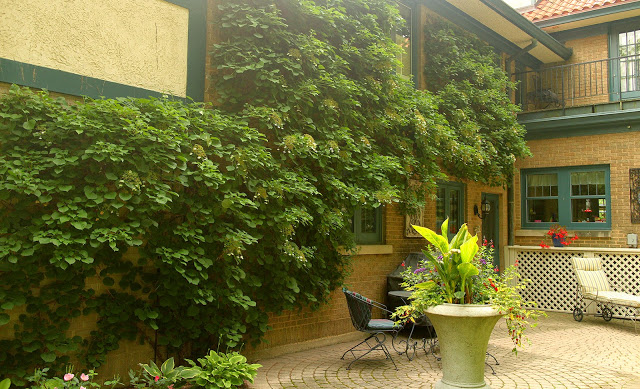 Vines can be misunderstood members of the plant world. We want them to grow quickly but not too quickly. We want them to grow in places where nothing else will grow, except there's usually a really good reason nothing else will grow there. We want them to boldy grow up structures but to respect those structures.
In other words, gardeners want it all. I get it. I am one of them. I don't believe there is such a thing as a perfect vine, but there are some that are pretty great.
And if you can get past a couple negatives, climbing hydrangea (Hydrangea anomala petiolaris) is certainly one of them. It has beautiful heart-shaped leaves that are dark green in summer and turn a stunning brilliant gold in fall. Large white flowers can cover most of it. It will grow in partial to full shade. And it gets big.
With all that going for it, what could possibly be wrong with it?
Well, for starters, it's slow. It takes a good three to five years for a climbing hydrangea to really get climbing (this is from the size you buy at the nursery to start). I've read more than one comment from gardeners complaining that their climbing hydrangea just doesn't do anything. But it will. Keep the faith.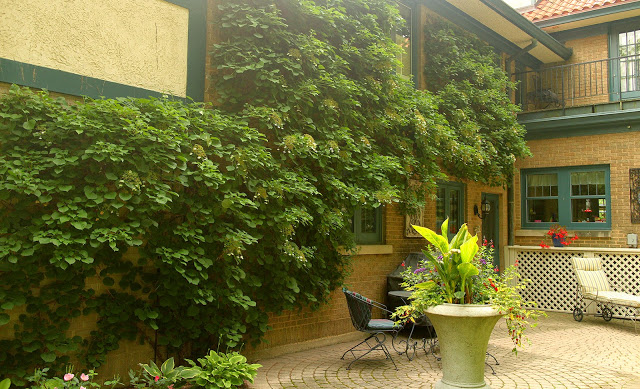 Yes, this is one hydrangea, climbing up the west side of a local house.
It is also borderline aggressive. I would never call it ill-mannered (it certainly not like a trumpet vine that will move into your house with you and start charging you rent), but it is strong. It attaches to the structures it uses to climb with aerial rootlets that can get quite large and get quite a hold, so this isn't something you grow up a regular old trellis. You should think twice before growing it up the side of a house, although don't rule it out entirely. The most beautiful climbing hydrangea I've seen covers the entire west side of a brick house in town. A blogging friend told me the sad tale of a gorgeous one growing up her neighbors' house that was summarily removed by the people who moved in. The previous owners of the house simply peeled it back off the siding when it was time to paint, she said.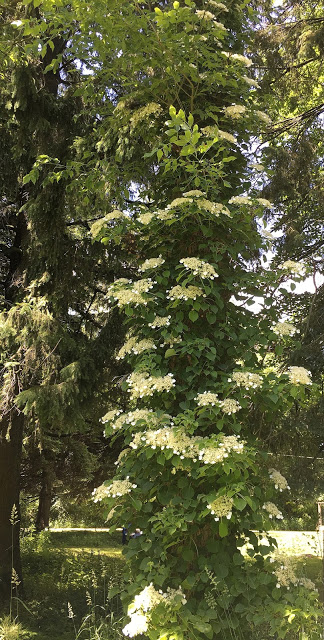 This climbing hydrangea ties a large ash tree in with the garden.
My favorite place to grow a climbing hydrangea is up a tree where it is sort of a sleeper. You plant it and sort of forget about it for a few years and then all of a sudden you look up one day and it's climbing up. It's the best way I can think of to bring height to a corner of a garden or easily connect a tall tree in the garden to the garden proper.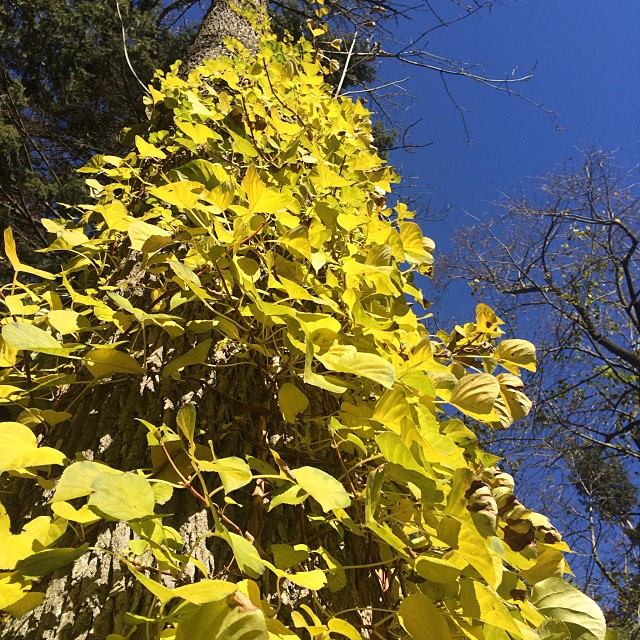 The climbing hydrangea growing up a tree next to the garden looks great in autumn.
I have a climbing hydrangea growing up an ash tree that will likely succumb to emerald ash borer at some point. If that does happen I'll cut the tree off on top of the hydrangea, rather than lose 10 years or so of hydrangea growing.
Although I love it when it blooms, I think I love it even more in fall when it glows against the deep blue autumn sky.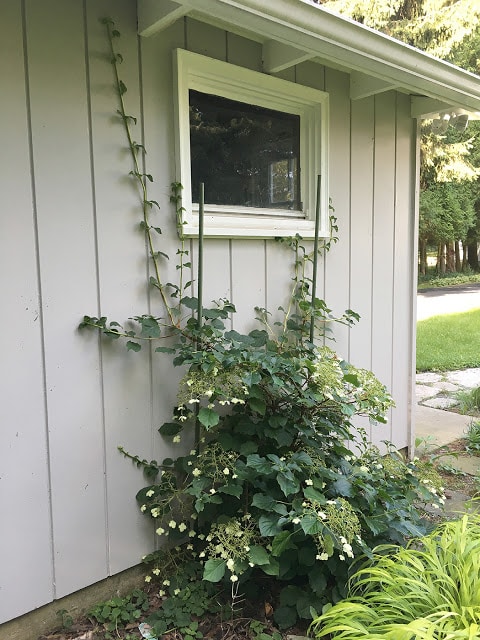 A couple years ago I planted another climbing hydrangea on the north side of the garage. I would love for it to cover much of that side of the garage and help it blend in with the garden there. Knowing that these climbers require patience, I've done nothing with it save for watering it and giving it a little fertilizer in spring, so it was a lovely surprise when I looked at it the other day and I saw it was starting to send up some longer runners. It occurs to me know that I'll have to be diligent about encouraging it to go out instead of up since I want the side to get covered and not the roof.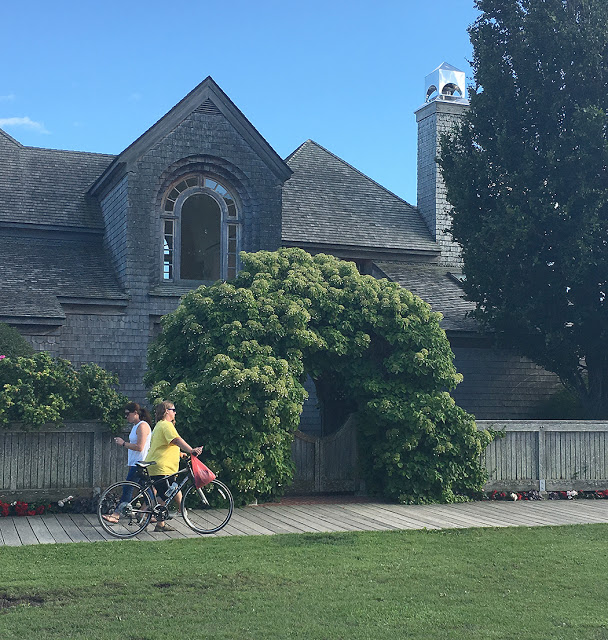 When I was in Mackinac Island a few weeks ago I spotted a climbing hydrangea making a huge statement on an arbor at the entrance to a house. I read later that this hydrangea is 30 years old.
Caring for these is easy: Water it to get it established (especially when planted at the base of a tree), give it a little fertilizer maybe once or twice a year and then forget about it. Seriously, forget about it. Because it will drive you nuts if you keep thinking about it. I have had a little bit of deer browsing on them from time to time, but nothing major.
So plant it, sit back, relax, and come back in a few years. I bet you'll be in love.