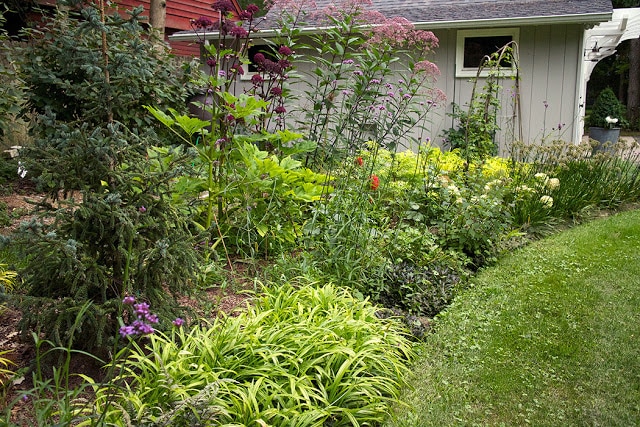 I've put off an analysis of the this year's garden long enough. It's time for a little constructive criticism of my own work. At the same time, gardening is an imperfect art. Sometimes things do what you expect them to and sometimes they don't. Mother Nature often decides the design of the garden as much as the gardener. And I give myself a little break because, like most of us, I'm a part-time gardener. I'd love to be constantly tinkering in my garden, changing out what doesn't work in real time, but that's not my reality, so I take these lessons and make a plan for next year.
In general, it's been a good year in the garden. It's been relatively warm and we've had a nice amount of rain, but nothing like the amount we had last year that brought slugs in droves to my garden, where they decimated plant after plant. Most things are growing well, some too well. I think the garden probably requires a little editing as it's on the verge of being overcrowded.
I'm happy with how the new back/side yard garden is looking. It has grown in better than I anticipated. None of the clematis there (which now number six—three on the branch trellis I built and one each on the Arrowwood viburnums in the back) have bloomed yet, so hopefully that area will be more floriforous next year. The climbing hydrangea is taking it's own sweet time meeting the side of the garage, as they are wont to do, but I look forward to a few years down the road when that takes off and covers that side of the garage.
The Eupatorium (Joe Pye weed) is entirely too tall for this area so I'll move it somewhere more appropriate, but otherwise I think this garden is in maintenance mode.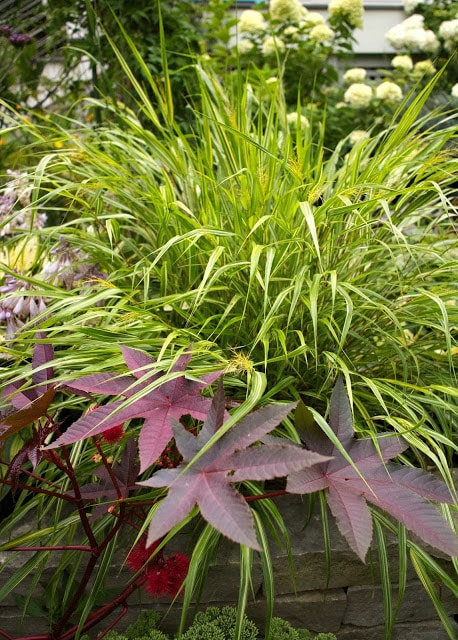 'Stripe it Rich' and castor bean plant.
On the other side of the circle, I'm happy with what's happening there too. The upper part of the garden off the deck is looking a touch crowded, so next year I'll add in fewer annuals there. I'm absolutely thrilled with how the Hakonechloa 'Stripe it Rich' is doing in this sunny spot and I may divide the largest two clumps to spread the love around a little in spring. (Note: Although I remember buying this as 'Stripe it Rich,' I'm starting to wonder if it might be 'Albo-Striata' because that one is far more tolerant of the sun.)
The other side of that bed is not so good though. Although I love the Dahlia 'David Howard' there, it far surpassed the expected height (which I believe was 30 inches) and it has completely overwhelmed that area. You can't even see the Orangeola Japanese maple back there. Next year, David Howard will move to a different spot.
Although it doesn't look like much right now because I cut the nepeta along the path back about 10 days ago and it hasn't filled in yet, I'm happy with the location of the sweet peas and I think I'll put them there again next year. they were right at eye and nose level and I think it was a most inviting way to enter the patio if you were walking from the garage.
I'm also thrilled with new patio bed along the house. It's filled with mostly annuals and, although that's a really expensive way to fill a bed, I think it was money well spent. Next year I'll be more selective on which nasturtiums are planted there ('Vesuvius' and 'Caribbean Cocktail' are winners, but others got too rangy), but I think I'll do more of the same next year.
On the other side of the patio, the situation is not so nice. The front of the bed is nice as it is mostly planted with annuals to mimic the bed on the other side. But behind that, particularly from the middle of the bed over to the right by the boxwood, it's not good. The anemones are beautify but way too tall for that spot. The rudbeckia is a fabulous plant, but that gold has always been jarring to me in that location and looks horrible with the light pink of the anemones. There are some peach daylilies in the middle of that bed that not only are covered up, but aren't so special to begin with. It is, perhaps, no coincidence that that area is the first I planted here and it was filled mostly with passalong plants. It's time for a serious makeover, so in fall I'll move the daylilies, anemones and the rudbeckia (much of which as been transplanted elsewhere in previous years) and come up with an actual plan for that area, something I don't think I've ever done there. I'm excited about possibly finally hitting on something I like in that area, which has never been the case.
The shade garden is looking better than it has in the past. Other than having to deal with an persistent weed problem at the back of that bed, it's starting to look nice there and I think now it's mostly a matter of patience to let things grow in.
And now we come to my biggest disappointment of the year. The window box has been a big dud and I can't tell you how sad that makes me. Of all my containers, I love my window box the most and if I had to pick one to succeed, that would be it. I think a few things went wrong, including that once again I jammed too many plants in there (when will I ever stop doing that?). Beyond that, the beautiful Nicotiana alata, which I will definitely grow again because it looks great in the garden, was a poor choice for the window box. It flopped pretty early on and every attempt at staking it failed. Couple that with some poor watering practices, and it just wasn't a good fit. I'm actually going to seek out some annuals (hopefully not mums but I'll go there if I have to) and swap out the nicotiana and some other under performers in the box to freshen it up a little. I had such high hopes for the design this year and it just didn't work out. That's just how it goes sometimes.