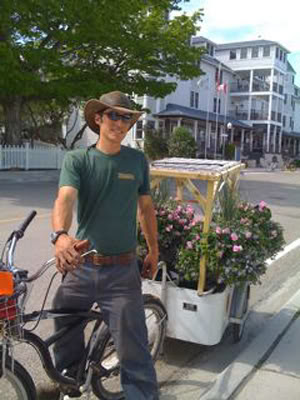 Have your thoughts turned to summer yet? I've been trying to stave off that feeling I get every year at about this time when I get the itch to start gardening, but it seems impossible.
What I'm about to tell you about won't help with that. If you need some help with your garden dreaming though, that I can help with.
Remember Jack Barnwell? I did a Q&A with him a couple years ago after finding out that he was the talented garden designer behind some of Mackinac Island's most amazing gardens. Well Jack wrote to me a month ago or so with some really exciting news that I'm so happy to share with you.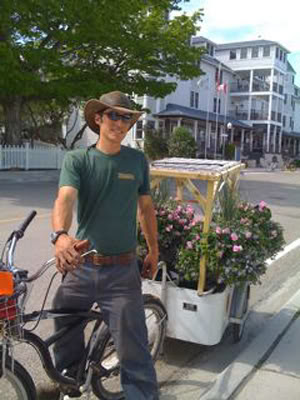 Jack Barnwell toting plants the Mackinac Island way.
This summer there will be a garden event on Mackinac Island to best all garden events. OK, maybe I'm being dramatic, but there is no doubt this will be phenomenal.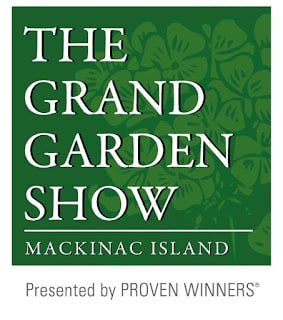 Here's the quick rundown: Two days, three nights, umpteen amazing private gardens, the amazing gardens of The Grand Hotel, seminars by amazing garden designers, cocktail parties, dinners and oh yeah, my buddy P. Diddy (that's P. Allen Smith in The Impatient Gardener speak).
It's called The Grand Garden Tour and it will be held August 25-27 at none other than The Grand Hotel. You do know The Grand Hotel, right? It is certainly one of the most famous hotels in the world and was featured in the movie "Somewhere in Time" starring the late Christopher Reeve. It is the epitome of charm and is the first thing you see when you approach Michigan's Mackinac Island. Its grounds are immaculately kept and feature enough gardens to spend a day exploring. I actually spent part of a night there a couple years ago.*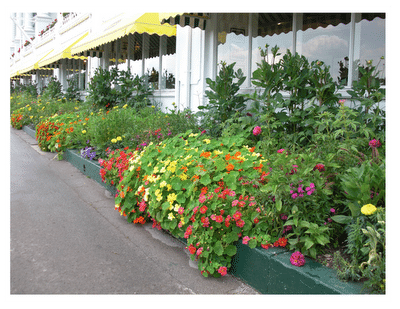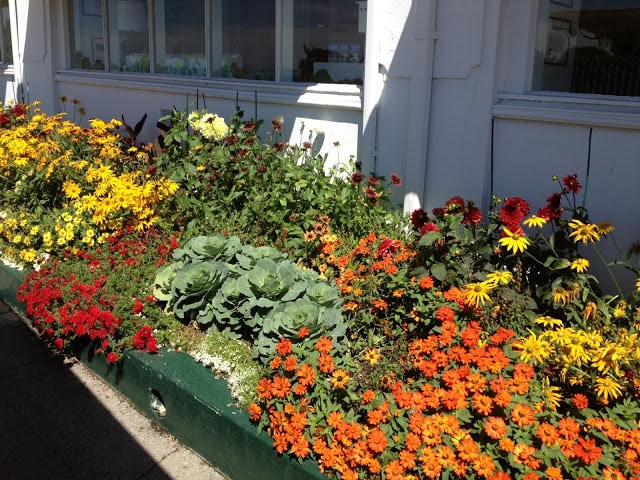 This is the same bed that borders the road at The Grand Hotel in 2011 and 2012. It is always so much fun to see what they come up with every year.
A bit about Mackinac Island, in case you're not familiar with it. It's an island (8 miles in circumference) right where lakes Michigan and Huron meet. No cars (other than the occasional emergency vehicle, but I've only seen one in 30 or so times I've been there) are allowed on the island, so you either get around on foot, on bike or by horse. All of this makes it totally unique. It survives on summer tourism, but there are absolutely lovely summer homes (and a few year-round homes) all over the island. It is really the ultimate retreat. Gardeners know there is something special about Mackinac Island. If plants could dream of plant heaven, it would look a lot like Mackinac Island. Of course the black gold that is composted horse manure is part of it (obviously that's plentiful on an island that relies on horses for transportation), but there's something special going on here beyond that.
This is the Jack Barnwell-designed garden at The Iroquois Hotel. It is one of my favorites and the inspiration for the stacked-stone wall I put in the back yard.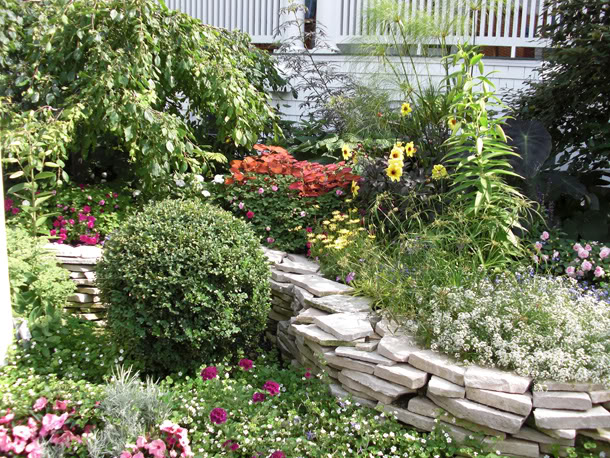 It never ceases to amaze me how much plant material Jack fits into his installations to make them full but not crowded looking.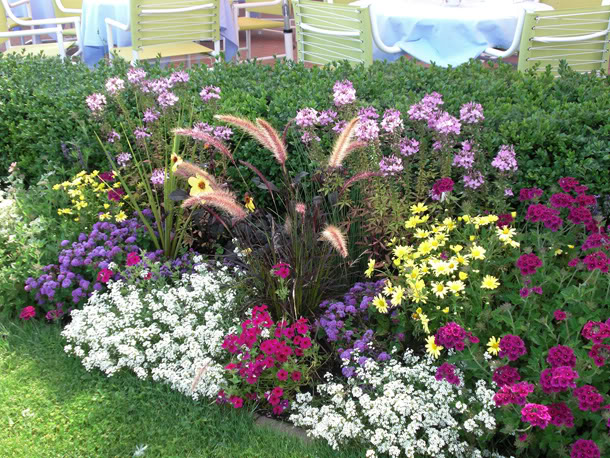 As I mentioned, I've been to Mackinac (pronounced Mack-i-naw, it's a French-explorers-weird-spelling thing) Island many, many times in my life and every time I've gotten there by boat. All but a few times, I've sailed there in a sailboat race from Chicago to the island, but guess what, you'll get there by boat as well, because that's the only way to get there. Well, technically speaking you can fly into the small airport on the island or, in winter, ride a snowmobile there over the frozen Straits of Mackinac, but almost everyone gets there by a ferry from either St. Ignace or Mackinaw City (on the Upper Peninsula and the mainland of Michigan and connected by the spectacular Mackinac Bridge).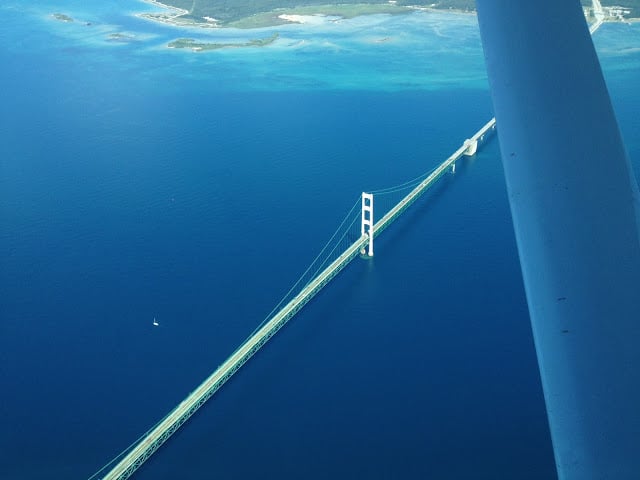 The Mackinac Bridge as seen from a plan leaving Mackinac Island.
But back to the event. Attendees will go to a cocktail reception on the front porch of the Grand Hotel (probably the most famous front porch in the country, and by the way, if you're not staying there you usually have to pay to even step foot on it). The front porch is always decorated with gorgeous red geraniums, but they are doing it up even better for this event. Proven Winners, which is a partner in the event, is going to bring in huge planters and loads of amazing flowers. Then you can have dinner in the dining room and enjoy the Mackinac Island nightlife (I know a little something about this so if you want personal recommendations, let me know).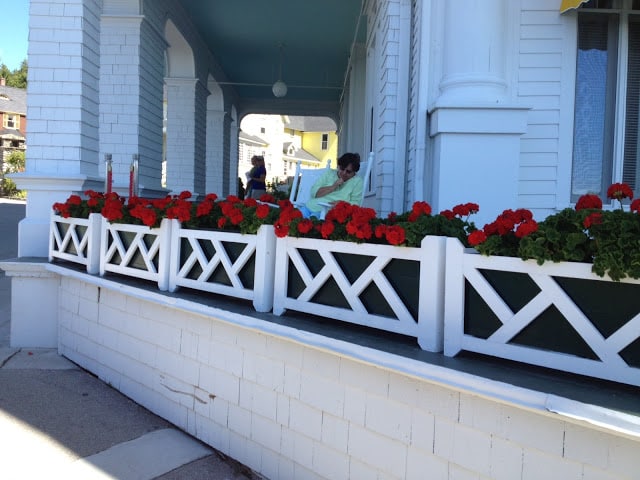 This photo, taken from a horse-drawn taxi while passing by show just the tiniest corner of the Grand Hotel's amazing front porch, but the entire thing is lined with red geraniums.
Monday morning there will be seminars and live hands-on demonstrations in the hotel's Tea Garden. Presenters, including Jack, will do container and in-ground design and installations live. Jack tells me that lemonade, tea and cookies will be served (as well as music) during the presentations. Can you imagine a more perfect day?
After lunch, attendees can head off to view about a dozen private gardens on the island. Honestly, this would be my favorite part. The gardens are so amazing, but you'll never have another chance to see them like this.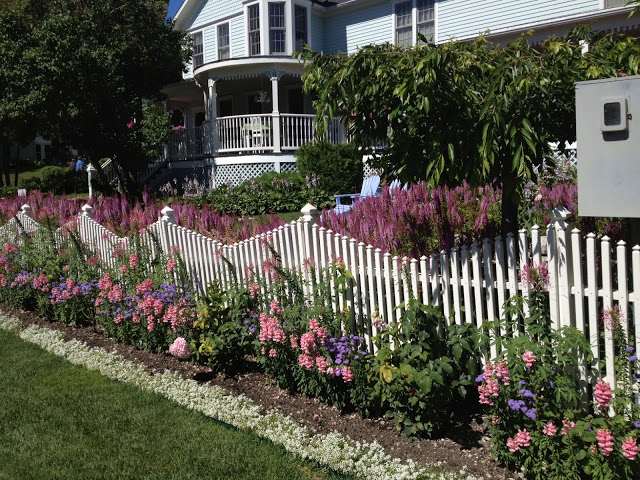 This is a favorite private garden of mine. I walk past it on the island every year.
After that, it's more cocktails in the garden with P. Diddy, who will also present a seminar Tuesday morning. P. Allen Smith is gardening's secret funny man, as I found out at Proven Winners event a couple years ago (see, me and P. Diddy go waaaaaayyyy back).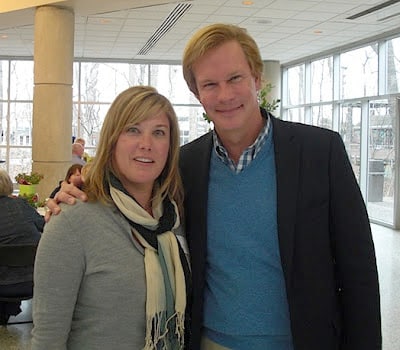 I do not know what is wrong with my face in this photo. I look like I had dental work done or something. Anyway, see, me and P. Diddy are pretty much besties.
When Jack first wrote to me about the event he described his vision for The Grand Garden Show as, "Simple, yet elegant and awe inspiring." Given the rundown of the program and the setting, I'd say that sounds just about right.
So that's the preview of what I have to think is going to end up being one the most amazing gardening events ever. Rooms are already booking up at the Grand Hotel, so don't wait too long to decide if you're going. Keep in mind the prices you're seeing for the booking through the Grand Hotel (I have to check with Jack if you can stay in other hotels on the island and still participate) include everything: all the seminars, food, cocktails and discounts on ferry tickets. I'm told the website for the event will be up soon and as soon as it is I'll let you know.
So what do you think? Sound like the perfect gardener's getaway or what?
A favorite Jack Barnwell-designed hanging basket.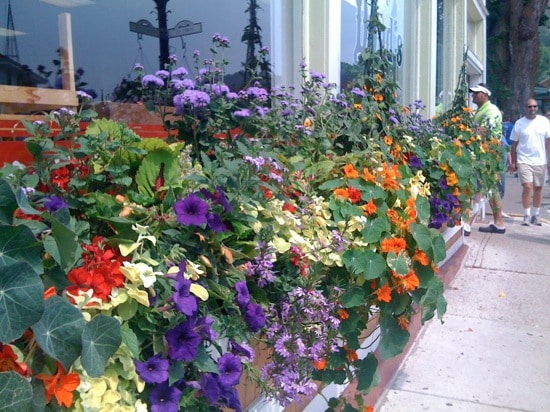 The amazingly lush window boxes outside the downtown grocery store, designed, of course, by Jack Barnwell.
*So, a few years ago, we didn't have hotel rooms sorted for after our sailboat race to the island (these usually book up a year in advance or close to it) and I went to Expedia in hopes of finding a room. I did book a room at a small hotel but it turned out Expedia had poor records and there weren't any rooms available. Since it was Expedia's fault, it was up to them to find me another room. And the only available rooms on the island were at The Grand Hotel. It's a bit of a walk from where the boats dock up to the hotel, but I was still excited to stay there even if it was only for one night. But here's the problem. The race was one of the slowest in recent memory. Normally we finish very early in the morning on Monday or sometimes even Sunday night, but that year we finished Tuesday at 2 a.m. My room was only for Monday night. So at 3 a.m. I wandered up the hill and checked in to the fanciest hotel I've ever stepped foot in, having not showered or slept much in three days. I think I may have still been in the same clothes I wore during the entire race. I wasn't alone though. Checking in in front of me was famed Chicago architect Helmut Jahn (who is also an accomplished sailor) and I took solace in the fact that he looked worse than me. Anyway, I checked in at 3 a.m., slept until 9 a.m., went downstairs for the included breakfast (delicious by the way), and was checked out by 10:30. And that's how I spent my seven-hour stay at The Grand Hotel.