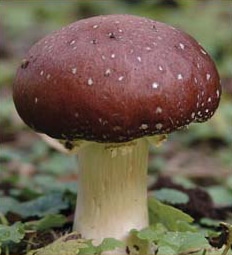 A while ago I showed you the rather odd
loaf-like object taking up space
in my refrigerator. Well, I'm happy to report that I was able to free up that space in the fridge this weekend, as the mushroom spawn has been
planted
scattered
strewn.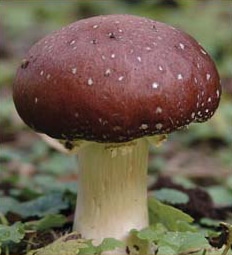 The process of growing these Wine Cap mushrooms is less than exciting, and since I've never done this before, I pretty much just followed the instructions that came with the spawn, which was mixed with sawdust. My five-pound bag was enough for a 50 square foot area so, because my spatial relationship skills are not great, I laid out the bed area with birch logs. There is absolutely no need to do this, other than to make sure you have about the right size area and I liked the idea of knowing where exactly to look for my 'shrooms.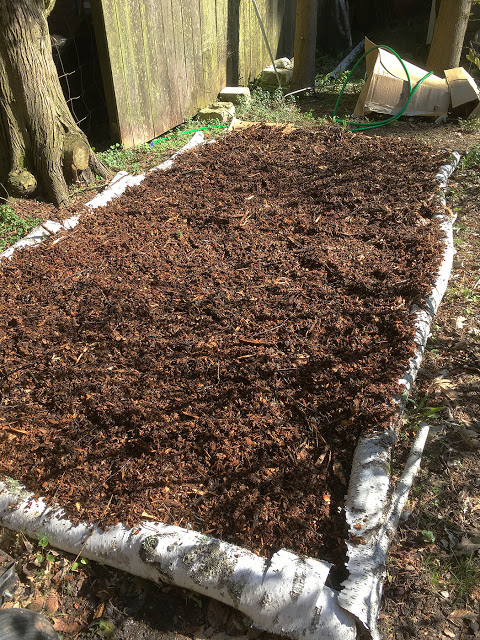 Because there was some grass and weeds in the area, I laid down some sodden cardboard as a weed block. This wasn't in the instructions that came from Field and Forest, but I saw this method in a few videos I watched. Then I spread several inches of damp wood chips on top. I used chips from maple and ash trees we had taken down a couple months ago, but you could use purchased untreated wood chips if needed. The instructions said a variety of chip size is best, and that's certainly what I had in my pile.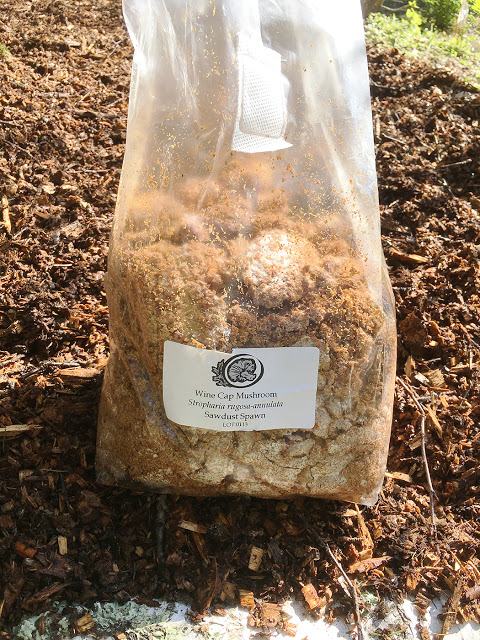 Then I took the "loaf" of spawn out of the fridge and broke it up in the bag, then sprinkled it all over the wood chips, trying to broadcast it evenly. After that, it was a few more wood chips and some damp straw.
And that's it. All I have to do now is make sure that the area stays damp but not wet, especially through the hot bits of summer.
This is about as big of a garden experiment as I've ever undertaken. Of course there was the potato tower a few years ago, but let's hope the outcome is significantly better than that.
With any luck, by the end of summer I'll be feasting on my very own homegrown mushrooms.
Have you ever grown mushrooms. Tell me about it!