We're back on track, more or less, for this week's
Garden Appreciation Society
link-up.

I have to say I'm particularly happy with what I came up with this week because this is something I never would have thought to do if it weren't for this weekly effort to appreciate the garden in a new way.
Many of the container plantings seem to have gone from perfection to a bit lanky in just the last week. It's no biggie, you just have to do a little pruning and wait a couple weeks and they'll be beautiful again. I try to avoid lopping everything off at once because they really do look pathetic during that time. I also try to hit them with a good dose of fertilizer to get them going again.
Anyway, I usually wait until the flowers are a bit more spent before I go pruning, but the Superbena Violet Ice doesn't seem to want to stop blooming. So I decided to prune a few for this week's bouquet. I combined it with another new plant in the garden this year: Tickseed Coreopsis 'Moonbeam', which has lovely soft yellow flowers.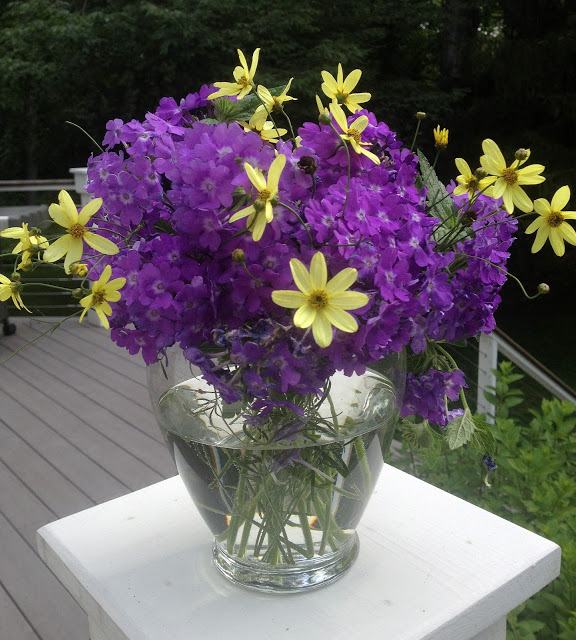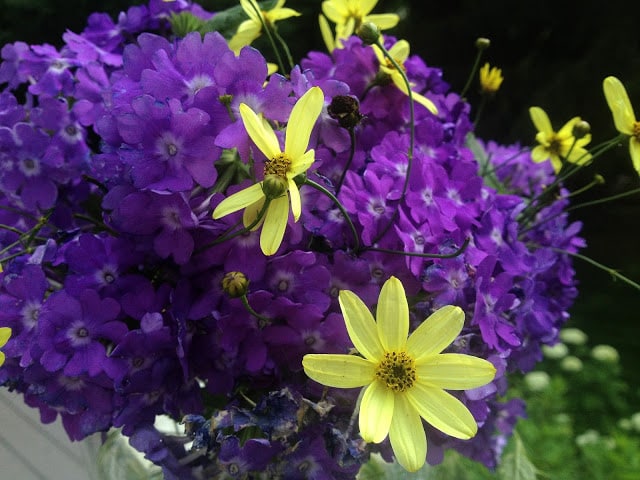 I wouldn't have thought to look to my containers for a bouquet, but I'm so happy with how this one turned out. I think the Coreopsis would look equally nice with a gorgeous blue hydrangea bloom, if I were lucky enough to have such a thing in my yard.
Since we're really in the heart of summer (and isn't it just lovely? I just love summer so much that the back-to-school stuff in stores makes me profoundly sad) you all are coming up with some amazing bouquets! I love them all.
Link up a picture of how you are appreciating your garden in the form of a bouquet now.
document.write('