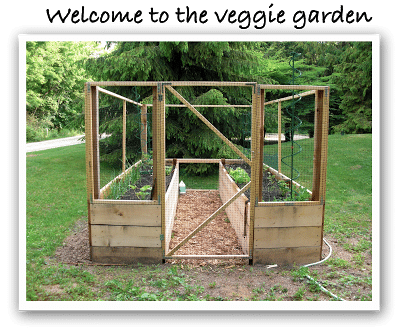 I have been debating expanding my vegetable gardening space. Again. It's funny how gardening works. You start with a garden of a certain size and you can't imagine ever needing more space. Until you do. And then you add another garden or make the first one bigger and you think, "Well now I'm set for life." Until you're not.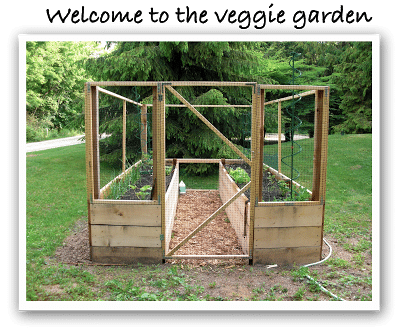 The main vegetable garden that we built four years ago offers 70 square feet of gardening space. Given that there are only two of us (plus two dogs who love whatever veggies we throw their way), that's a good amount of space. But those first two years the zucchini took over at least a quarter of one side (and made walking past it very unpleasant). So a couple years ago when I added a raised bed outside of the enclosed veggie garden, the zucchini got kicked out there. And since I had to limit that bed to things that critters wouldn't eat, I also threw some onions in there. Somewhere along the line I realized that I really like growing the food we eat.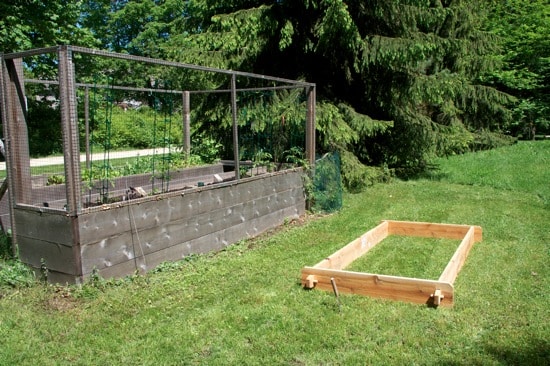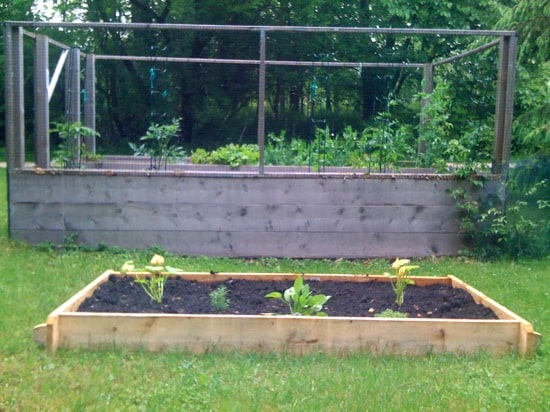 Well it turns out I love growing onions and one zucchini variety of squash isn't enough for me. So I've been thinking about expanding again. Keep in mind, all of this is in addition to the plots my mom and I share at the community garden in the next town over where we grow mostly tomatoes because in early summer it can be 15 degrees warmer over there than it is in our home gardens near Lake Michigan.
Rather than end up with a lot of little raised beds all over the place, I started thinking I might just buy a slightly bigger one so we are set on garden space for awhile. The worst thing about adding a raised bed, at least for me, is soil. It takes more soil and compost than you might think to fill up a raised bed and every time I add a garden I think, "Oh I'll just pick up a few bags of topsoil and throw in some homemade compost" but that's never enough. Plus I hate buying compost, soil and mulch for the garden by the bag. All that plastic is disturbing to me. Almost equally as disturbing, however, is the delivery charge for bulk goods (usually about $100 by me) and the massive pile of stuff that sits in the driveway while I get around to putting it in the garden.
So that's why I've been spending an inordinate amount of time gazing at the veggie garden situation, and walking around drawing out beds in the snow (which, I'm happy to report, is finally melting) trying to decide if I really need more vegetable gardening space and if I really want to deal with getting the soil to fill a new one up.
If do go for it though, I'm thinking about getting an L-shaped one like this.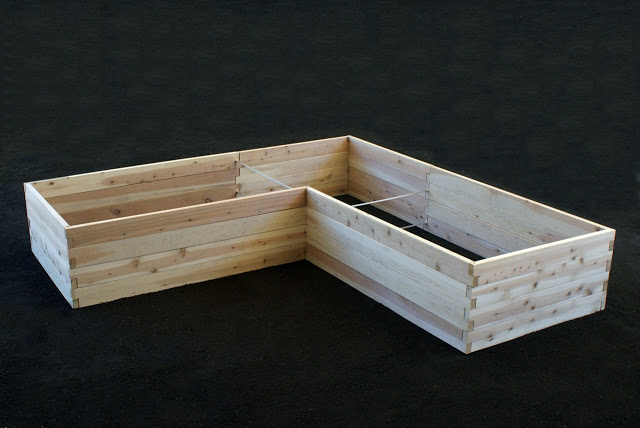 So what about you? Do you find yourself constantly adding gardens or seeking out more gardening space?
By the way, in case you missed it, Monday's lavender kitchen cabinet post was a total April Fool's joke. But there is something unexpected happening in the kitchen. Hopefully an update on that tomorrow.