You've probably noticed that I've been a bit quiet with updates to the progress in the kitchen and I thought I'd show you why there's been a bit of radio silence.
The cabinets were installed over the past week and overall we are thrilled with the storage they are going to provide. But when I looked around I realized that something was amiss. All this time I thought I wanted an all-white kitchen. I thought it would be bright and fresh and clean and wonderful. But when it was all in I realized what it was really going to be was boring and sterile.
We lived with it like that for a few days but by Saturday I knew we were not going to be happy with the kitchen the way it was. So I took a drastic step. I started painting our brand new kitchen cabinets.
And I wanted to go as far from white as I could without making the kitchen heavy with a dark color. Light and bright is what was called for.
The winner?
Benjamin Moore's Wishing Well, a luminous lavender.

Benjamin Moore Wishing Well.
I only have the wall by the refrigerator finished and it still needs a second coat, but I have to tell you, I'm thrilled with how it is looking. I know it will be a lot of work to repaint everything, but it just feels right.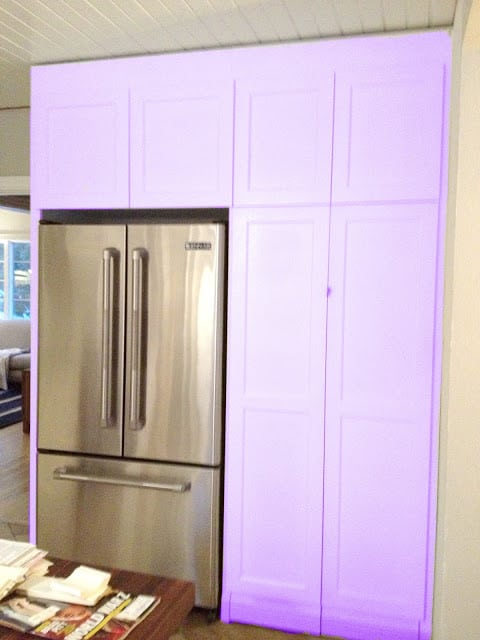 I think we'll probably leave the ceiling white, but we're thinking about possibly changing it to a very light aqua with just a hint of color. What do you think?