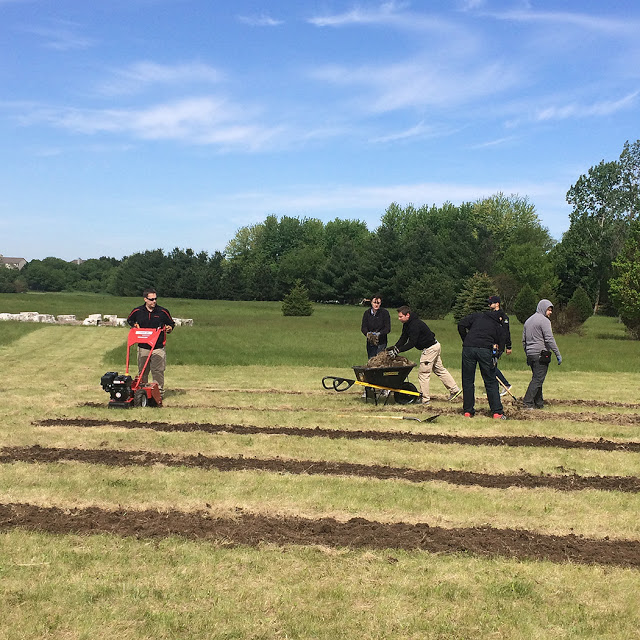 You are reading the blog of a movie star.
Well, not quite, but I sort of felt like one for a day. A couple weeks ago I drove 60 miles west to the charming town of Merton, Wisconsin (where I think I actually covered a school board meeting once for one of my first jobs), to help at the grand opening of a
Katie's Krops
garden and make a few videos for Troy-Bilt in the process. This was part of
my relationship with Troy-Bilt
as one of their
Saturday6 bloggers
, but it was the part of the deal I was most looking forward to.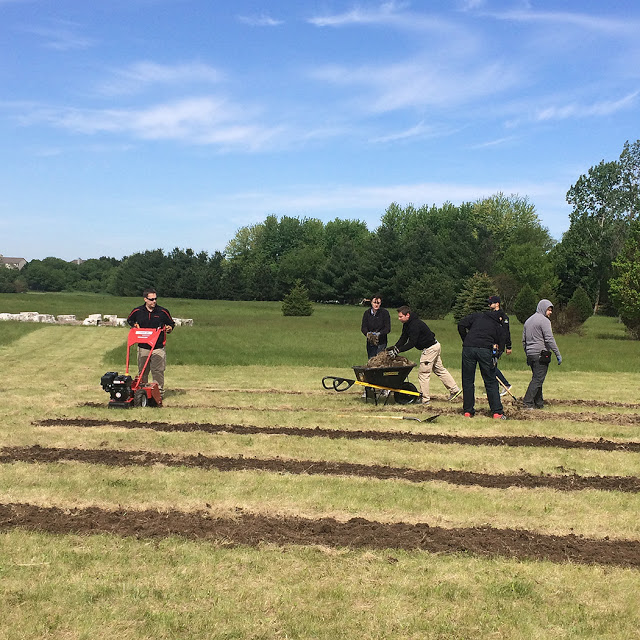 Removing the sod and tilling the beds per Ted's design.
Two quick bits of background for you. Katie's Krops is an organization that helps kids create gardens that feed the community. Founded by young gardener Katie Stagliano, who grew a 40-pound cabbage as part of a school project and realized she could feed hungry people with it, the organization offers financial support, advice, camps and more for young gardeners seeking to make a difference in their communities.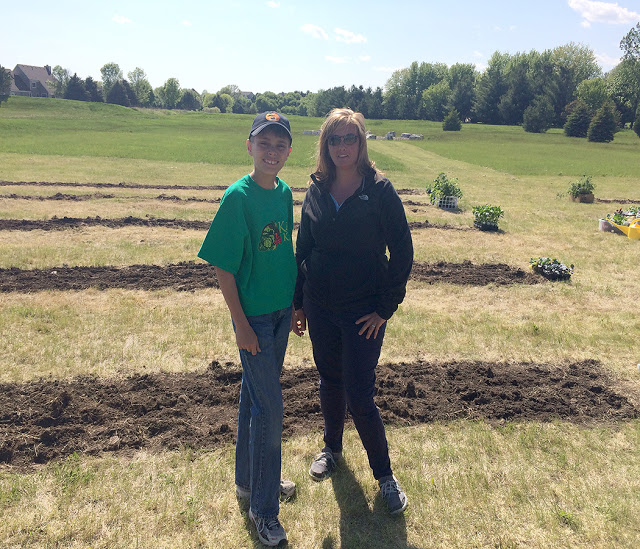 Ted and me.
Ted is a young Wisconsin gardener who also happened to get bit by the gardening bug through a big cabbage. The garden I spent the day at was entirely Ted's vision. Located on a large plot of land behind a district elementary school, the garden will support area food pantries and 14-year-old Ted's principal said he envisions that kids helping with the garden will not only plant, tend and harvest the food, they will also deliver it to food pantries, help prepare meals with it and serve meals. Truly farm to table.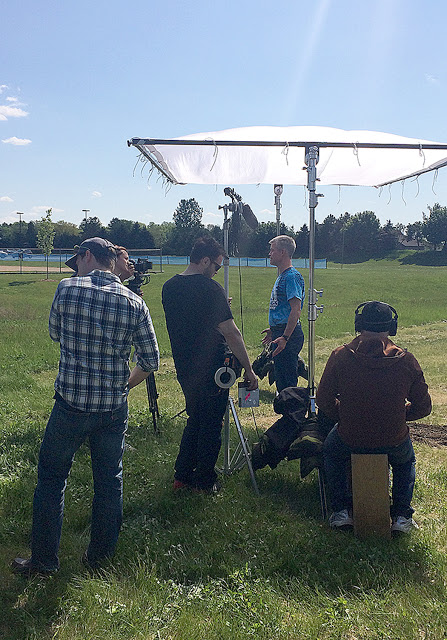 Ted's principal talks about the project.
Before I tell you more about my day "on set" I should start with a little disclaimer. I was alternately looking forward to it and completely filled with dread. I won't bore you with my personal insecurities but I think most people are a bit self-concious about their appearance (especially on film), their voice (particularly when it's a midwestern twang) and their propensity to screw up. Fortunately there were a great bunch of professionals there who eased my mind about the whole thing and I ended up having a great time and really enjoying myself.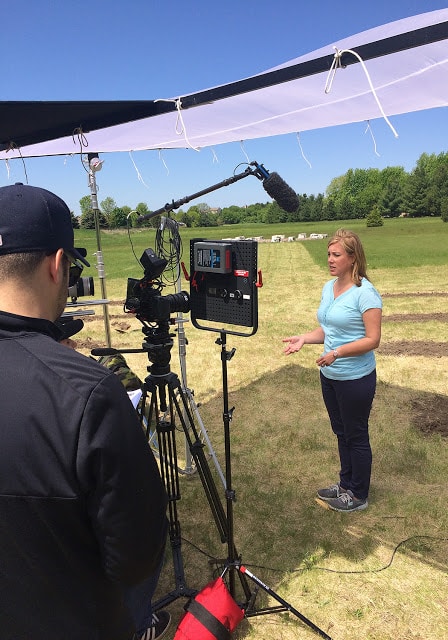 I tried so hard not to talk with my hands. This picture proves that I failed. By the way, I was freezing, but it was much cooler than I expected in the morning and I couldn't wear either of the two jackets I brought because one had a big logo on the front and the other was nylon, which the sound guy said was a no-go.

While I waited to do a few videos, a local Troy-Bilt distributor and a few other people went to work on getting the garden ready. Since it was a giant swath of dead grass when I got there, I was so impressed when 45 minutes later, the sod had been removed and beds were created to Ted's design. Ted, by the way, was stuck in school all day while most of this was going on.
I had worked with the people from Troy-Bilt's promotional arm to come up with some ideas for short video tips ahead of time and in the weeks prior to the filming we ironed out what I would say. Or what I was supposed to say, because mostly I just made sure to hit the main points and ad libbed the rest. I'm pretty sure this gave some of the production people fits, but in they end they were happy with it.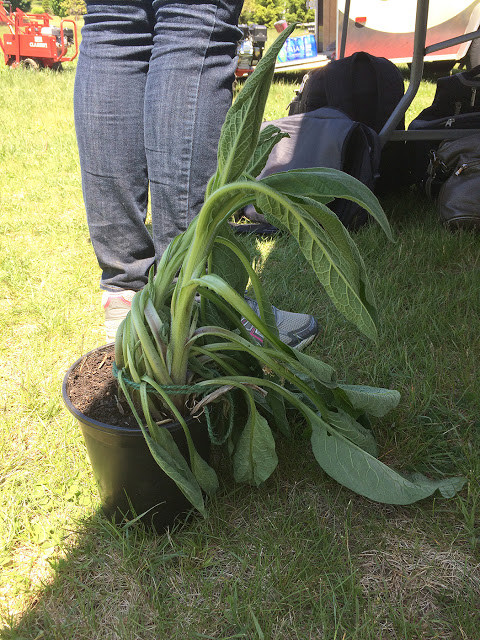 Sad comfrey.
There were some foibles. One of the tips I wanted to give was about using comfrey tea in your garden. I dug up some comfrey and potted it up the night before to bring but by the time we got to that part of the shoot the comfrey was completely flopped and so sad looking.
They also wanted me to plant a few things on camera as part of a video about crop rotation. They picked up a few vegetable plants at a local nursery and I planted them. And then I dug them up and put them back in their pots and planted them again for a second take. And again. There was one poor kale plant that I planted four times at least, all while trying not to look like a complete dork.
I also "harvested" a bag of Yukon gold potatoes and several beets with the greens still attached. I have doubts how this will work in the videos but maybe there's more to movie magic than I know about.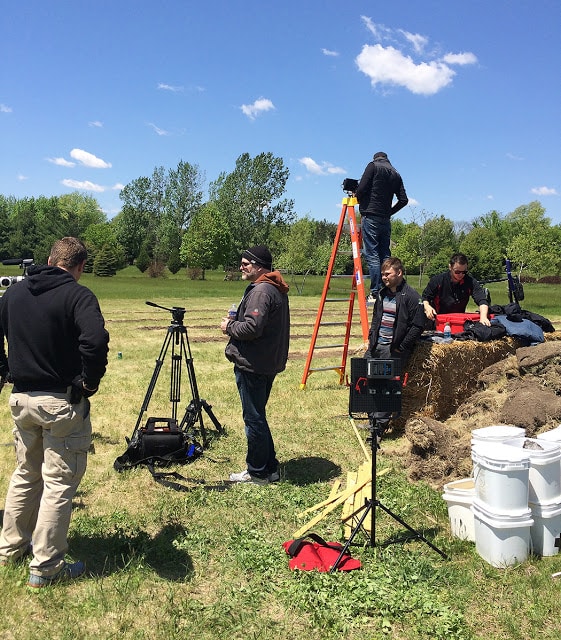 The crew getting some shots of the garden.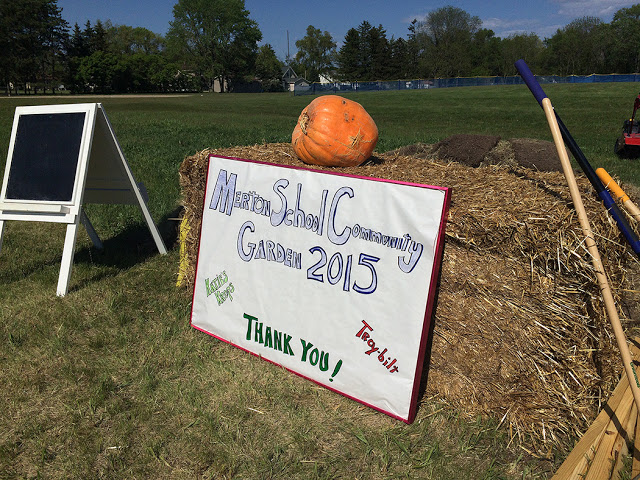 All in all, we whipped through my videos pretty quickly thanks to all that ad libbing and then I hung out and waited for the kids to show up after school. I was very excited to meet Ted, whom I've heard wonderful thinks about, including from Katie, who raved about him when I met her in
Charleston
.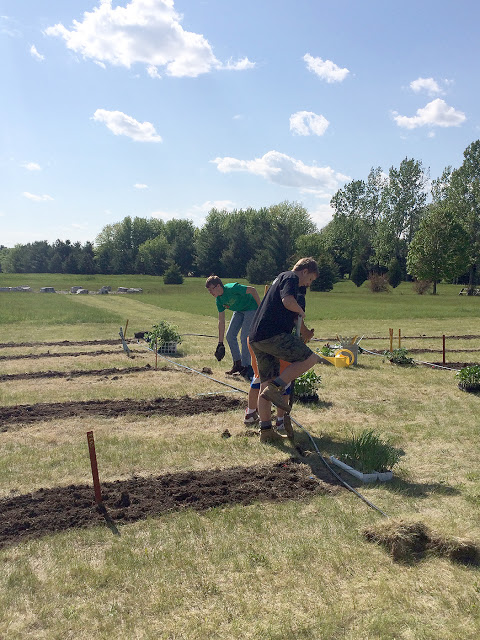 The kids jumped right into the project.
Ted's expression when he showed up and saw all the beds created was fantastic. He got the biggest grin and said, "Oh wow, this looks awesome!" Several other kids immediately jumped in, putting together a donated irrigation system and deciding which plants would go where.
I wish I would have had more time to talk to Ted, but he was the true man of the hour and everyone was demanding his attention. I hope they are having great success with the garden and I predict that next year there will be a lot more garden and a lot less grass.
As for the videos I made, I doubt I'll be able to watch them. I'll just cringe, I'm sure. But I'll let you know when they are online so you can watch me harvest a beet that was in the grocery store just hours before. You know us movie stars, anything for the story!