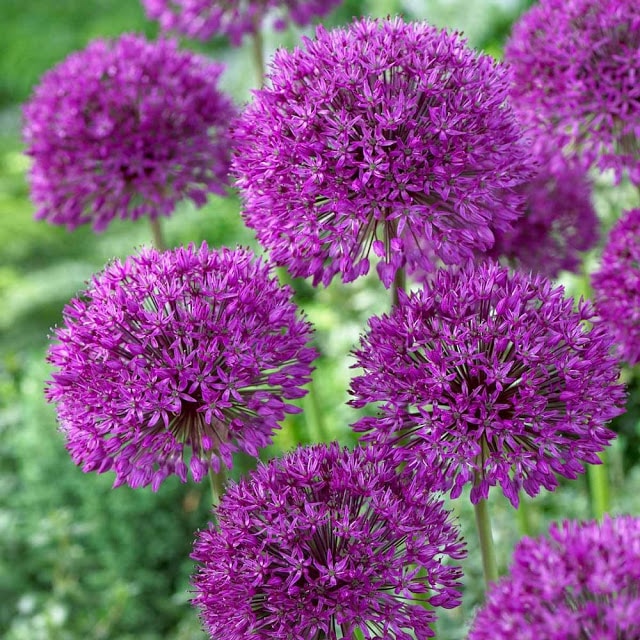 I remember the first time I took notice of an allium. It was on Mackinac Island where a side garden at the Hotel Iroquois was planted with what must have been hundreds of Globemaster alliums, with 8-inch (or better) flowers standing proud. It was stunning.
When I think of punctuation in a garden my first thought is always to alliums. They serve as a literal exclamation point and manage to provide a certain amount of structure in even the most casual of gardens. In fact, that's where I tend to like them best because the juxtaposition of style and form is the most dramatic.
I wasn't the least bit surprised when I saw that the National Garden Bureau named 2016 the "Year of the Allium," essentially naming it their favorite bulb of the year. With so many varieties I can't think of a reason why you wouldn't have some. OK, some varieties (Allium spaerocephalon, aka Drumstick allium comes to mind) have a tendency to be somewhat prolific reseeders, but I've never found this to be a bad thing. I wish more varieties did that in my garden!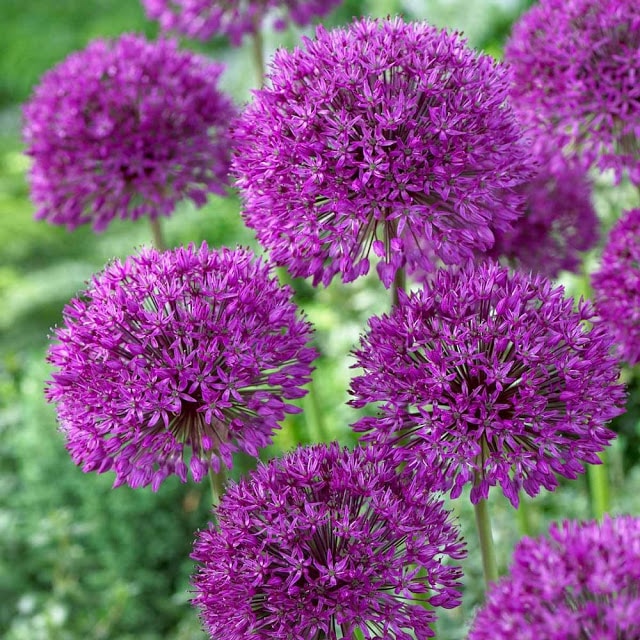 Purple Sensation allium has large, sort of fluffy flowers. Longfield Gardens photo
For as pretty as they are, if it weren't for one major benefit of alliums, I'd never grow them. As members of the onion family, they are critter (deer, squirrel, vole, you name it) resistant. I long ago gave up on tulips because no sooner would they bloom than a rabbit or deer would snag the flower (or worse, chew down the leaves to nibs before a flower even had a chance). When it comes to bulbs, I only grow those not targeted by wildlife and alliums certainly fit that bill.
Over the past several months several garden designers and bloggers have worked with Longfield Gardens to create custom collections of alliums. I've been enjoying following these, but was particularly taken with Nick McCullough's designs. Instead of thinking of bulbs after the rest of a perennial garden is established, he created a design that incorporates them from the get-go. I love this idea (and this is why he's a professional garden designer and I'm not), but I'm also thankful that alliums are so easy to incorporate into an existing garden design.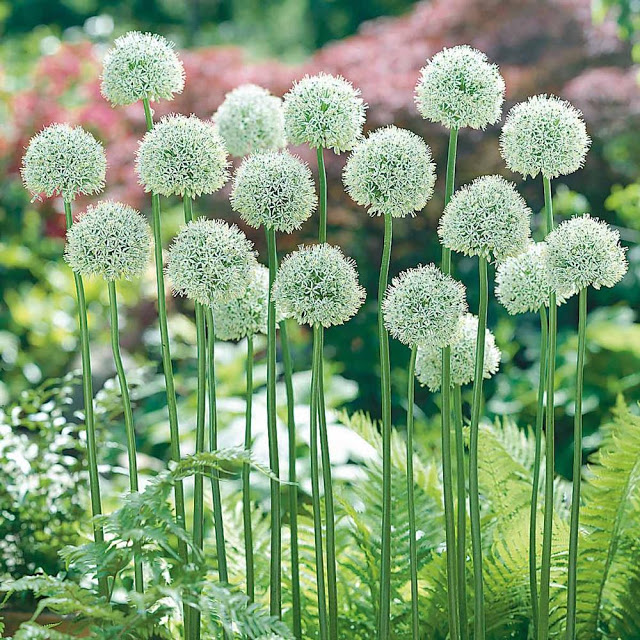 Mount Everest is a large white allium that's a nice change from the usual purple but also looks great intermixed with other varieties of alliums. Longfield Gardens photo
That's what I plan to do with most of the Daring Forms collection from Longfield. More than most years, I took note of holes in my plantings that needed a little something else. I'll plant the Gladiator alliums (one of the big daddy varieties) are going in the garden by the garage, because they are just what is needed to draw your eye there in the early summer when most of that garden is green. Purple Sensation alliums have a fluffier flower (to my eye, anyway) that I think will be better appreciated up close, so I'm going to plant those in the gardens that flank the patio. And the stunning Mount Everest alliums, a lovely, moderately tall white variety, is going to go in the newly redesigned oval circle garden.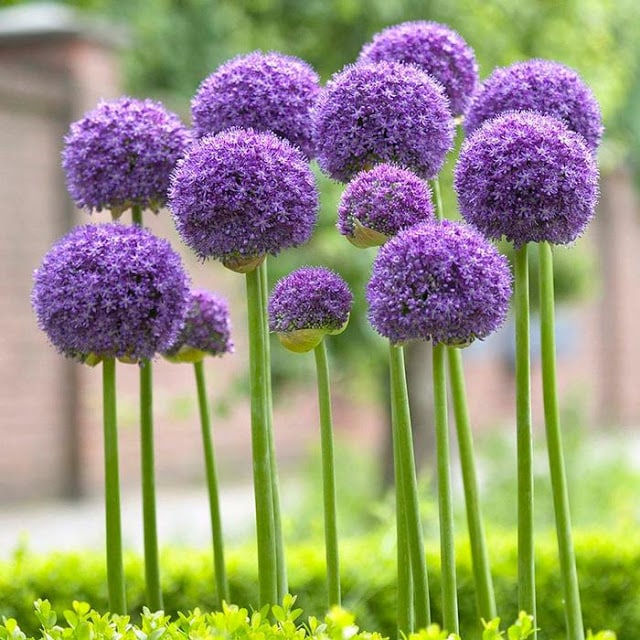 Gladiator is one of the biggest alliums. Longfield Gardens photo
We've had a warm fall here so I've been holding off on planting the bulbs that Longfield Gardens sent for me to try. That's no problem, as alliums will do just fine waiting a bit so long as you store them in a cool, dark and dry spot. You can plant bulbs until the ground is frozen, so even though the oval circle garden is nowhere near ready for bulbs, I'll still have plenty of time to get the Mount Everest bulbs in for a great display next year.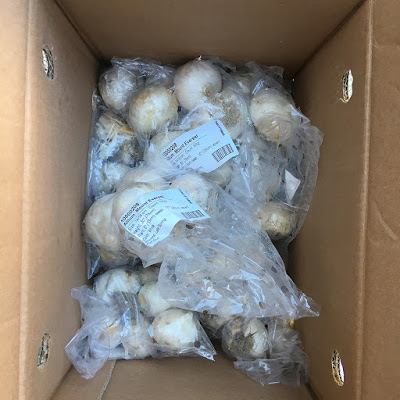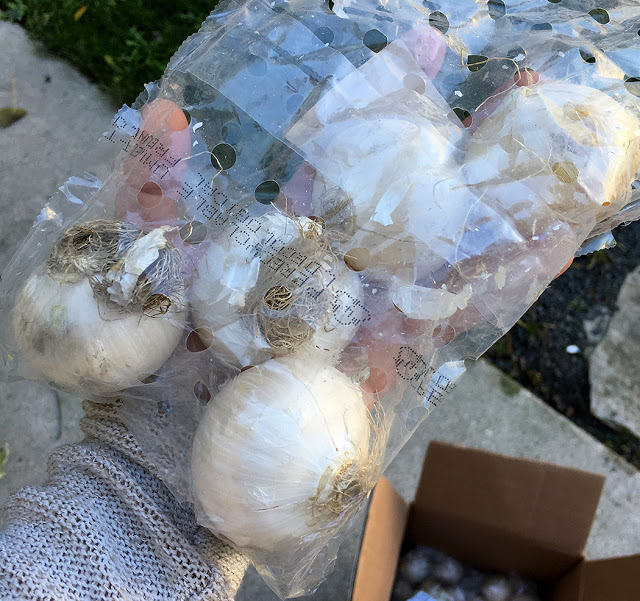 The allium collections come packed with each variety in a different, clearly labeled bag. That's where they'll stay until I plant them as all alliums bulbs look pretty much alike. The bottom photo is me holding the bag of Mount Everest bulbs to give you an idea of their size.
In addition to sending me one of the Daring Forms collection to try, Longfield Gardens is also giving one lucky reader of this blog their own Daring Forms collection. Use the widget below to enter. Longfield is also offering 20% of your first order using the code LFG20.