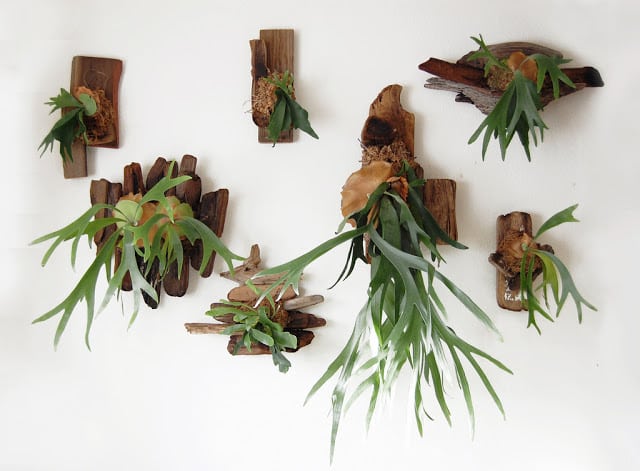 Houseplants are my downfall. I love them but I abuse them. Or perhaps neglect is the more appropriate term. Either way, I avoid buying expensive houseplants because my track record with them is not good.
For years I have wanted a staghorn fern (Platycerium bifurcatum). I think they are the coolest looking plants, with their big, strappy leaves that really do take on a very antlerlike look. But staghorn ferns are expensive and, I though, fussy. They want a moist atmosphere, which is not what my house offers in winter. They want spritzes and soaks and a little fertilizer.
But last year I happened upon a half-price houseplant sale at a nursery and found a small staghorn fern in a 6-inch pot for $5. How could I pass that up?
That was a year ago and that little staghorn has been doing great. It particularly loved its summer vacation outside and has been thriving since. I've done nothing to it other than running its fronds under water once every couple weeks and giving it a full-body soak every three to four weeks. Still, it has grown and has now put out a large sterile frond (the platelike bits at the base) that has far exceeded the rim of the pot and just keeps going.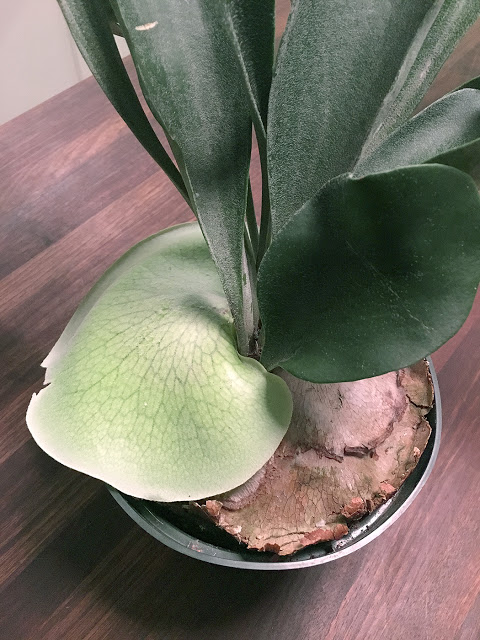 As it turns out, that's a sign that it's time to get that baby out of its pot. It's common to mount a staghorn fern on a board with a mound of spagnum moss under it (they are epiphytes so they don't require soil) and then hang it on the wall. There are lots of tutorials out there about how to do this and I'll save my opinions on them until I actually try it.
The care continues in the way: frequent misting (or at least some water on the fronds) and a good soak when it is completely dry. And this is where I have questions. Everything I've read suggests soaking the entire thing, including the board (which it is permanently mounted to until it outgrows that home). So I understand that you are to let it dry before you rehang it, but won't the board still be wet when you do that (or at least damp)? How do you avoid damaging your walls?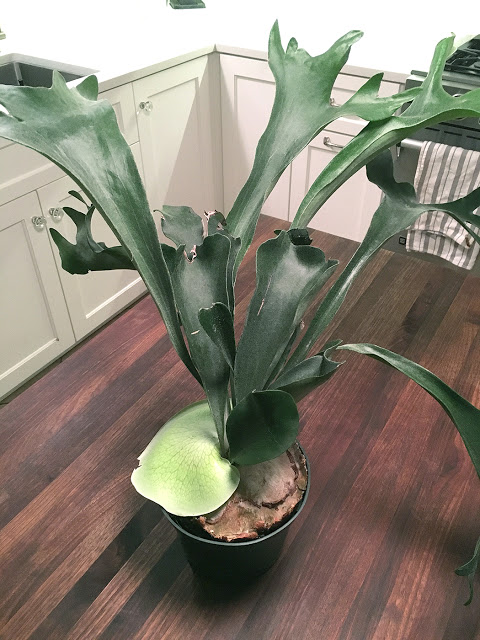 If you grow staghorn ferns, I'd love to know how you manage this aspect. And I'll take any other hints you have. I've become quite attached to this little guy.