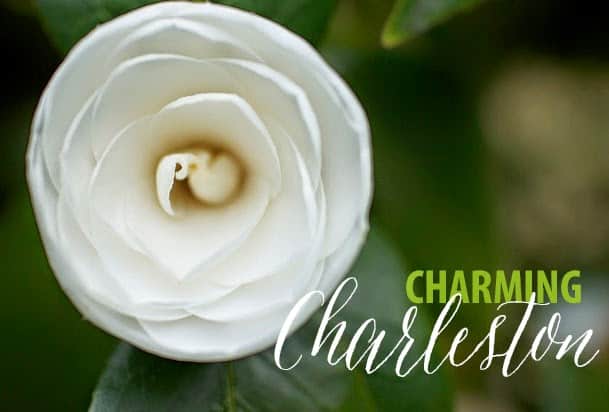 To say I am smitten with Charleston, which I was visiting for the first time, would be putting it mildly. But before we get to some of what I discovered in the city, in addition to the amazing food, let's get to the cool part: power tools.
The FLEX system starts with a Power Base (note the foldable handles to make it even smaller to store) that clicks in to various attachments. You literally scoop up the attachment and it clicks in and you're ready to roll.
There were some standouts, the first of which is the company's new FLEX system. This is one of those ideas that you can't believe no one thought of before and you're sort of bummed it wasn't you who came up with it. FLEX consists of a power base that clicks in to various attachments, saving money as you add equipment to your collection and maybe even more important, space. Right now there are wide-area mower, snow thrower, pressure washer and leaf blower attachment but more attachments are coming down the pike. The Power Base costs $399 and the attachments range in price from $279 for the pressure washer and blower to $499 for the mower. That means it's probably not economical to go with the FLEX if you only need a mower, but the savings are realized as you add attachments. As I think about our small garage storage area full of a mower, snow thrower and pressure washer, I can't tell you how nice the space savings of the FLEX system would be. There is no doubt in my mind that if I were a new homeowner or someone starting out, FLEX would be the way to go. There's even a shelving unit to organize it all that appeals to my desire to be organized.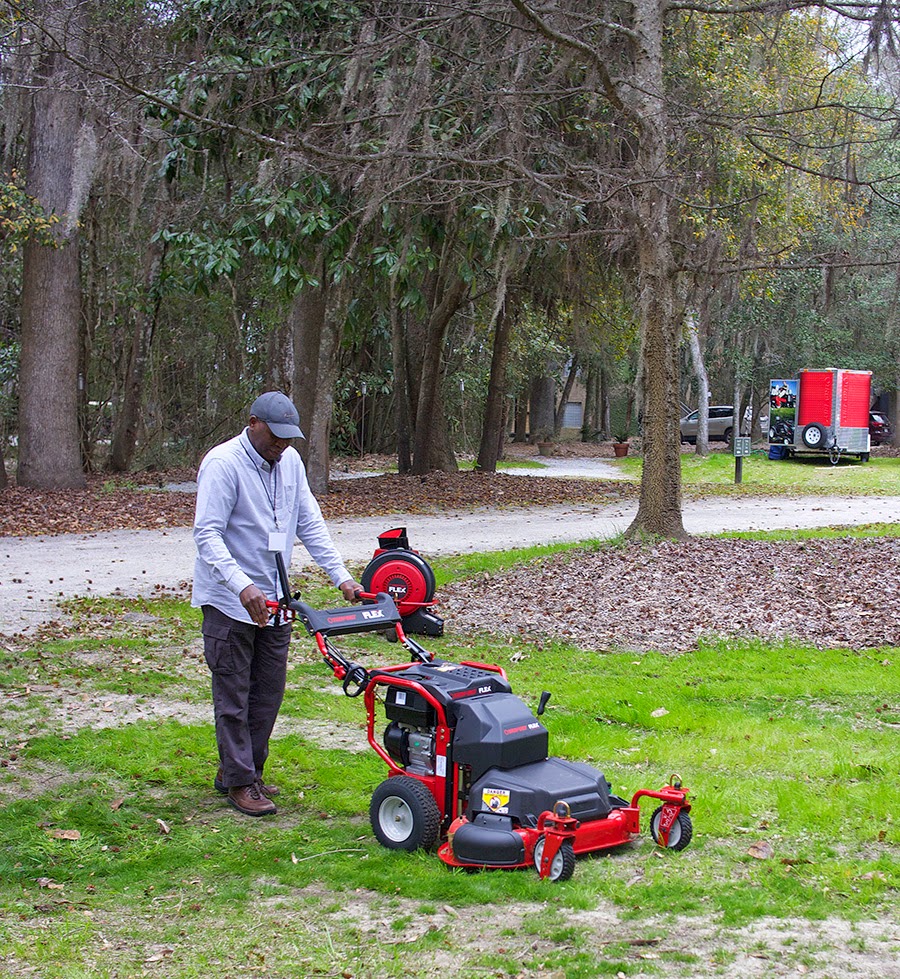 Kenny Point of Veggie Garden Tips tries out the FLEX mower. The front wheels spin 360 degrees which makes the mower very easy to handle but if you are mowing on an incline or aiming for super straight lines you just lock them into place.
The other product that really impressed me caught me by surprise. I was not expected to be excited by a tiller. In fact, I'm not really a tiller person. I don't believe in frequent tilling of soil, but they have their place when starting a new bed or when working in a lot of amendments. And I find them rather unpleasant to use. I always feel like I'm trying to control a bucking bronco when I'm using a tiller.
Enter the Bronco Axis tiller. Instead of the blades moving like a paddlewheel, they are actually vertical and rotate in a circle. This means that instead of needs shoulder surgery when you're finished tilling, you can actually walk next to the tiller, using just one hand to steer it, so you don't have to walk in the area you've just tilled. It sells for $899 and I'll be the first to admit that's a lot of money for tiller (other, more traditional Troy-Bilt tillers sell for between $400 and $599), but after trying the Bronco Axis, if I were in the market for a tiller I'd absolutely pony up the extra dough.
Isn't this just so southern? The Spanish moss (Tillandsia usneoides, an epiphyte that causes no damage to trees) is so romantic.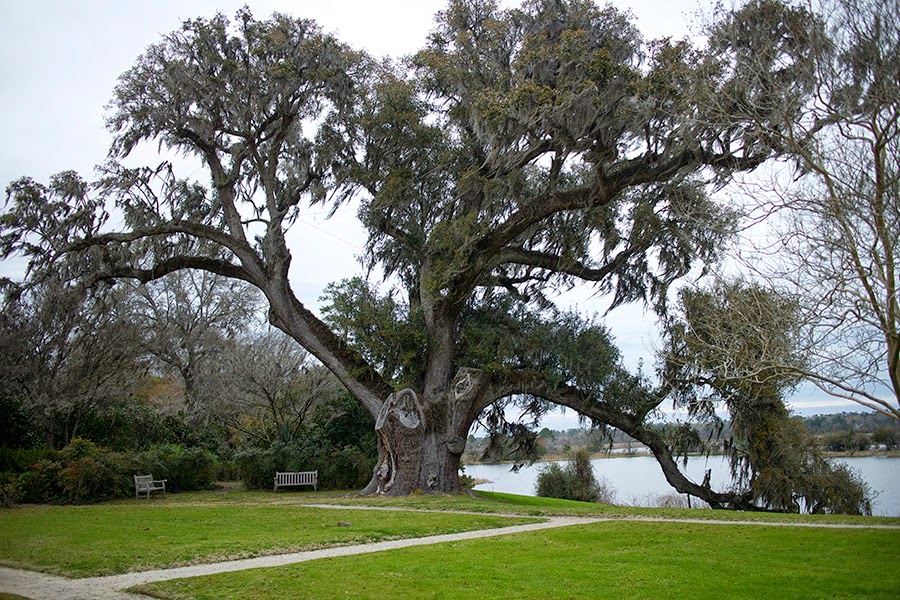 This live oak may be more than 500 years old. A few years ago it lost a couple of large branches and arborists from around the country consulted on its care. If you look to the right you can see the low brach is being supported by a crutch and wires help support other parts of the tree.
As you leave the formal French gardens, you come across this perfect framing of a view. When you walk around, you see this charming wood nymph statue. I love how someone has put a camellia blossom in her hand.
I was fascinated by this lovely bark on the crepe myrtles.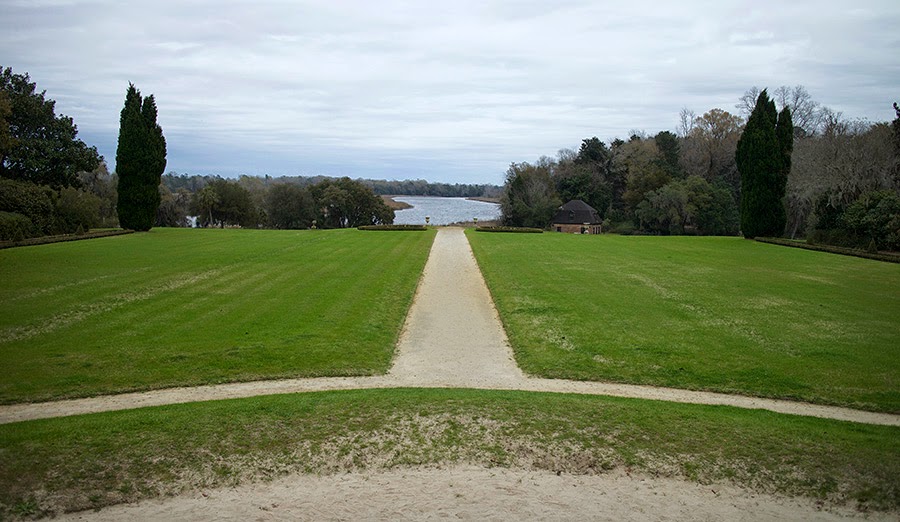 Although the original house is gone, it was set here, with a perfect view of the Ashley River.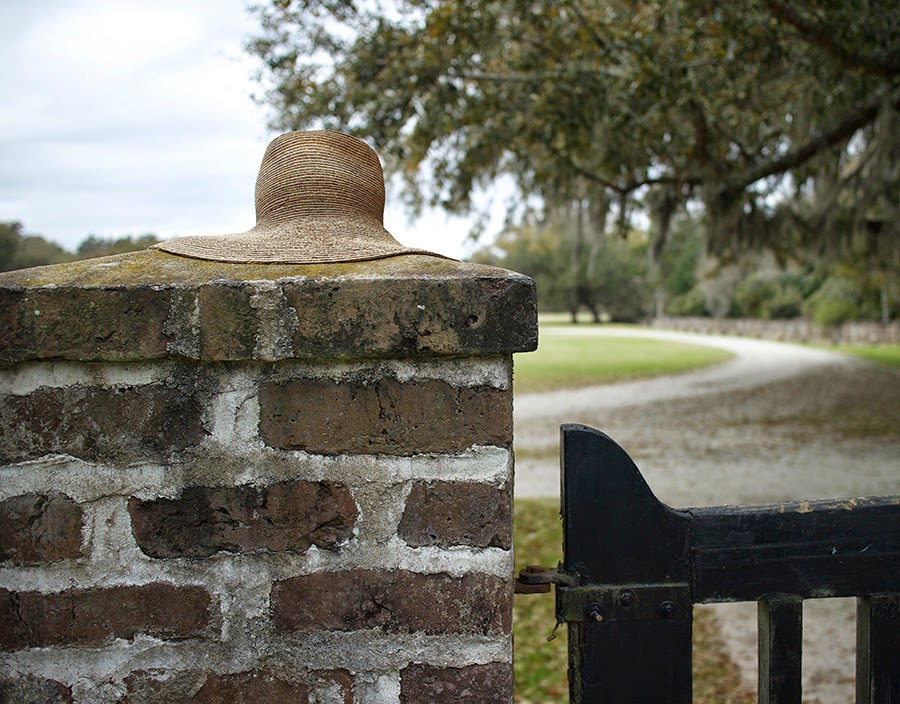 As we were walking, we happened upon this scene; a hat casually set on an original brick wall. I have no idea who it belonged to, but it feels like a gardener has just set it down before taking a break.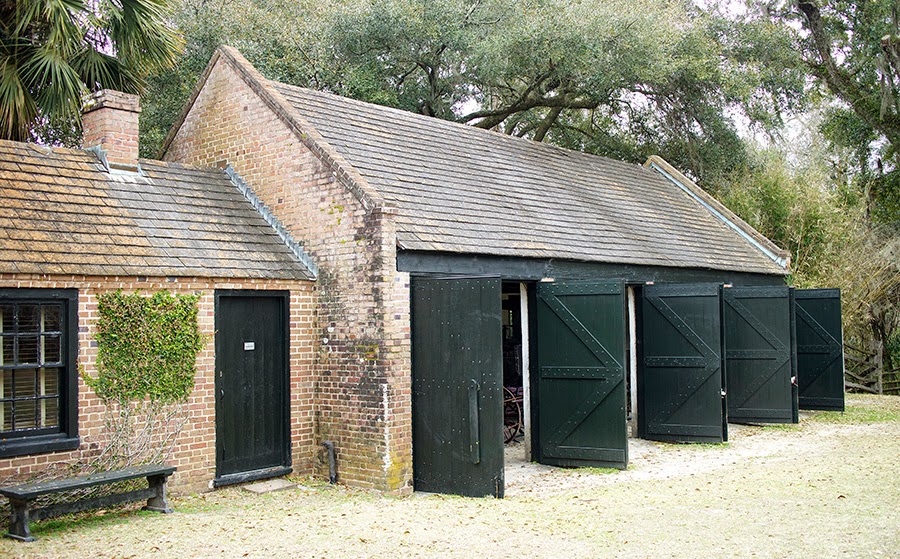 The old stableyards ooze plantation charm.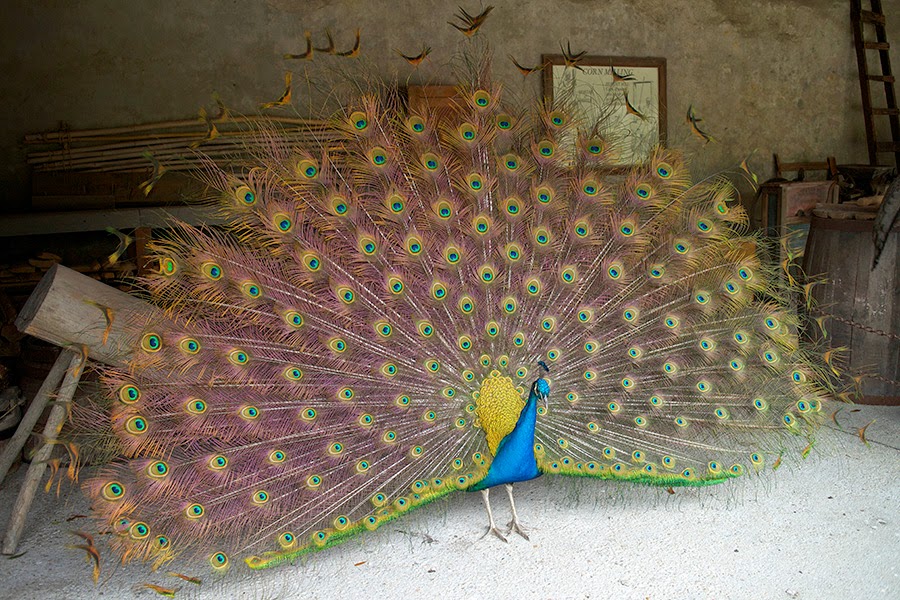 This guy saw us coming and immediately put on a show. (OK, it was probably for the girls just out of the shot, who were far more interested in eating than admiring him.)
I also had several hours one morning to explore the city. I probably put on six or seven miles, with no real idea of where I was going, just running in to one charming vista after another.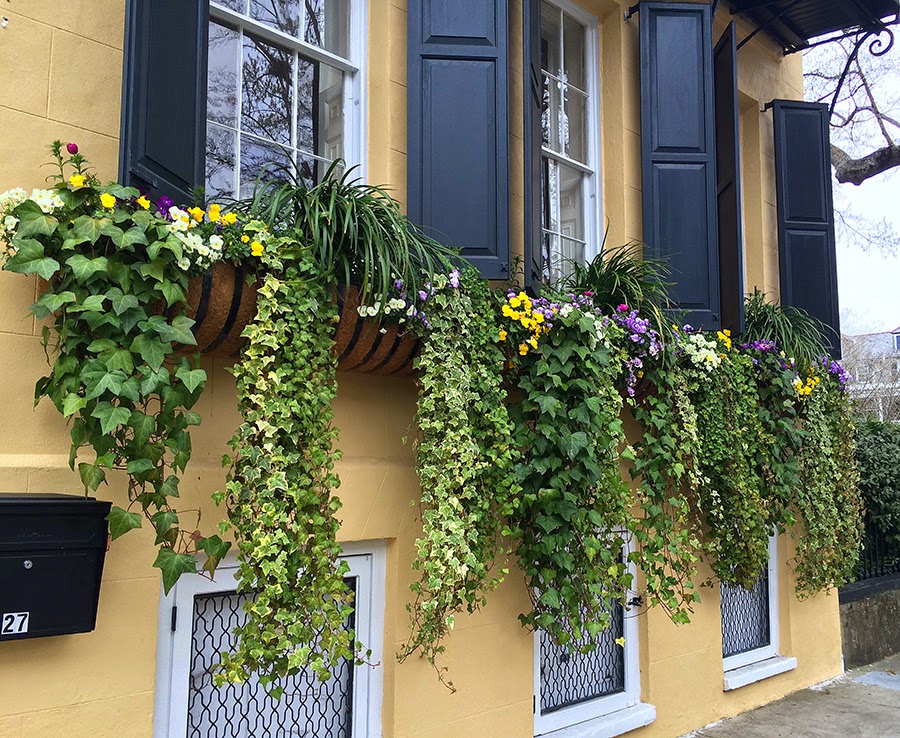 Kim from Sand & Sisal took the same picture but I have no idea when. I think it's funny that we both happened upon the same place. I've never been a big fan of ivy but window boxes like these could change my mind.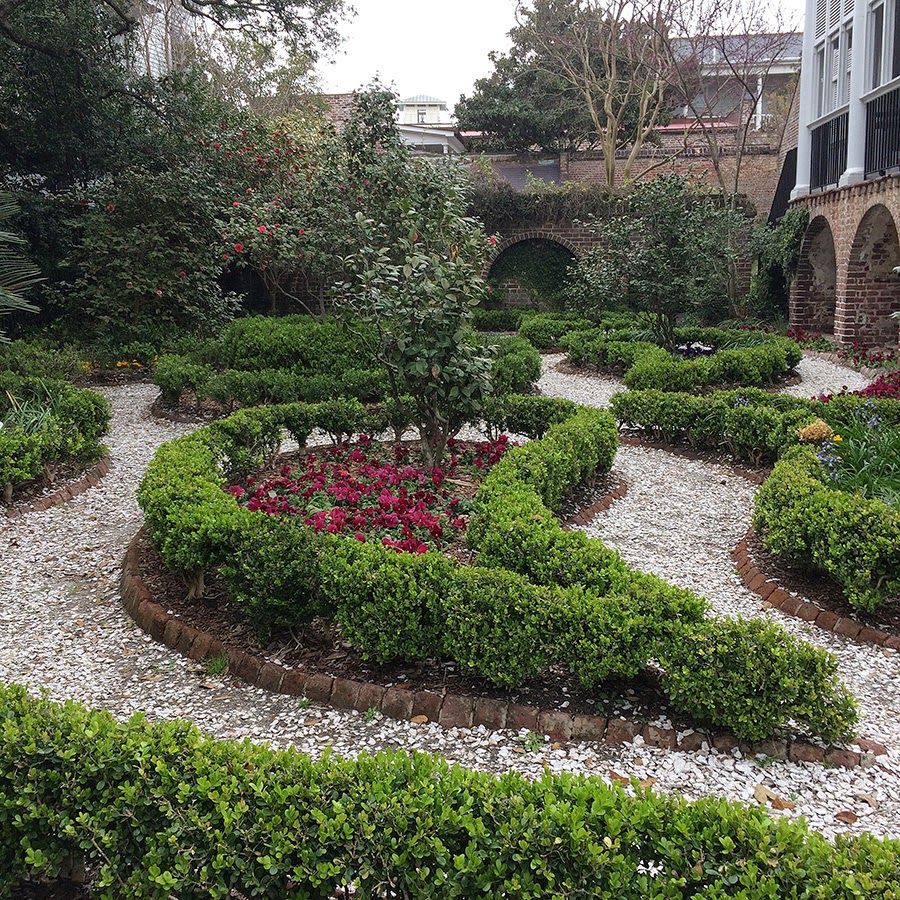 There are some gorgeous private gardens, on view just through the fence.
Check out those fantastic pillars.
Fantastic details abound in Charleston. Not only would I love to live on a street called Ropemakers Lane, but I'd really like this marble street sign to mark my street. This marble-cased window might be the coolest window ever.
I told you I was smitten. Between the gorgeous gardens, charming historic detail and the amazing food (I can't even describe how good it was but I'm pretty sure I had the finest bread pudding ever), I can't wait to go back to Charleston.
My trip was provided by Troy-Bilt, but you know how I roll and they didn't tell us what to think or what to write (I'm just guessing they wouldn't have required as many photos of camellias if they had). For more on my partnership with Troy-Bilt, read this post.
Check out my fellow Saturday6 bloggers for their take on the Charleston trip. Just promise to pretend not to see the unflattering photos of me. Oh my gosh, what was I thinking when I got dressed that morning? I need a stylist or at least someone to give me some fashion advice. I'm not kidding.
Rochelle at Pith and Vigor
Teresa at Seasonal Wisdom
Eric at GardenFork
Kenny at Veggie Gardening Tips
Kim at Sand & Sisal