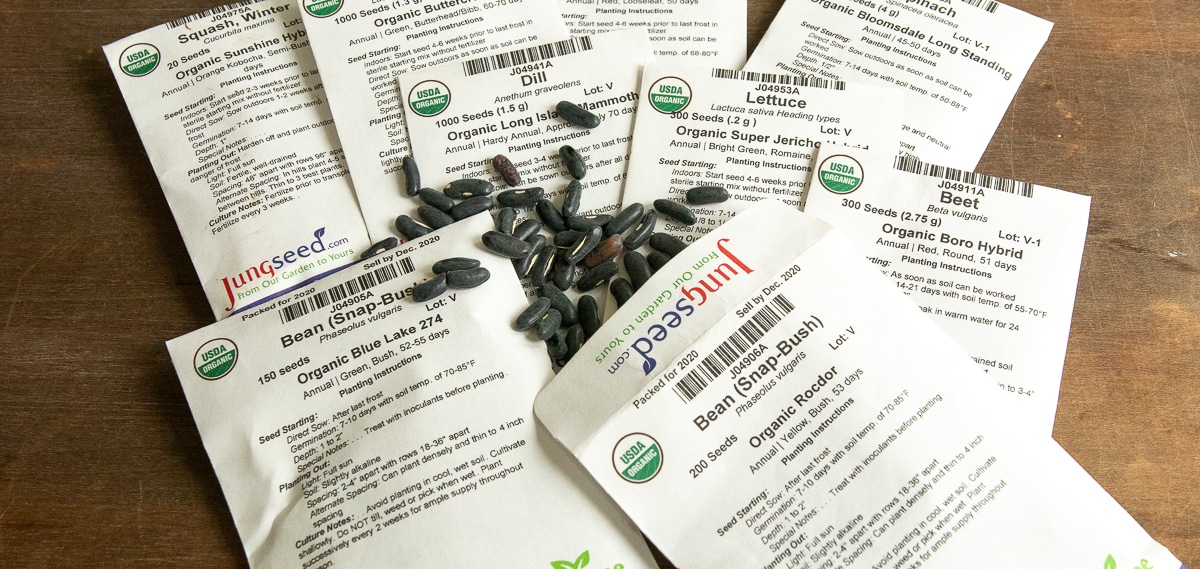 This post is sponsored by Jung Seed Company but, as always, the words and opinions here are my own.
Is it just me, or are more people into growing plants from seed?
In the past couple years I feel like so many people have asked me about seeds or shared their seed-starting tips and stories. Whether this is really the case or not, I'm fully in favor of it. Growing plants from seeds has been the most rewarding thing I've done in gardening and it has made me a better gardener. I encourage everyone to grow something from seed, just to get a taste of how fulfilling it is.
But I get a lot of questions about what kind of seed is best to buy, so I thought it might be helpful to just do a quick rundown on some seed basics.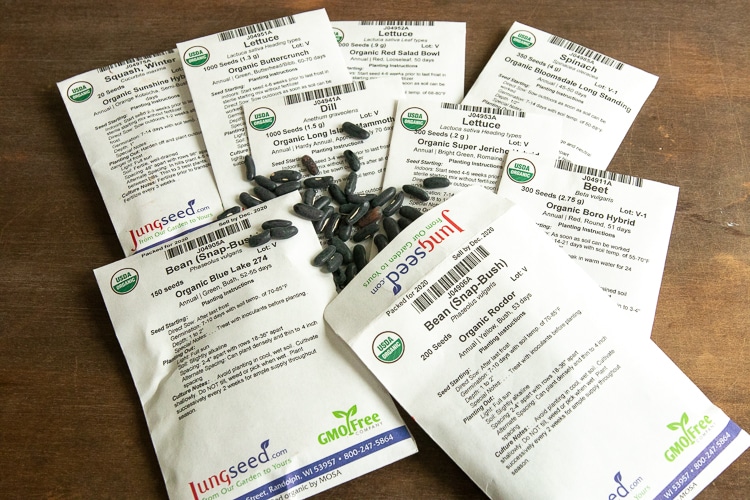 THE DEAL WITH GMO SEEDS
Let's get to the good stuff right away and take care of a question that is on a lot of people's minds today: Don't worry about GMO seeds. Here's the thing: As a home gardener, you can't buy GMO seeds. Now, some types of plants, like field corn (not sweet corn) and soybeans are often GMO, and on the off chance that you wanted to grow those, I suppose you could find a farmer neighbor to hook you up. But you're not going to get them accidentally.
So you're probably wondering: Why do so many seed companies that sell to gardeners proclaim that they are "GMO free?" Well, it's a damned if they do, damned if they don't situation. Because there is so much confusion about GMOs, at some point people started thinking that seeds might be GMO if they weren't proclaimed not to be. And then once one company started promoting their GMO-free seeds, everyone else sort of felt like they had to as well. It's sort of like gluten-free food. So many things are labeled so at some point you assume there is gluten in something unless the label tells you there isn't.
ORGANIC OR NON-ORGANIC SEED
To be considered organic, seed must be produced using certified organic practices, which means that the plants the seed comes from must be grown without chemical fertilizers or synthetic pesticides. The seed must then be certified organic. 
Starting with organic seed doesn't mean you will grow organic plants. That part is up to you. In fact, it doesn't even mean that you'll grow better or healthier plants. I've seen some speculation that organic seeds will grow better under organic conditions than non-organic seeds simply because they are "used to" growing under those conditions. Honestly, I'm going to need to see a study on that one before I buy into that.
But there's one thing organic seeds do offer that non-organic seeds do not: Support of organic farming. If you support the mission of organic growing, buying organic seeds further supports that.
So where do I fall on organic seeds? First off, I choose to grow almost everything organically. I have to leave that "almost" caveat in there because I have, on very rare occasion, had to resort to a non-organic method to manage a problem with a plant as part of an integrated pest management approach. However, anything I grow for eating is grown 100% organically. I consider this "organic growing" regardless of whether I start with organic seeds.
My thought is that if I'm already committed to growing organically, why not use organic seeds? Not only am I then raising truly organic food by any measure (not that I'm seeking certification or anything), but I'm supporting something I feel strongly about.
If a variety I want to grow is available in both organic and non-organic seeds, I will always choose the organic seed, even if there is a price difference. And, all things being equal, if I'm deciding between two similar varieties and one is available in organic seed, I'll choose the variety available in organic seed.
But, I'll also admit, that variety trumps organic for me. If a variety I really want to grow, like the Everleaf Emerald Towers basil that I cannot rave about enough, is not available in organic seed, I'll grow it from non-organic seed. 
The good news, however, is that more and more gardeners are looking for organic seed, so more companies are making the investment in producing certified organic seed, and soon, hopefully there will be far more selection in organic seed.
Jung Seed, a family-owned business started in 1907 in Randolph, Wisconsin, (where its headquarters remain, still operated and owned by the family), launched a line of organic seeds this year to help meet that demand. Jung is pretty much synonymous with seeds (although they sell plants and garden supplies as well) in the Midwest and have a loyal customer base whose grandparents probably shopped there too. And you know that if they are offering organic seeds, its because their customers told them they wanted them. And, frankly, I love to see that.
This year I'll be growing some of my favorite varieties from organic seeds including Blue Lake bush beans (they are a classic for a reason), Rocdor beans (a great yellow bush bean I've grown for years), Bobo hybrid beets, Long Island Mammoth dill and several lettuce varieties including Buttercrunch, Super Jericho Hybrid and Red Salad Bowl. I'm also trying a few new-to-me varieties including Bloomsdale Long Standing spinach and Sunshine Hybrid winter squash.
HOW TO READ A SEED PACKET
One of the things that is important to me when I buy seeds is the seed packet. I don't need a pretty picture; I need information. So I look for good seed packets when I'm choosing seeds. I want to see a lot of information at a glance, including days to maturity (when can you expect to eat this stuff or pick a flower), size and of course, growing information. 
You also want to look for a "Packed for" date and you should always buy seed that is packed for the year you're buying it in. Yes, most seeds last quite a long time if stored properly, but you're paying for fresh seed, which will have the highest germination rate. And, especially if you're buying from a reseller, if you buy last year's seed you have no idea how they've been stored. 
It can be overwhelming buying seeds, especially if you don't have a lot of experience growing from seed. In what I can only describe as a "Do as I say, not as I do" piece of advice, I'll tell you not to overdo it, because it can get overwhelming. On the other hand, seeds are cheap, so if you want to grow just a couple from a pack and save the rest for next year, go for it. But you maybe don't need to grow an entire packet of zucchini seeds for your back yard garden.