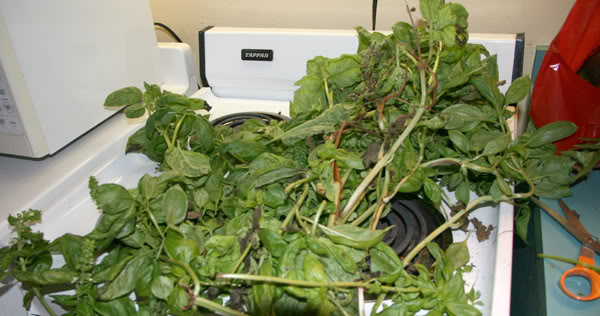 There was a good chance we were going to get our first frost Sunday night and a quick scan of the veggie garden told me that I had a ton of basil still in great shape (it was the best basil harvest I've ever had).
A pile of basil that couldn't be allowed to go to waste.
I'm a bit pesto'd out these days and frankly, I didn't really have time to make any pesto anyway, so I grabbed four basil plants and an Italian parsley plant—literally, ripped them out by the roots—and took them out to our temporary digs to figure out what I was going to do with them.
I seem to remember either reading a story or seeing a show about freezing whole herbs. Unfortunately I can't, for the life of me, remember where or what the process was but I figured it was worth a try.
Beautiful basil leaves getting a rinse before freezing.
After picking off all the herbs and giving them a good wash, I dried them as best I could (I have a great salad spinner at home that would have been perfect for this job, but out here at the cottage, paper towels had to suffice). Then I put them in Ziploc bags, rolling them to work out as much air as possible (I figured air could cause them to turn ugly brown) and stuck them in the freezer.
All wrapped up and ready for freezing.
Of course I saved just enough fresh basil for a few meals this week, including last night's salad of the last two tomatoes to come out of the garden, cucumber slices (also a great year for cucumbers. I bought a variety called 'Bush pickle' — original huh?— and it's a winner in my book), fresh basil and a little feta all drizzled with a little balsamic vinegar and olive oil. The tomatoes weren't the best (too cold for them to ripen too well) but still far better than any tomato I'll eat for the next 8 months or so. The cucumbers were crunchy, the feta was perfectly mildly salty and the basil was summer in a leaf. Delicious.
The frozen herbs won't be good for salads, but hopefully they will be wonderful in soups and sauces over the long winter ahead.