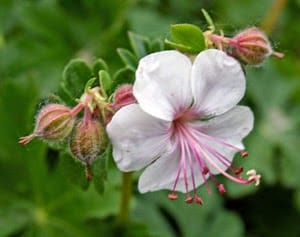 Sometimes the choices for plants of the year befuddle me. I feel like maybe the people who choose them ran out of options (which is ridiculous because there are so many great plants out there) or maybe were wooed by something gorgeous but difficult to grow.
I'm very happy to say that that's not at all the case with the Perennial Plant Association's pick for 2015 Perennial Plant of the Year, Geranium x cantabrigiense 'Biokovo'.
Biokovo is a sturdy, easy-to-grow perennial with multiseason interest. In fact I like it so much that two years ago I planted 36 thumb pots (mini plants) of them. When I read that Biokovo was chosen I immediately went in search of old posts I've done about it and found nothing.
And that's the thing about Biokovo: it's a backup singer, but it's the kind of backup singer who really belts out a tune and who is definitely good enough to be the lead, she just is more comfortable in the background.
The diminutive blooms on Biokovo are the lightest shade of pink (some call them white but I see light pink) with bright pink stamens and are held 10 to 12 inches off the ground. The blooms start here in late spring and last a good amount of of time.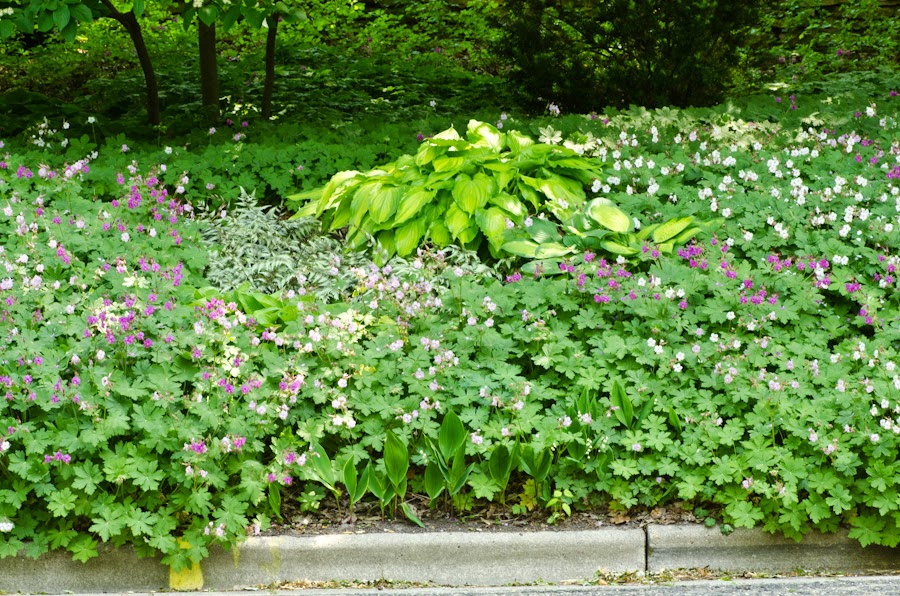 Several kinds of geraniums (including, I think, 'Biokovo') form a carpet in Linda and Mark's garden that make other plants stand out. That hosta would be gorgeous no matter what, but set off against the geraniums, it is a showstopper.

Linda Brazill/Each Little World photo
What I really love about Biokovo is that it's not a one-trick pony. When the blooms are gone the foliage creates a lush green mat provides great contrast for bright-colored foliage or bold-leaved plants. And when summer gives way to fall, the leaves change into a rainbow of colors. Since the foliage is almost evergreen, there is even some winter interest.
As for care, it's about as easy as it gets. I have it planted in everything from almost full sun to dry part shade (a notoriously challenging place to grow anything) and it has done well. It spreads by rhizomes, but I consider it a mannerly spreader and somewhat less vigorous to the more common but similar (and slightly larger) Geranium macrorrhizum.


I just give it a light haircut in early spring to tidy it up and that's it. I think you'd be hard pressed to fine an easier care perennial than that. It's hardy in zones 4-8.
I was first inspired to plant Biokovo after seeing Linda from Each Little World's photos of vast swaths of perennial geraniums. It creates such a lush look along her paths.
I've been wooed into buying "plants of the year" before and not been impressed, but Biokovo is one I can happily say is a favorite of mine. I'm glad its distinction as the perennial of the year will help introduce it to more gardeners. I think it's a keeper.