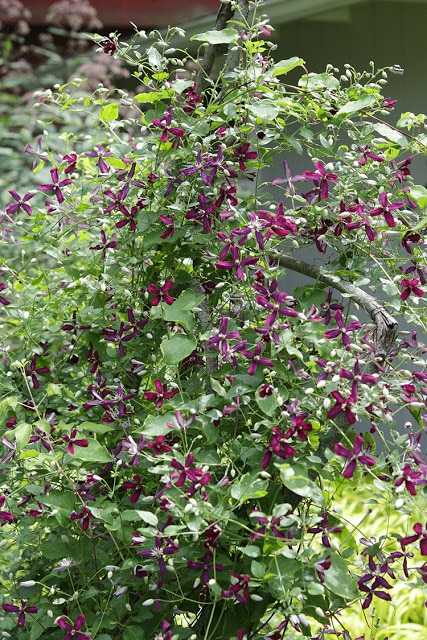 It is always interesting to see how the same plant can grow differently in two almost identical locations. And in this latest case it was even a little disheartening.
Sweet Summer Love clematis
is a prolific bloomer, but one that needs a good while to get established before it really starts showing off. Four years ago (I think), both my mom and I got one in a small quart-sized pot. I can't say mine had done much in terms of blooming in the past, although it's a lovely vine that always looks healthy.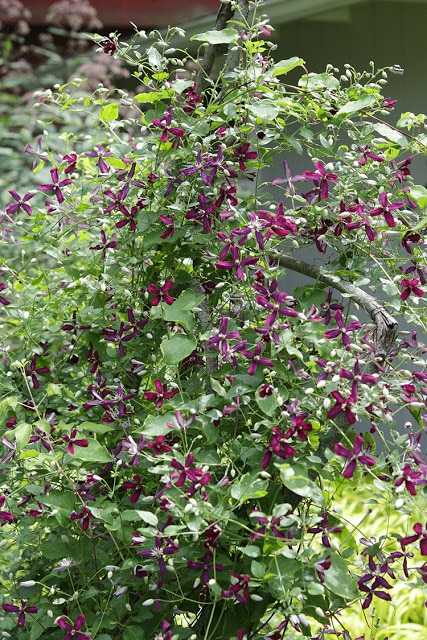 But this year it's starting to do it's thing. In fact I was fussing over all the flowers—only about an inch or a little more each—on mine and all the buds yet to open. I spent a good amount of time with my camera capturing this beauty, which unfortunately is on a homemade support that rotted on one side and is starting to collapse.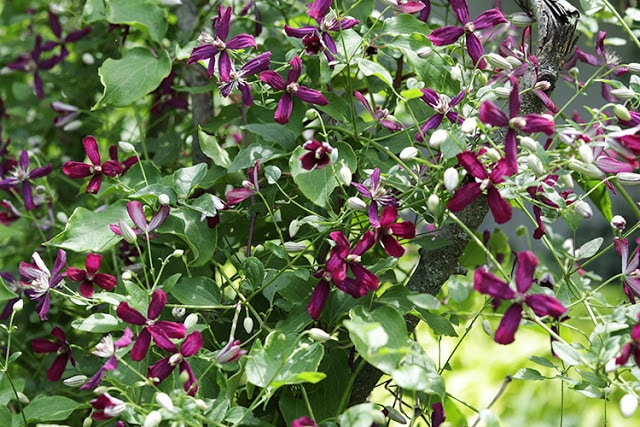 Later that day I stopped by my parent's house. They live only about 15 minutes from me, just a touch farther away from Lake Michigan (which is THE weather influencer here), although much higher as I'm at lake level and they are on a bluff. 
I was taking a look around her garden, which always looks amazing as she is a dedicated weeder, turned a corner and saw this.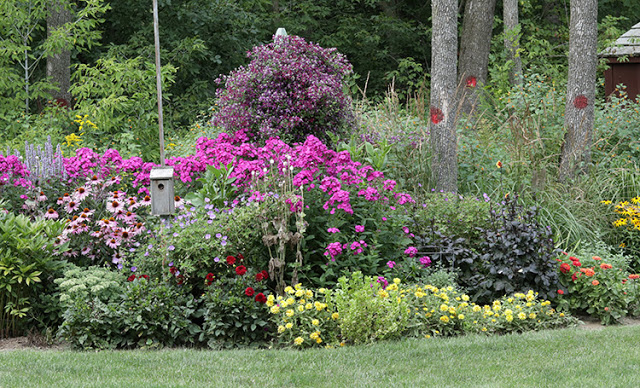 The purple cloud towering over this corner of the garden at my parent's house is Sweet Summer Love clematis, looking quite different than the one at my house. By the way, the three marked trees on the right are all ashes that have succumbed to Emerald Ash Borer, like hundreds on their property. They planted them by the dozen when they built the house in the 1960s and all are failing, so their property is undergoing some rather dramatic changes.
Not only is this corner of her garden—one she only recently started gardening in—absolutely stunning, but rising above all of that amazing color is a purple cloud.
That's her Sweet Summer Love. It would not be an overstatement to guess that there might be 5,000 flowers on it. There is a beautiful painted tuteur that is about 7 feet tall or more under all that, not that you can see it.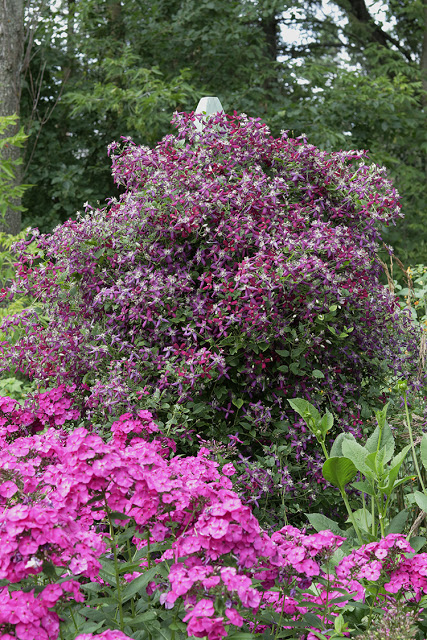 If you look closely you can see the top of the tuteur sticking out the top.
I can't explain the difference. Perhaps her just slightly warmer garden made the difference. Or maybe her soil, which is heavier than mine and has more clay, is more appealing to this plant. Maybe she just has hers in a better spot all around.
Or maybe, just maybe, my garden is  just a week or so behind hers and mine will soon look like this.
A gardener can hope.