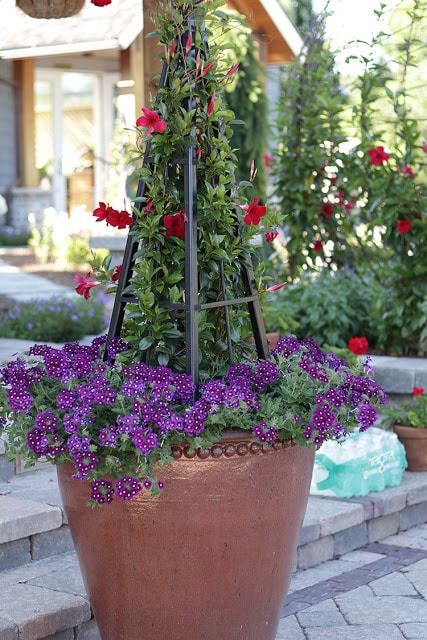 It is a huge property with several diverse garden areas, lots of garden art, ponds and certainly many thousands of tons of rock.
Here are a few shots from our visit.
Off the conservatory there was an 8-foot wire form planted with mandevilla and sweet potato vine. It was quite impressive.
A lot of annual salvia was used.
There is a Heritage Garden, shown here, and a separate kitchen garden. Both had raised beds made of 4x4s, which I thought looked quite nice.
A Japanese garden had a lovely stream and a pond with koi.
Along the top of the Japanese garden a walkway made with these pavers guides visitors to the next garden.
An enormous grape arbor is too fun to not walk through.
I think this is the kitchen garden, but it may have been a separate cutting garden. Either way I still like the raised beds and the gravel.
Several areas encouraged you to walk OVER the water on small stone bridges. How can you resist?
Thanks to a reader for helping me identify the plant below as Achillea ptarmica 'The Pearl'. It's quite lovely!
About three weeks before we visited they'd had a terrible hailstorm and all of their hostas were in absolute tatters. I felt terrible for them.
I don't know what tree this was but I loved this little starfish-like cluster of pinecones.
All of the glass art around the garden was made by local artists. I thought it looked quite nice in this bed.
Have you visited any great gardens this year?
SaveSave