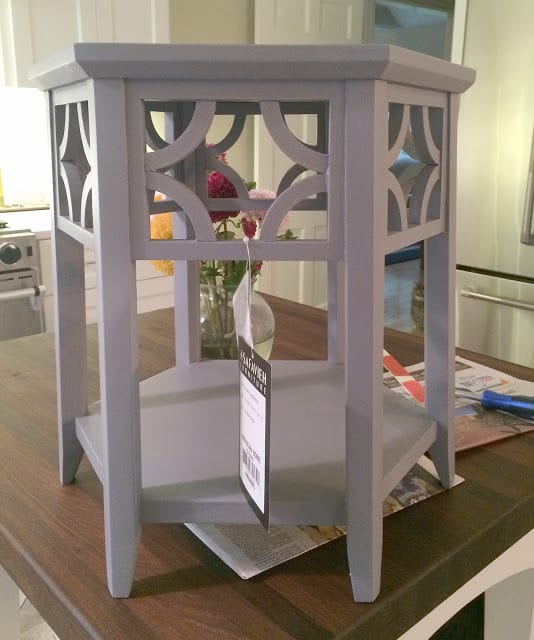 Sometimes I think about my DIY journey and it sort of blows my mind. Six years ago I was scared to try to improve anything I didn't totally hate for fear of screwing it up. Now I have to restrain myself from NOT trying to improve things that are perfectly fine the way they are.
Now I really have no problem painting something new if I can't find what I'm looking for. I've been wanting to get a new side table for between the chairs in front of the fireplace for ages. I had an overly contemporary el cheapo thing there for the last 10 years or so. What I really wanted to find was an old spindle table or maybe something with some faux bamboo that I could paint a fun color. I looked for a LONG time and found nothing that was the right size or in the realm of affordable.
I orginally saw this side table on Joss & Main. And then I found it on Overstock for significantly less. Those daily sale sites are not always such a great deal, it turns out.
Even at a really low price, I have to say I was not happy with the quality of this Safavieh table. It is really cheaply made. The top and the shelf on the bottom are made of luan and sort of feels like glorified cardboard. Still, it was cute and I was sick of looking (of course I found a table at Home Goods two weeks ago that would been equally good and was less expensive).
It came in this perfectly fine gray color.
I'm not going to give you a tutorial on how I painted it because you know the drill: Sand, clean, prime, two coats of paint, sand with 400-grit in between coats. Done.
And here it is in its new spot. With all the blue, white and gray in the living room, I think it's the perfect accent and it since its in the red family it works with the ikat dot chairs on the other side of the room too.
It's hard to get shot of our very long and skinny living room that give you an idea of what it looks like, but with the help of a tripod I was able to get one of this view, which is one I don't think I've shown you before. This is what you see when you walk out of the kitchen into the living room and it's what sold me on our house immediately. The lights you see on the mantle are from the track lights that hide on the backside of that beam. I'm still moving them around to figure out where to point them all. By the way, speaking of that painted speaker, there's one in this picture. Can you find it? Also, I am officially the worst mantel decorator ever. I'm actually thinking about making a temporary wood mantel sleeve to put over the stone mantel because I think it would be a lot easier to accessorize up there.
So have you ever painted or otherwise seriously altered something brand new? It's funny how once you just suck it up and do it once, it's not so hard the next time. Yet another slippery DIY slope.