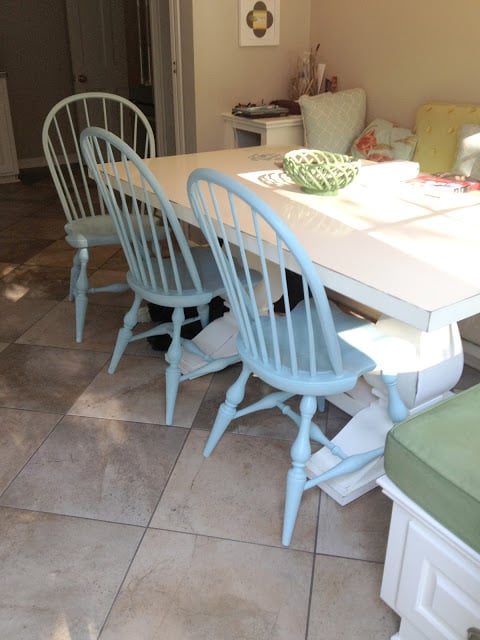 Raise your hand if you've ever put something on a list that you've already done just to have the satisfaction of crossing it off. I see you all out there with your guilty hands in the air.
Let's face it, it feels damn good to cross things off a list and I'm happy to say that I've done a pretty good job crossing things off a
list
I published (there's nothing like putting your list out in front of an audience to make you want to succeed) back in August but I've not done a great job telling you about it.
So I thought I'd circle back and feel the collective satisfaction of checking a few things off the list.
First on that list from back in August was to paint the kitchen chairs.
I did that
in September and I've been really happy with the results. That chalk paint is some hard-wearing stuff. Although I mentioned that I might end up painting the table with it, I never did that. Repainting the table is a project that needs to happen (in spring) but I haven't decided yet if I'll do it in chalk paint or not. It wears wonderfully but it does have a pretty specific finish which varies from chalky (duh) to a slight luster after a couple coats of wax and some buffing.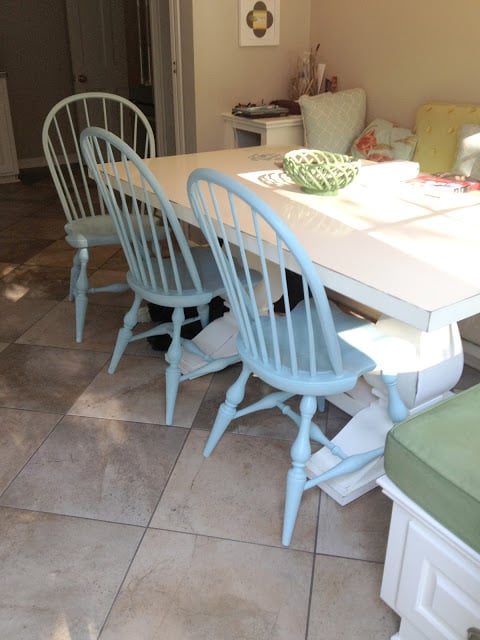 Next on the list was to get some art on the kitchen wall. Well you know how that turned out: huge success. I still love the vintage botanical charts every time I look at them and I can't think of anything that would have worked better in that spot. I feel like I should get a checkmark and a plus sign for that one.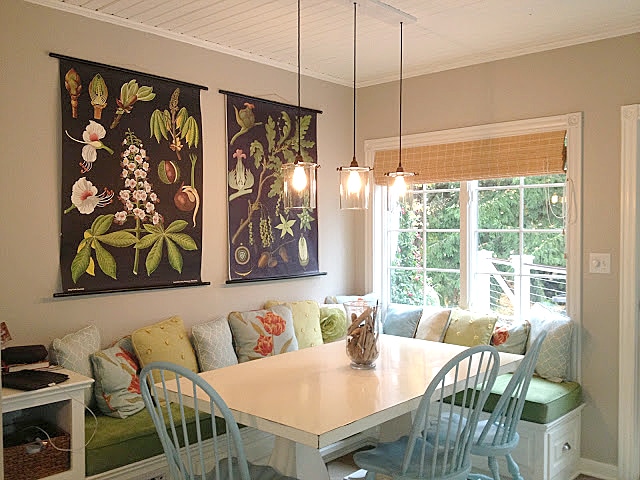 At the time, I think I meant to mention that I also needed to get some art for the master bedroom but I forgot in the middle of that big ol' list. Well I'm happy to say I checked that one off the list too. There is a big, empty wall in our bedroom that has been getting a little depressing lately because it's so gray. Don't get me wrong, I love the paint color (Benjamin Moore Revere Pewter, which is also in the kitchen), but it was just too much. I knew I needed something big for that spot and I knew I wanted something colorful but not completely crazy because it is, after all, a bedroom. Fortunately I just happened to come across a One King's Lane sale featuring canvas prints from
Michelle Armas
at a fraction of the price she usually sells them for and I picked up two. One of them, called "Laura," is a monster that just so happens to fit perfectly on our bedroom wall. I love it because it brings in the light blue of the bedding and the window seat cushion and also goes with some of the accessories we have on the open shelves of the built-in. I think, technically speaking, I've got it hung sideways because there are some drips that are now running across the canvas, but that's the beauty of abstract art: you can hang it whatever way you like.
I've never bought a print on canvas before and I have to say I'm really impressed with the quality. It's difficult to tell it's not an original.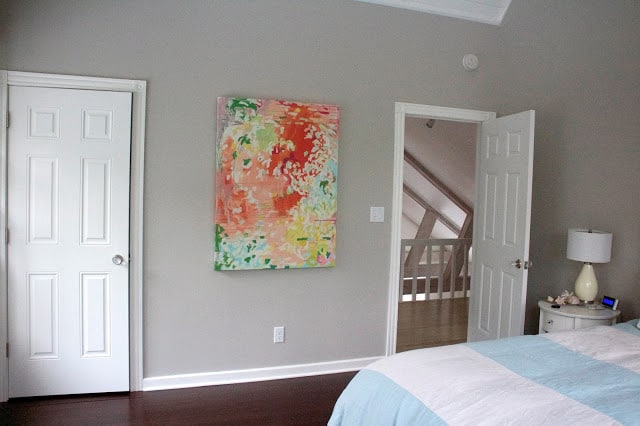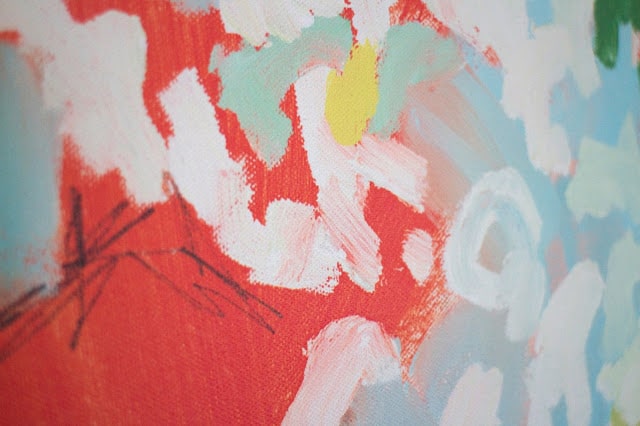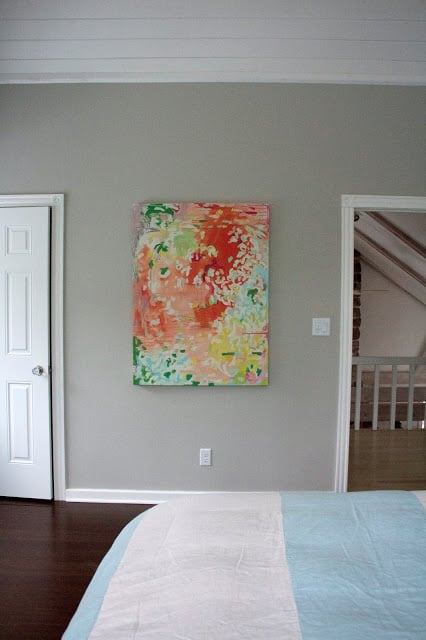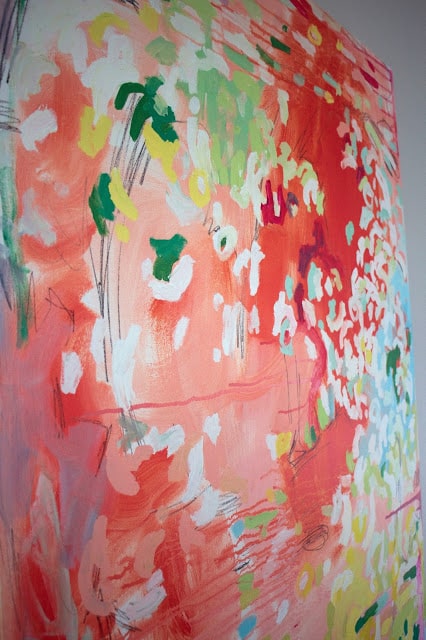 Next on the list was reupholstering the Craigslist cane chairs I bought a long time ago. I'm really anxious to do this project and I've purchased all the fabric I need for it, save for the really expensive Chiang Mai Dragon print that I keep trying to find on sale somewhere. So it's on the radar but this one didn't really get anywhere yet.
Redoing the back room is also still on the to-do list. In order to work on that room we need to move the furniture out of it so Mr. Much More Patient has declared that I have to make some room in the basement to store the furniture. And making room in the basement for that means getting a few other projects finished first. Plus, we're hoping to pound this one out in a few weeks so we're waiting until we're both home with a little time in our schedules to get started.
I also mentioned making some changes in the living room and I'm happy to report things are moving on that front. So far, I've
changed out the ugly lamp
,
reupholstered the two chairs
that sit in the window by the game table in a fun ikat dot print,
bought a new, neutral couch
(which I still love by the way), sent the mustard-colored chair and ottoman
out for reupholstery
(it's been two weeks and he said three to four so I'm hoping it will turn up soon) and, I'm very happy to announce, we finally got the rug we've been waiting for since spring. I haven't showed it to you yet (other than a sneak peek on
Instagram
) because I wanted to wait for the chair to come back first. There are a few other details to be attended to in there, but it's finally coming together and it's a total relief.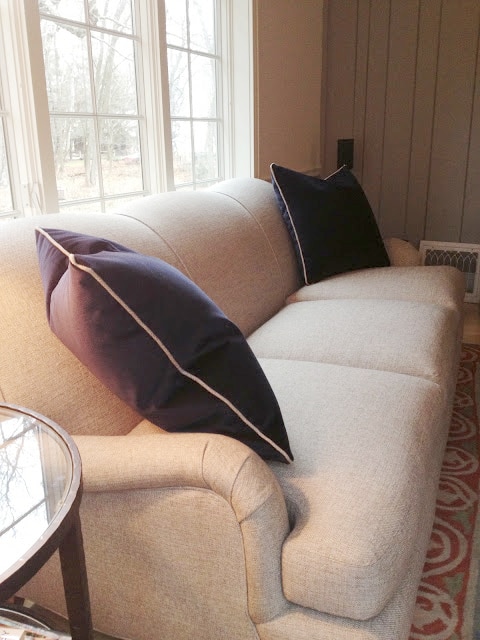 A new, neutral couch!
Next on the list was restaining the coffee table. I did that a few months ago but didn't show you because I forget to take pictures and I stained it a color that's not too different from what it was so it didn't make for a dramatic before and after. But the new stain completely rejuvenated it and even though the stain color is similar—it went from a dark cherry/mahogany color to a medium-toned stain similar to our media console—it now works much better in the room.
I also mentioned a few things that needed to be done but weren't on the list for this winter. One of them—the downstairs bathroom—is still not being touched. That poor, ugly, forgotten bathroom is destined to be the last nail in the coffin in a renovation of our house that will span more than a decade. It still has the distinction of being the only room in the entire house that is completely untouched by us, even though it was declared to be the ugliest room in the house even before we had officially purchased it.
I also said the kitchen was not happening. Well, in fall we got a new walnut top for the island, so that's a minor improvement. And as it turns out, a few other improvements may be in the works, but we're waiting for a few quotes on some things before that one becomes official.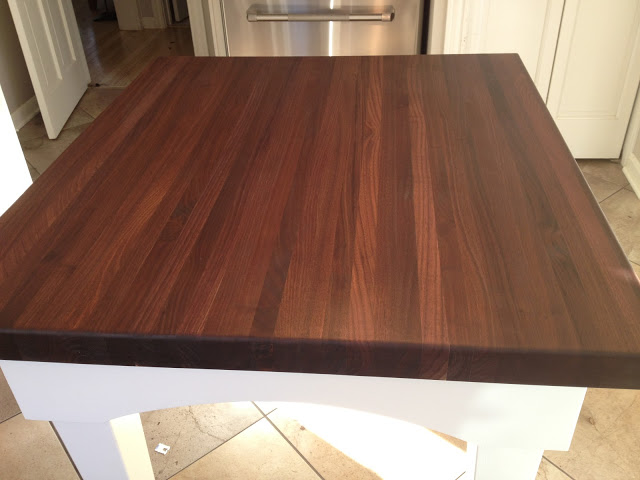 A new walnut butcher block top.
So that leaves the list looking like this:
Paint the kitchen chairs
Paint the kitchen table
Get some art on the kitchen wall
Art for the bedroom
Reupholster the Craigslist chairs –coming soon
Re-do the walls and ceiling in the back room
Change the color scheme in the living room — halfway there
Restain the coffee table
Gut reno the downstairs bathroom — nope, not happening anytime soon
Make some changes in the kitchen — maybe?

How are your winter to-do lists progressing? And what's on the to-do list that you're planning to tackle this weekend?