I took a little heat from a family member last week (just a tiny little bit) when I said on the blog that I don't do placeholders. It was in reference to the vintage botanical charts I recently hung in the kitchen, which I was so thrilled to have hanging there because that wall was empty for about three years while I searched for the perfect thing. I was more content to have it sit empty than to fill it with something I didn't really love.
I did couch my opinion on placeholders a little by saying I didn't like to buy placeholders, thereby giving myself a pass on placeholders that I already own.
There is one place in the house that has had a placeholder in use for 10 years. Yep, since the day we bought the house.
When we bought the house it was total chaos. The seller had decided she didn't really want to sell and tried to get out of the contract (I think because we offered the full asking price the day it went on the market she realized that maybe this place, which she was using as a rarely visited second home, might be something special). We knew it was our dream house and played a bit tough with her, making it clear that we were going to fight to keep it. Anyway, she was heartbroken about it (which I understand) so she sort of dragged her feet on actually moving out). So on the day we closed at 9 a.m., our real estate agent called us at 10:30 a.m. to warn us not to even come out because her moving truck hadn't even showed up yet. Um, what then? We waited around until 1 p.m. and then we HAD to start moving. It was a Monday and we had one day off of work to move, not to mention our family had taken time off of work as well. So we were moving our stuff in the basement door while she moved her stuff out the front door. It got confusing. And she ran out of room in the moving truck. So we inherited a lot of her stuff.
Hideously ugly lamp that's been sitting there for 10 years.
One of those things was a table lamp that I remember thinking was one of the uglier lamps I'd ever seen. But since we had no table lamp, it worked fine next to the sofa until I could find something else. It was a spot we really needed a lamp in, so it would do.
I'll just pause here to mention that I hate lamp shopping. I think most lamps are horribly overpriced and way too trendy. I think stylists must feel the same way, because if you look closely, the styled spaces you see in magazines or on Houzz.com rarely don't have table lamps where you would expect to find them.
I was so excited when I saw the lamp that was included in Nate Berkus' Target collection. It was close to what I was looking for, and at $40 for the lamp plus a shade, it was in my price range. And I actually stayed up to midnight so I could buy it online as soon as they offered it on the website. To be honest, I stayed up until 1:30 a.m., which is when I woke up on the couch and remembered to order it before stumbling to bed.
I guess I was so excited about it that I never really read the description. I thought the lamp was a light-to-medium toned wood. Turns out it was metal painted gold. Oh I know, gold is all the rage all of a sudden. Maybe I'm slow to embrace trends (or if you're in the camp that believes gold is classic and never was out of style, maybe I'm just lame), but I'm having a hard time loving gold. Antique brass I can do, but gold, not so much. (Speaking of that, I think I might actually be hitting the trend at exactly the right time because we're trying to replace all of our very heavy, well made solid SHINY brass doorknobs with antique knobs).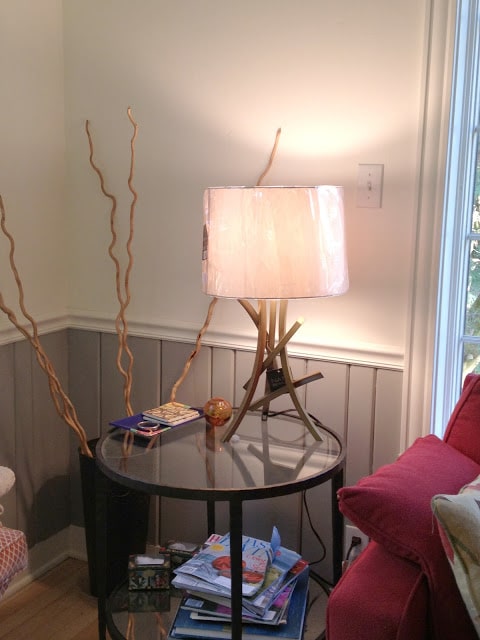 Nate Berkus lamp from Target … still not quite right. I think it's safe to assume that no styling occurred prior to the taking of this photograph. Just keepin' it real, folks!
Other than the gold, I liked the lamp. I'm also really, really sick of looking for lamps. I mean, it's been a decade! So for a second there, I actually thought about breaking my placeholder rule and keep that Nate Berkus lamp. After all, it's way better than what was there before. But I knew I'd still be looking for the right lamp and then I'd have to add the (albeit reasonable) cost of the Target lamp to the cost of the new lamp and I'd have spent more than I wanted to. So I packed it up and took it back.
And then I stuck that ugly old lamp back on the table. The search continues. What do you do when you can't find the right thing for a room? Settle on something else and learn to love it, or wait until you find the perfect thing?
P.S.: Bonnie & Bell, which teamed up with me to give away the fabulous vintage botanical chart (you can still enter if you haven't already), is offering 15% off everything in their Etsy shop TODAY ONLY with the code 15WIN. So if you had your eye on something over there snatch it up now while you can!