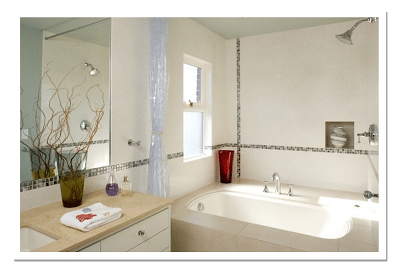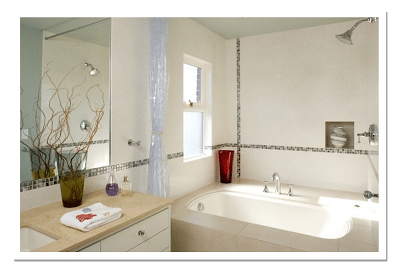 One of the inspiration photos I've collected from Houzz. I liked the white (but not too white) walls and the slim band of accent tile that goes all the way around the room. I especially like the one vertical band, which I think helps add some height to the room.
Sometimes I wonder if I have some sort of problem that involves me coming up with an unrealistic or even impossible goal to torture myself with for months until I settle for something else. This happens all the time with design decisions and even when I'm looking for the perfect plant for the garden.
So I expected nothing less than frustration when I went on a tile shopping expedition last week. Although we still haven't signed the official papers (a contract with the general contractor or the loan from the bank), it's looking like this house renovation is going to happen in late summer/early fall. I do not do well making decision under pressure so I wanted to make some of the decor decisions as soon as possible.
My tile success started with talking to my tile guy, who happens to be the husband of one of my best friends. He told me where to shop and a few ideas of what to keep in mind.
The next good move I made was to go to the tile store on a weekday. I had been there on a scouting mission a few months ago on a weekend and it was a madhouse. That was fine for an initial look around but it wouldn't do for serious shopping. And the final smart thing I did was to walk in and immediately look for a consultant to help me out and get on with it.
We started with the field tile for the walls, which I already knew I wanted to be porcelain (I didn't want any tile I would have to worry about sealing like a natural stone), large scale (I have a fear of lots of grout lines in the shower) and light in color. We pulled out about 10 options (this is where the tile consultant really helped because she knew where things I might like would be located) and narrowed it down to two. I ended up choosing one over the other because I liked it slightly better and it also was $1 cheaper per square foot. How often does that happen?
Next we looked for an accent tile. I had my heart set on a blue glass tile. I was open to considering any shade of blue and any size and shape of tile. Things got a bit more difficult here but the tile consultant really went to work here. After about 15 minutes of looking I realized that I really detested one-inch square tiles. I'm not sure why, but all of a sudden it became apparent that I didn't want that. Then I saw some 1-inch by 2-inch rectangles and asked to see them in other colors. The consultant brought over a board with several shades of blue tiles on it, some in that shape. But there was another shape: an ellipsis. The color is difficult to describe (and it's name—Queen Jewel—certainly doesn't help) but I think of it as Caribbean blue. It wasn't what I expected to like but I kept coming back to it so I put it on the short list and moved onto floor tile.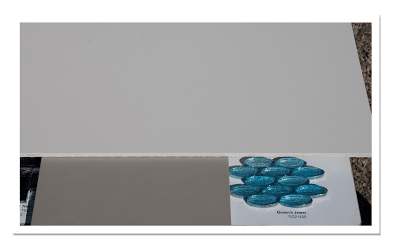 The winning tile combination fell together easier than most things seem to. The majority of the wall tile will be this off-white polished porcelain tile in a 12×24 size. The floor will be the gray tile, which has a honed finish and is very similar in color to the Benjamin Moore Revere Pewter color I recently painted the kitchen. The glass accent tile will be the "Caribbean blue" ovals which I'll use for a thin horizontal and vertical stripe.
This was the easiest of all the selections. I knew I didn't want a white floor, but I didn't want anything too dark. I also wanted to stick with porcelain for the floor. We pulled out about three tiles, including one I liked quite a bit. We were making a final pass through the store and I picked up a tile called "Urban Grigio" and put it back because I thought it was too late. Two minutes later the tile consultant grabbed it and I knew right away it was the one.
I brought home samples of all the tiles and my husband liked them so that's one decision all done. And boy it feels great!