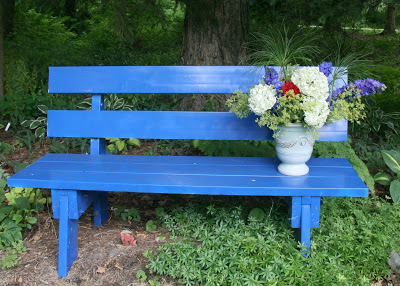 We had a big rain last night, and I'm a poor staker, so my beloved (and sparse) delphiniums all flopped. There is a good side to this, which is that I was free to cut them and bring them inside (I'm normally too tight to cut too many flowers). The rain also made a few of the Annabelle hydrangeas that had escaped the cage I put around them flop a bit. Since delphiniums and hydrangeas rank right up there with my favorite flowers I was excited about a chance to put them together.
Then I spotted one of the amazing double red poppies I grew from seeds scattered in February and cut a few of those too.
Still needed some height though. A ha! The papyrus grass (King Tut) thriving in the big container. There are so many coming up that I could spare a few for inside.
And there were still a few holes to fill, so I went to my go-to filler: Lady's Mantle. Everyone should grow Lady's Mantle for a lot of reasons including that it's incredibly easy to grow and it's small long-lasting chartreuse flowers work in almost any bouquet.
The result was the perfect Fourth of July bouquet: red, white and blue with a few fireworks!
And because I don't have cute kids to pose with these things, I did what any self-respecting dog owner would do: bribed her for the photo.