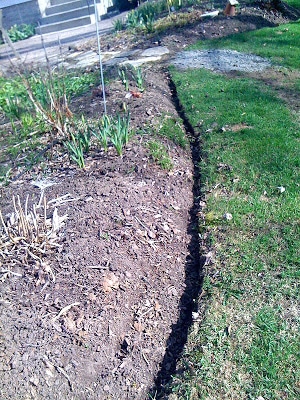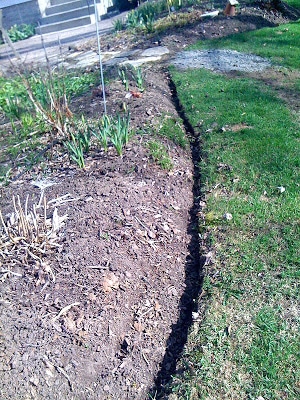 Friday I posted a long list of weekend gardening chores. The weather this weekend was stellar, which we deserved after the previous weekend's 2.5 inches of rain. Here's how I did:
• Edge all beds – DONE. They look great. I don't like edging, but nothing cleans up a garden like fresh edges. (Note: I'm just looking at that picture. It looks like I might have been drunk while edging!)
• Finish weeding beds — Not done. Almost … but not quite. Plus, there will certainly be more weeds to follow so this isn't really something you can just check off and
be done with.
• Plant tree peonies — Done. I planted three: A dark red, a dark pink and a light pink. They came bare root and my understanding is that it's not a great time to plant bare root tree peonies (fall is better), but they were about $7.50 each through the co-op. There's no way I was going to pass that deal up. I hope they do well. I'm guessing if they think about blooming this year (unlikely), I should cut the buds off to focus all the energy into the roots, right?
• Divide daylilies— Nope. But I only have one that needs dividing so this a good after-work project.
• Determine if the Disneyland rose made it through the winter—Well, I didn't pull it out of the ground because I'm hoping for a miracle, but I think it's dead. I don't get what happened. I bought it potted at the nursery and planted it at the level it was in the pot. (Was that correct?) I'm pretty sure it's an own-root rose. This winter I mounded soil around it's crown, caged it and mulched it heavily (as in 18 inches deep) with shredded leaves. Not one stem is alive and there are no signs of life there. This happened with the last floribunda rose I planted too. I think I'm the only person the world who grows roses as annuals. I may very well replace that Disneyland. It was GORGEOUS last summer. And probably worth the $15 it cost even if it only lives one summer. I sure wish someone could tell me what I'm doing wrong though.
• Deal with "The pit of despair"—Nope. Still a pit. Still full of despair.
• Plant peas, lettuce and maybe beets — Check, check and check!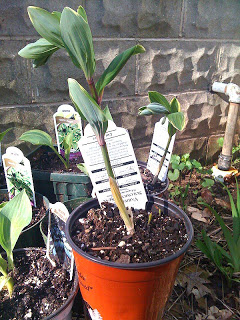 • Hopefully take a trip to Caan's garden center—Done! By about 2:30 p.m. yesterday I was so stiff I could barely move, so even though there was lots left to do in the garden, I ran up there for a bit of a break. Boy was I disappointed. They only had two of the six perennials I was looking for, so I picked up three variegated Solomon's Seal, and a Baptisia, and a hanging plant for my mom for Mother's Day (trust me, you do not want to be at a nursery specializing in hanging containers on Mother's Day weekend).
All in all it was a pretty good gardening weekend. But gardens should come with chiropractors!