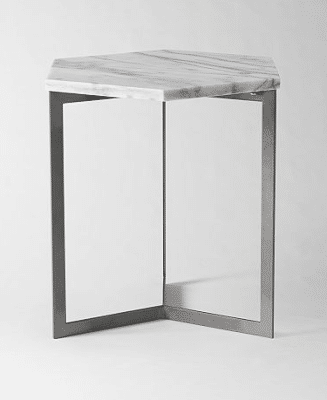 I have been on the hunt for a marble side table for about two years now. I'm pretty sure it's because secretly I would have loved a marble countertop in either the upstairs bathroom or the kitchen but I knew I'd lose my mind with a marble counter. Some people love marble countertops for their patina or are willing to baby them a little, but that person is not me, so I went with no-muss, no-fuss quartz in both places.
But marble is beautiful and I really wanted to bring in a little more white by the blue chair in the living room. Not finding the right thing was just killing me (sometimes I get consumed by these searches) and I was just about to sort of give up and order one from West Elm that I had been eyeing. I liked the table a lot although it was lower than I was looking for and I'm always a little worried to go down the West Elm / Pottery Barn / Ikea road. Its not that I don't love their stuff. It's just that I don't really like it when someone walks in the house and automatically knows where something is from. I already have the Malabar chairs from Pottery Barn (and honestly who doesn't know someone who has or had those chairs) in front of the fireplace so I was just a bit wary of having things look like they were all ordered from a catalog.
Anyway, I was literally on the verge of buying the West Elm table when I decided to do my routine Etsy search for "marble side table" and lo and behold, a new one popped up.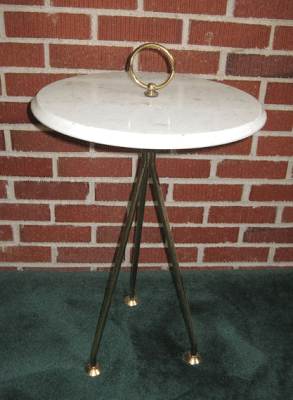 Etsy listing photo
It was this cute little vintage number that cost about half of what that West Elm table cost. It wasn't perfect by any means. The marble top clearly had some stains on it and a few chips. Plus, the legs and the "handle" on the top were shiny fake brass. I like brass, but I like it when it's darkened, and antiqued and, um, real.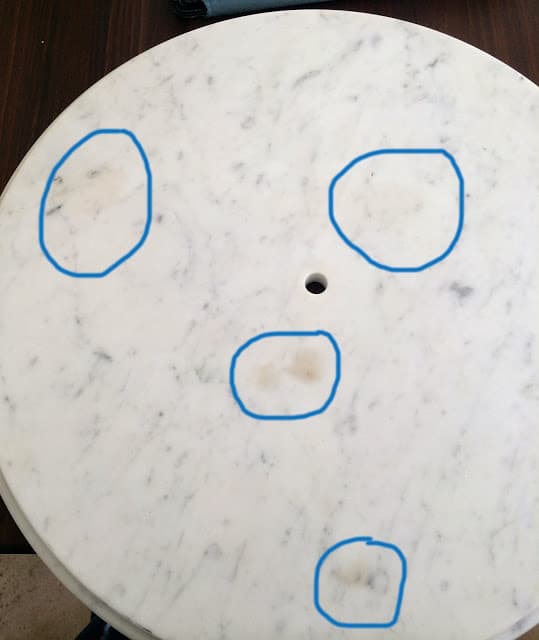 There were a number of stains of unknown origin on the tabletop.
When it arrived I set to giving those stains a shot. I really didn't expect them to budge, since I had no idea what kind of stain I was dealing with nor how many years it had been there. Honestly, I would have been fine with the table with the stains patina too. But I did a little bit of googling (how did anyone DIY anything before Google?) and decided to give hydrogen peroxide a shot.
Instead of using regular hydrogen peroxide that comes in a bottle, I went for the industrial strength stuff. And the only place I knew where to find that was in a box of facial bleach. I bought the extra strength Sally Hansen creme facial bleach (I don't know where the extra strength comes in but it sounded good), pulled out the bottle of powder labeled "Activator" and threw out the rest of the contents of the box.
Then I mixed some of the powder with a small amount of ammonia, as I read in this article. I spread it thinly on all the stained areas, covered them with plastic wrap and sealed them with tape. Then I put it in a sunny window for about 10 hours.
Later, I took off the plastic wrap and tape and washed the whole thing with warm water and a little soap. Because of the size of the table top, I was able to stick the entire thing in the kitchen sink.
There were darker areas where the plastic wrap was, but it was just residual moisture. A day later, they were gone.
But then I went back to the tabletop a few days later and I noticed that now the areas that I had treated were actually lighter than the rest of the table. It was a very, very small difference, and it may have even faded with time, but since I was dealing with a very small piece of marble I figured it would be easy enough to fix (I also could have lived with it the way it was). I just mixed up more of the hydrogen peroxide powder and ammonia and spread it (very thinly this time because I didn't have much) over the entire table, and wrapped the whole thing in plastic wrap. I kind of forgot about it this time, so I would say it sat for about 20 hours, but I washed it the same way I had the first time.
And this time all I saw was a beautiful, white Carrara marble top.
I've delacquered the legs and handle, but that's as far as I've taken it so far. I'm sort of hoping it will get a little rusty or something (I don't really know what I expect to happen, and I'm pretty sure they are made of aluminum as a magnet doesn't stick to them and I know it's not real brass). My intention is to live with it like this for a little, but I'm also considering spray painting the legs an antiqued brass or bronze color. I also put on a coat of marble sealer to prevent future stains.
Despite that shiny gold glaring at me out of the corner of my eye, I'm just loving this table, and even more so now that the marble looks practically new.