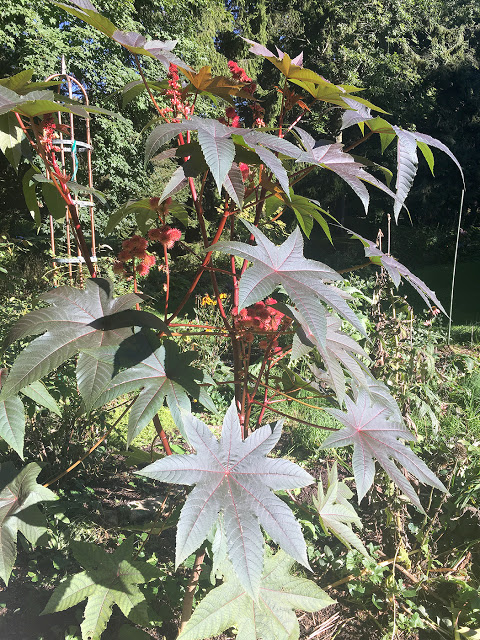 There's no getting around it: At this time of year, the garden is starting to look tired. Foliage is tattered and sun faded, flowers are flopping, everything looks a bit haggard. But one plant is just now coming into its own, the ever tropical-looking Castor bean.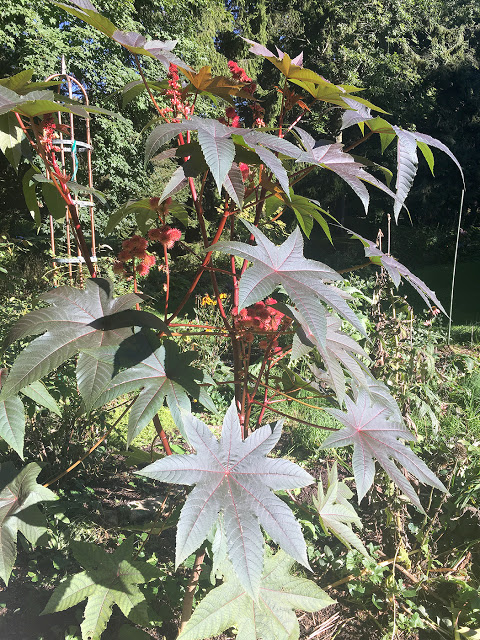 This plant will surely catch your key from across the garden.
Before I go any further, this is one plant I feel requires a warning. There are a lot of poisonous plants out there that I wouldn't bother with a warning on, but this one is a biggie. All parts of the plant and especially the seed are poisonous (this is where ricin comes from, after all). Don't eat any of it let anyone or anything eat it. My dog has never shown an interest in eating plants and he's never outside unattended, so I feel comfortable growing this, but you may not be.
OK, preamble done. Castor bean (Ricinus communis) ticks all my tropical plant boxes. It has huge palmate leaves in the most lovely shade of purple or green (I've only grown purple varieties), and crazy pokey-looking red flowers.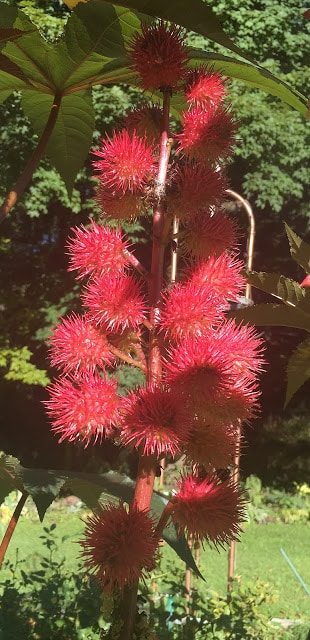 The flowers are unlike any others.
They can get very large, so I've grown smaller varieties: 'Impala' last year and 'Gibsonii' this year, and both have topped out in the 5- to 6-foot range. I start them from seeds in spring and like all beans they are very easy to get going. When I plant them out in early June, when it's plenty warm (they will flat out sulk on chilly nights) and they are about a foot tall and then I mostly forget they exist until all of a sudden one day in mid- to late-August, there they are, standing proud a few feet tall. From there, their growth rate is unbelievable, reaching for the sky and developing a main stem (trunk?) that is about 1.5 inches in diameter, even on the smaller varieties.
They are also pretty good about not needing staking. I suspect the secret is a good amount of water, which we've had plenty of from Mother Nature. I keep meaning to cut a few leaves to take inside to see if they hold their shape once cut, but I haven't gotten around to it and I suspect they won't.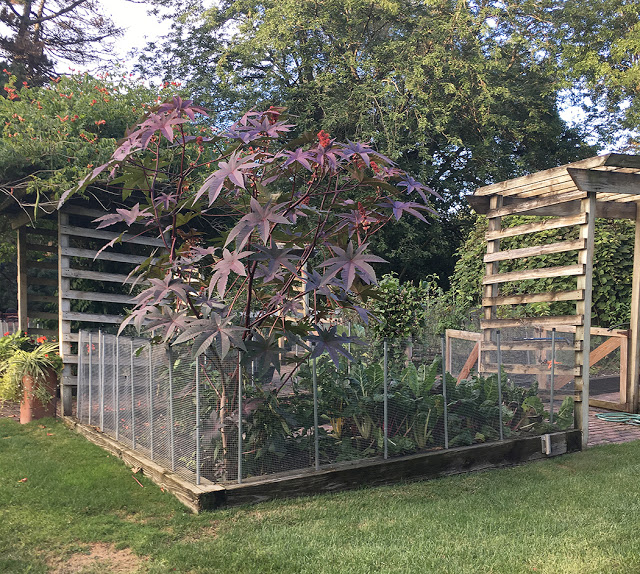 At a house I was at recently, a huge variety of Castor bean occupies a corner of the vegetable garden, which, now that I think about it is a little ironic.
I was at a house with beautiful professional landscaping a couple weekends ago for a party and noticed that their gardener used tall Castor beans in lots of spots, including a tricky, tiny corner of soil near the driveway and at the entrance to the vegetable garden.
I'm always torn about where to plant Castor beans, because they want sun and heat, if you can give them that, but they would look great in a far corner of the garden where their big leaves beckon and invite visitors for a closer look. Still it's a fantastic annual (here, anyway) that offers a look that's hard to get.
Have you grown Castor beans?