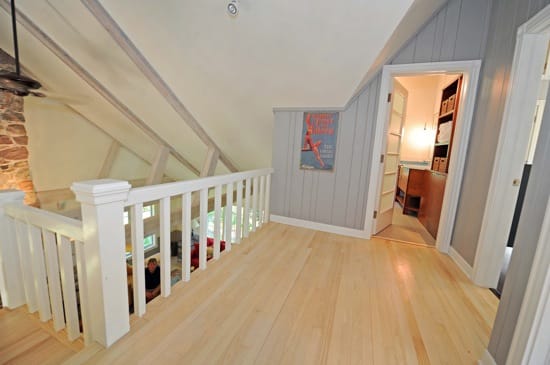 We're finally at the end of this rather prolonged house tour. `There are a couple rooms not worth sharing at this point, but maybe in the future if they get a little sprucing up I'll share them with you.
You've already seen the
new bathroom
,
the kitchen
, the
living room
and the
master bedroom
. Today we'll finish up the upstairs and show the hallway and the guest bedroom. Although the hallway got a bit smaller to allow for room for the bathroom on one end and the master bedroom closet on the other, it was important to us to preserve the character of it. We had several pieces of paneling custom made to match the existing panel so we could fill in the areas that were taller due to raising the roof.
It is open to the living room which helps the whole house feel bigger as well as allows the light streaming through all the new windows on the east wall of the bedrooms into the living room.
Here's what it looks like now (looking at the bathroom).
And here's what it looked like before:

And the new view of other end of the hallway:


The gallery wall probably deserves a post of its own because in typical form, I made it far more complicated than necessary. But for now here is a close-up that shows some of the different blue colors I used to paint the frames.

From here we move into the guest bedroom, which is admittedly a bit sparse these days. I can't seem to get the furniture placement right in this room, so for now I've sort of plunk the bed under the windows. At a minimum, it needs a headboard (do I see a DIY project in my future?) and some art to cover the large expanses of gray walls, but it needs more than that too. But, I'll get there when I get there.

Many of the features are the same from the master bedroom. Same floors and plank wood ceiling. The nightstand and matching dresser (not shown) were custom made for my the girls' room in my grandparents' house. Four girls, two beds. It was a good thing they had cool furniture.
Anyway, onto the details. Let me know if I miss anything that you have questions about.
Paint
Trim, ceilings, staircase: Benjamin Moore Mascarpone
Hallway paneling: Benjamin Moore Gray Huskie (and yes, it is spelled like that, but if you try to buy it as Gray Husky, they won't find it)
Guest bedroom walls: Benjamin Moore Stonington Gray
Floors
Hallway: Original red oak floors (bleached)
Guest bedroom: Teragren bamboo Synergy Porfolio Brown Sugar
Bedding: Pottery Barn
Throw pillow: Target (but you knew that because everyone has that pillow, right?)
Lighting