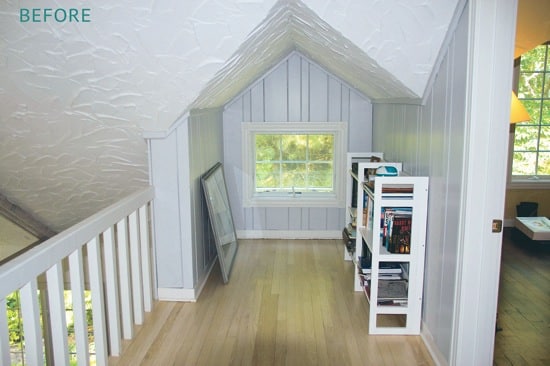 I know I've show some (OK, a lot) of photos of the renovation here, but I thought I'd do a bit of a house tour now that I have some good photos of the rooms thanks to getting the photos from the article that was done on the house (a wide-angle lens is a beautiful thing).
And there is no better place to start than my favorite room that came out of the renovation: the upstairs bathroom. Since we were a one-bathroom household before this (and that bathroom leaves something to be desired in the space and decor department), it was a real treat to be able to make room for a second bathroom, and, as I've mentioned before, any splurging that happened in the renovation, happened in this room.
Here's what the space that became the bathroom (thanks to raising the roof and adding a small shed dormer) looked like before. Take special note of the absolute hideous wall texture. The peak of that mini dormer ceiling was 5 feet 3 inches.


And here's what it looks like now.


 
Paint:
 
Walls: Benjamin Moore Gray Mist
Ceiling: Benjamin Moore Healing Aloe
Trim: Benjamin Moore Cloud White
Fixtures (All Kohler unless otherwise noted):
Sink: Archer undermount
Vanity faucet: Margaux
Shower valve trim: Purist
Showerhead: Flipside 02 (LOVE this thing!)
Toilet: Toto Carolina II
Towel warmer: Runtal Neptune
Other:
Countertops: Hanstone Ruscello Aspen
Vanity/cabinet: custom, made of beech veneer
Teak shower floor (removable) and teak niche shelf
Mirror: Pottery Barn Kensington pivot mirror
Bath fan/light: Panasonic Whisper
Vanity lights: Sonneman 1-Light pendant
Door: Salvaged from my grandmother's house
Sources
 
Let me know if I missed anything or you have any other questions.
Wide angle photos by Sam Arendt/Ozaukee Press