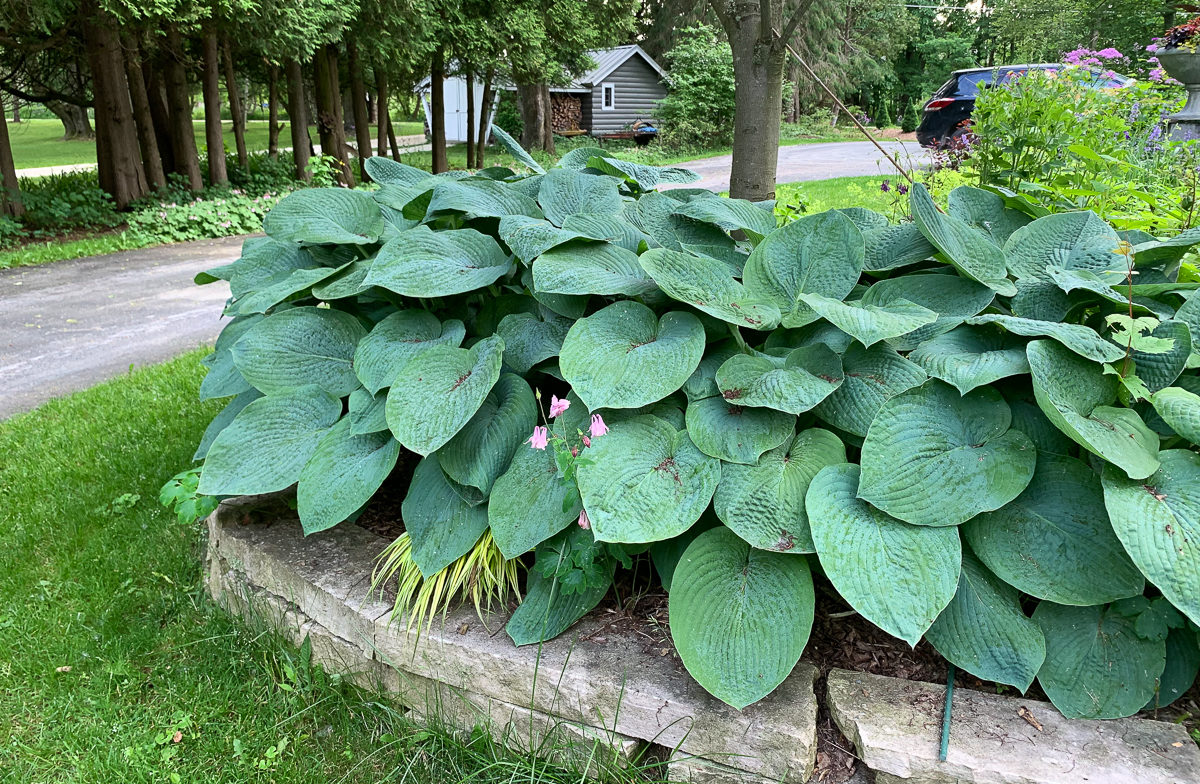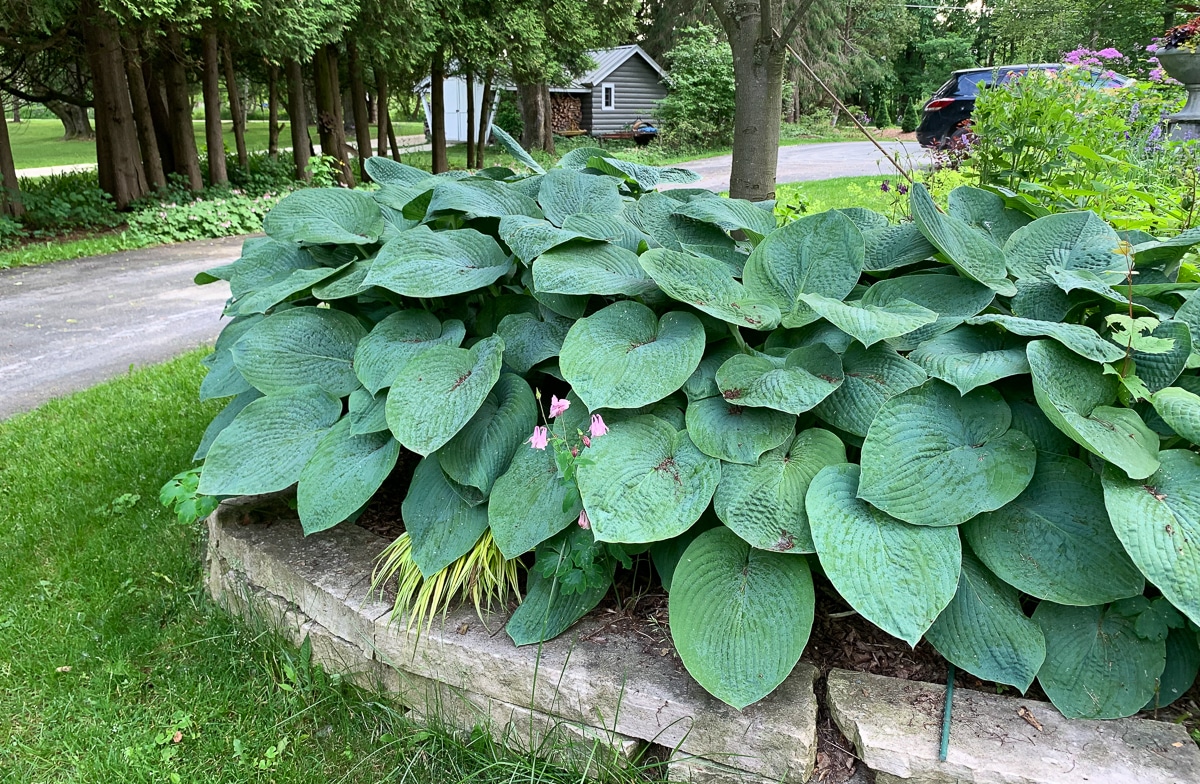 I don't know that I've ever experienced a spring like this. Cool days and cooler nights have persisted far longer than whatever can be considered normal, even in these days of weather that seems to have lost all semblance of normalcy. 
The partner to the cold temperatures is rain. In May it fell in long, persistent downpours. In June it fell what seemed like nearly daily, with enough vigor to maintain a general level of sogginess.
I planted the containers about a month ago. Other than the initial watering after planting, most have only seen the business end of a hose once since then. When I stick my shovel in the ground to plant, it's a sticky mess, and that's in soil that is primarily sandy. I can't imagine what gardeners with clay soil near me are dealing with.
If it weren't for my impatience to get on with the big show and my personal desire to advance to the point of the year when a jacket is not assumed to be necessary, all of this odd weather has some great advantages. The garden is as lush as I've ever seen it. Flowers bloom and then hang on in suspended animation. The tree peony flowers, which usually last for just a day or two, hung on for more than a week. That's an impressive feat given that it's planted in too much sun for most years.
Bloom time is off by weeks. The herbaceous peonies just started blooming a day or two ago. Peonies in July is almost unheard of, even here in my northern garden.
But the hostas are something special. They appreciate this weather far more than any other plant in my garden. They are enormous, and gobbling up any smaller plant that has happily lived nearby in previous years. 
Up until a week to 10 days ago, the garden was full of that lovely new, fresh foliage that seems to just glow. But you probably know what came next.
Slugs. 
An army of the little slimeballs has advanced into my garden and their attack has been wide ranging. Dahlias, nicotiana, ageratum, sweet peas and, of course, hostas have been hit hard.
I'm not good about managing slugs and certainly I should have seen this coming and set up my defenses before they were out in force. But I didn't. Even the enormous population of toads that is calling my garden home this year can't keep up with the nonstop all-they-can-eat slug buffet.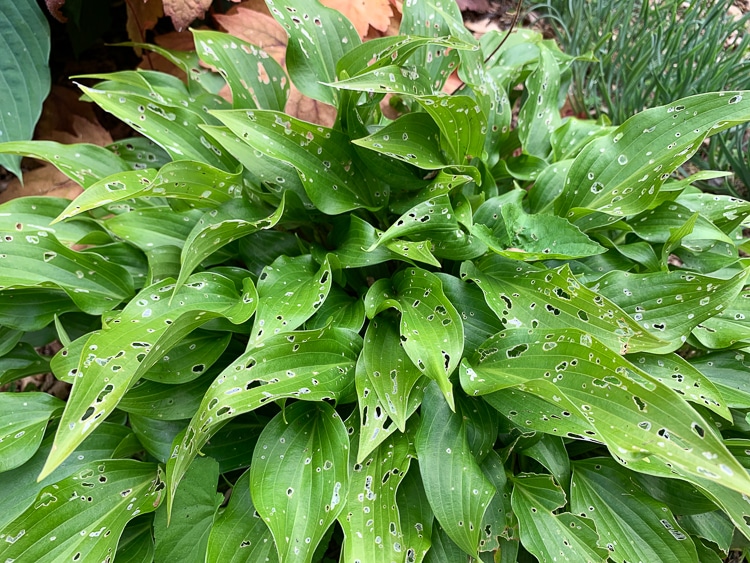 I've used beer traps in the past. Calling them "traps" is sort of funny since I imagine the slugs sort of just flopping into the cat food cans filled with whatever swill beer has been left behind after a party rather than any sort of last slug thought along the lines of, "How did I fall for this Miller High Life-flavored scheme?"
But those things are disgusting. They require daily emptying of the dozens of slugs they collect. They work, but only when used in en masse and emptying cans of dead slugs is a terrible way to start the day.
I've never used a product like Sluggo, which is said to be safe for pets and wildlife, in part because I'm always a little suspicious of that claim and in part because I hate having to spend money on something like that. 
Many British gardeners, where I gather this kind slug and snail onslaught is rather typical, use a garlic spray and I have been doing that. I just simmer a broken up bulb of garlic in a pot of water, strain it, then add enough water to make a gallon in a small pump sprayer. Its effectiveness against slugs is questionable, especially since they had established a presence before I started using it. Its effectiveness in making my garden smell like an Italian restaurant is outstanding.
Other insects seem to also be enjoying the weather as well. Something is nibbling away on my hornbeams, and try as I might, I can't find the culprit in the act.
I try not to worry to much about such goings-on in my garden. My goal is to be patient, trusting that the decisions I've made to help promote a healthy ecosystem in my garden will eventually balance out the slugs and bad bugs.
Still, I wouldn't complain if July brought more typical summer weather. Drying things out a bit wouldn't be a bad thing on many fronts.