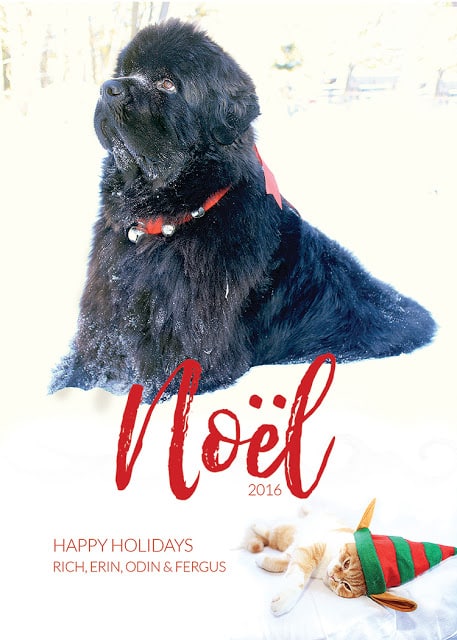 Have I mentioned that I love having Christmas on a weekend? I usually work at least a half a day on Christmas Eve which means I spend the other half of the day running around like a mad person, which is not at all Christmassy. So even though not a present is wrapped or a single package of cookies packed for delivery, I'm not sweating it, because I have a whole day on Saturday to do all that stuff at a not-crazy pace.
Instead of Friday Finds, I thought I'd go about my annual tradition of sharing our holiday card with you all. I wasn't really looking forward to doing this year's card as it's the first since 2004 that features only one dog, and I put it off until the last minute. So last weekend when it was hovering around zero degrees I quickly snapped as many pictures as I could before I came close to losing my index finger to frostbite. And then I decided to torture myself by trying to put a hat on our cat and make him pose for a photo. Have I mentioned the cat here? Fergus is relatively new around these parts and he's currently a 10-month-old spitfire who is a lot of naughty and cute enough keep us from killing him. And he does not like hats.
Fortunately Odin was far more cooperative than Fergus, which led us to this card.
Here are some of the photos from cards past.
2015 (Rita and Odin)
2014 (Odin and Rita)
2012 (Hudson and Rita)
2011 (Hudson and Rita)
2009
2008 (Rita and Hudson)
2007 (Rita and Hudson)
2006 (Hudson and Rita)
2005 (Hudson and Rita)
Whatever holiday you are celebrating, whoever you are celebrating it with, whether your house is completely decked out in its holiday finery or if you just said, "Screw it, I'm not decorating this year," I hope you have a great time with people who are important in your lives. Holidays can be hard for some, but I hope you find joy. And that your cat doesn't claw your eyes out while you sleep for making them wear an elf hat.
I'll be back next week! Happy holidays!