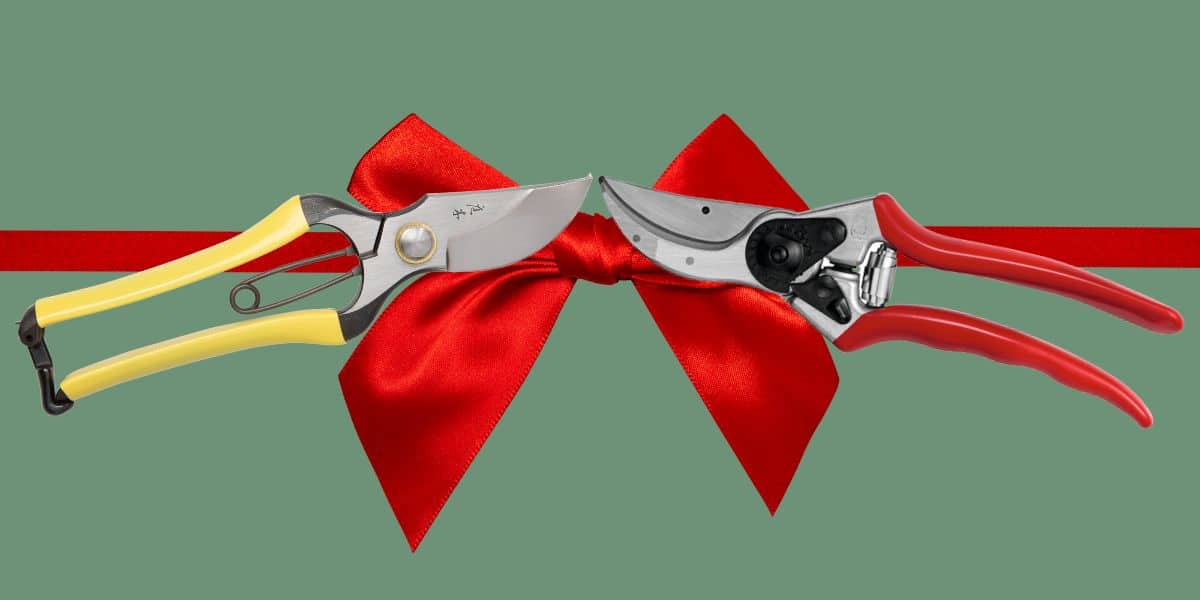 I have a long list of gifts that make excellent gifts for gardeners, but I have a short list of things that are poor gifts for gardeners. At the top of that list are hand pruners.
My rule for hand pruner gifting: If you don't know the recipient well enough that you'd be comfortable buying them underwear as a gift, don't buy them hand pruners.
What do underwear and hand pruners have in common? They are both incredibly personal bits of gear. Assuming you've addressed the quality issue, the most important factor that makes both underwear or hand pruners work for a person is feel. Gardeners who love their hand pruners sometimes say they feel like an extension of their arm. That's not something you can choose for someone else.
But before we get to feel, quality should be taken into account. For any gardener who considers them something more than just a casual gardener, I think investing in quality hand pruners is worthwhile. The longer you garden, the more you will wish you'd taken better care of your hands sooner, and poor quality hand pruners that don't cut well are a ticket to hand problems.
Quality hand pruners will be made of high-quality steel, have replaceable parts and have a good grip. If you check off those boxes (and don't lose them), hand pruners can and should last for decade or maybe more. 
There are a lot of hand pruners that meet the quality criteria and after that it's all about the feel. You have to put them in your hand and feel the weight of them. Open and close them and feel if they stretch your hand too far (this is a problem for many that I've tried). Flip the latch and get a feel for the motion. I find most to be fine and others to be annoyingly uncomfortable. If you're able to actually prune something with them, you want them to almost feel like you have a mechanical advantage, like you're cutting more and cleaner than the amount of effort you feel you're putting into it. 
Find the right mix of all those qualities and you have probably found your pruners. 
The right pruners for you, however, will probably be different from the right pruners for your gardening pal. You, like many, many gardeners, particularly in the U.S., might swear by your Swiss-made Felco 2s. Given the fervor that Felco users have for the iconic red-handled brand, I imagine a scenario in which a mugger demanded a Felco gardener to hand over everything they'd start throwing cash and jewelry before they'd part with their Felcos. 

The Felco 2 pruners, by the way, may be too big for smallish hands. Give the Felco 6 model a feel before you commit to the large Felco 2.
Niwaki, a Japanese brand that comes via England, makes excellent pruners—check out the GR Pro—from Japanese steel. Their yellow handle is becoming almost as recognizable as Felco's red.

ARS is another good Japanese brand. They size pruners in a very sensible manner—the size number refers to the length of the pruners.
I'm certain there are other high-quality hand pruner brands out there, and I'm certain that they have models that are perfect for someone. But until you feel them, you just won't know.
So unless your gardening gift recipient has given you a hint that includes a brand and model, skip the hand pruners (and the underwear).
A better option for gift giving: Consider a pair of snips. These lightweight pruners are good for deadheading, cutting stems for bouquets and just about any other cutting job that doesn't include cutting into hard wood. Look for models that have a pointy, needle nose tip that makes getting into small spots much easier. I like the Niwaki Garden Snips ($15) and the Felco 322 snips ($19). 
Buying from Felco? Use the code IMPATIENT10 for 10% off. (Not an affiliate link, just discount because you deserve it.)
Ordering from Niwaki? Use code FREESHIPPING22 through November for, you guessed it, free shipping.
If you need more gift ideas for gardeners, check out my instagram account, where I've been featuring some of my favorite tools that make great gifts in a series of short videos.