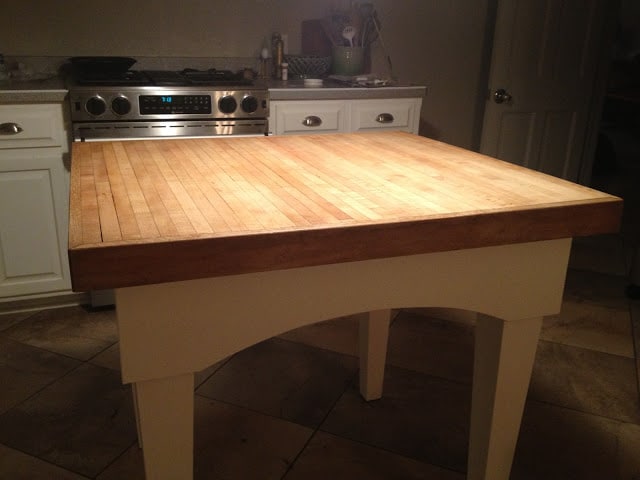 Hey, it's Friday again. I love how that keeps happening. I have a few items on the agenda for the weekend including ordering some fabric from Calico Corners before their 25% off sale ends, cutting down just a few more things in the garden and putting cages around the plants that need protection from deer or dogs during the winter. If I were smart I would also put my winter greens in my containers before the soil freezes.
I want to take a quick moment to say thank you to everyone for entering the giveaway for the vintage botanical chart.
The winner of the chart is Becky W. who says she's going to hang the chart on her "big empty dining room wall." I hope you share a picture when you have it up, Becky!
And here's some exciting news. Linda from Bonnie & Bell was so excited about how the giveaway was going that she contacted me yesterday to tell me to also give away a $50 gift certificate to her Etsy store! So I have another winner to announce and that is Claire who said she would hang the chart in her living room over her sofa. I hope you find something you love at the Bonnie & Bell store, Claire!
Congrats to you both. Check your e-mail!
I recently made to small changes at the house. It's nothing earth-shattering, but both changes remedy small things that came with the house that I never really loved.
The first was in the kitchen. The house came with small (34-by-38-inch) island with a maple butcher block top on it. The problem was that the butcher block wasn't made very well. There were butt ends all over it (it's edge grain vs. end grain) and because of that they had to frame it out. But of course wood expands and contracts, so the mitered corners of the frame had split. I love the island and I really liked the butcher block countertop, but I didn't care for that particular one.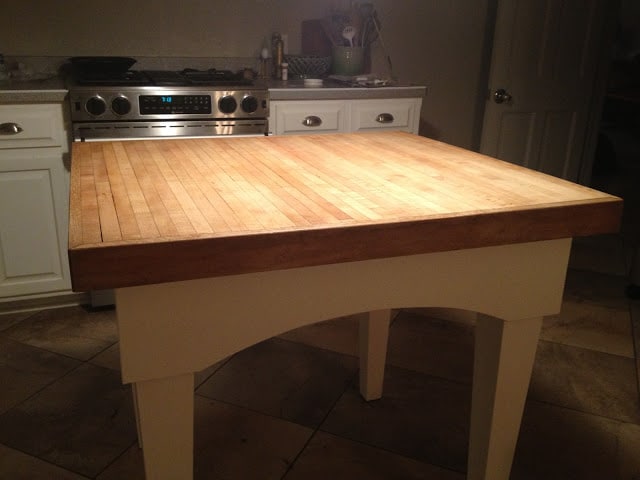 Old butcher block island … meh.
Here's what it looks like in a prettier picture (and if the difference between those two pictures doesn't demonstrate my need for a camera than nothing does).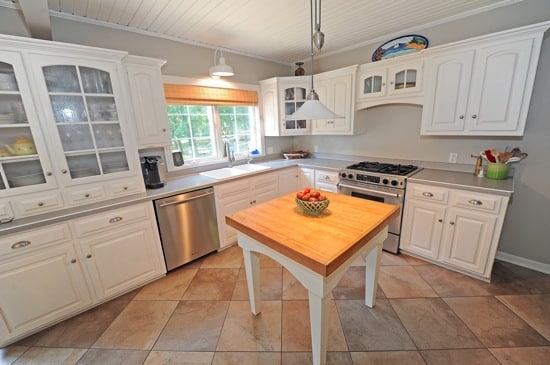 Oh, I know you're thinking that the roman shades match that butcher block perfectly. I know … I'll have to deal with it at some point.
I also thought that a warmer wood might work well when we finally get around to sprucing up the working side of the kitchen (whenever that is). My plan is to keep the cabinets white, install a nearly white backsplash and get either white or light quartz countertops. But all that can look a little sterile, so I thought walnut would warm it up a little.
I shopped around for custom walnut countertops. What was amazing to me was that going up in thickness by even a quarter-inch massively increased the cost. So we ended up with a two-inch thick top. I'd have preferred something thicker, but it became cost prohibitive and at two inches it still looks plenty chunky.
It was also a good opportunity to give the island base a fresh coat of white paint. Because of that, we were without the island for about three days. It was horrible. I had no idea how much we relied on that island and how little counter space we really have in the kitchen when that is gone. Also, the island is about 34.5 inches tall and I learned that as a vertically challenged person, it's much more comfortable to work on a counter that's that height vs. the 36-inch counters.
We went with an oiled finish on the butcher block, which is what we had on the maple top (which I sold very quickly on Craig's List for $35; I just wanted it gone). I like the sort of dull, antique look that you get with an oiled finish vs. something like Waterlox, which I used in my office. That is a gorgeous finish, but it's very "new" looking. And even though we pretty much always use a cutting board (I love the Epicurean cutting boards … thin, wood and dishwasher safe), we do occasionally slice a lemon or something right on the butcher block and you can't do that with a hard finish. Plus, I like knowing that if something happens to it, fixing it is as easy as a little sanding and reoiling.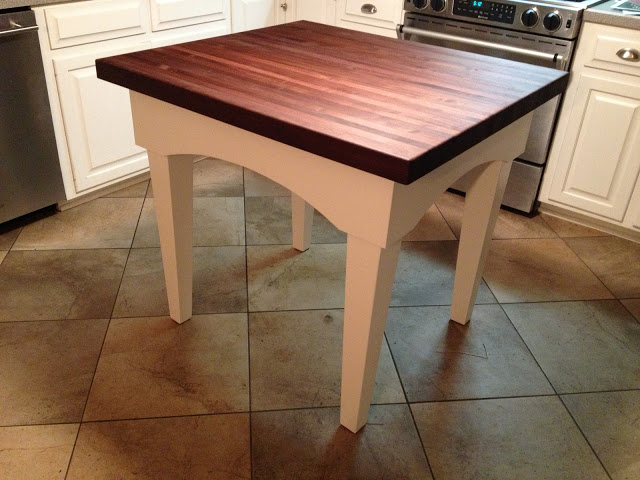 New walnut butcher block and fresh white paint. Ahhhhh.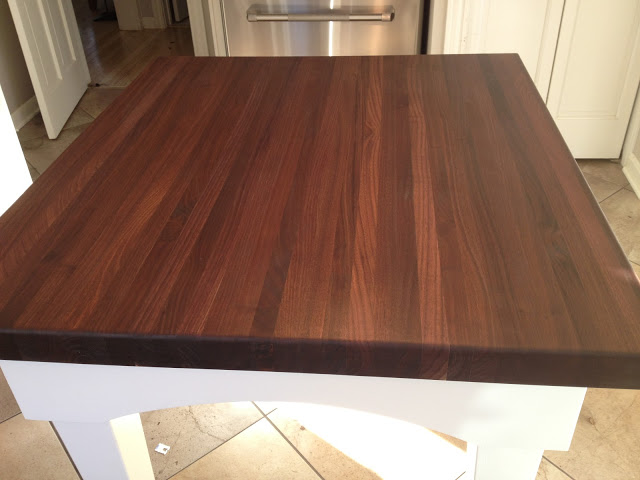 The other little change happened in the living room. The fireplace screen came with the house but was definitely one of those things that was purely about function. The tri-fold black screen had zero style, except maybe the arch in the middle that matches the arch on the firebox. Also, some of the screen on it was sort of pushed out. We use the fireplace pretty regularly in winter so a screen is a necessity for us. But have you ever looked at the price of fireplace screens? Oh my gosh, it's crazy. It's not uncommon to find them for $175 and much, much more.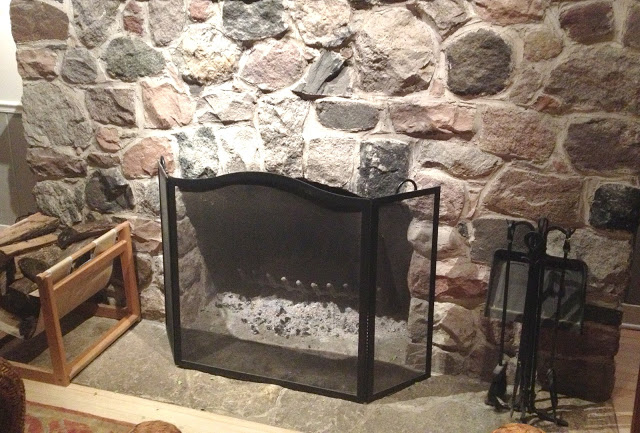 Old fireplace screen: Blah.
So I was pretty jazzed to find this screen in Target's circular last week on sale for $39.99. Even better, it was in a aged bronze sort of color, which goes with the copper/bronze metal color we have going in the living room. And it looks pretty similar to this fireplace screen from Crate and Barrel for $179.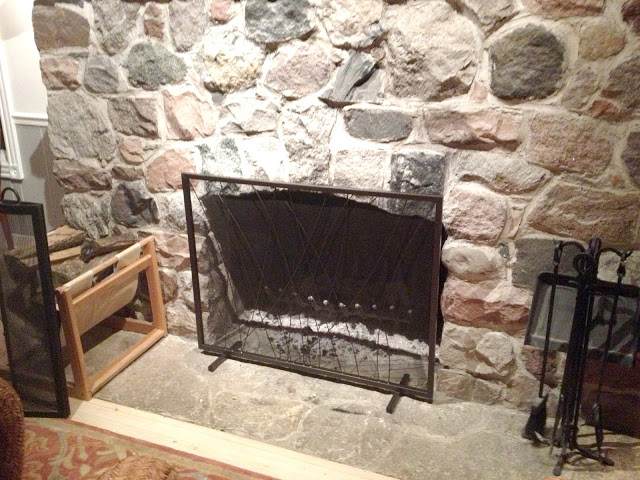 New fireplace screen: Much better, but now the tools don't match.
I love how much more room it gives us on the hearth since it rests flat against the fireplace. Of course it would look much better with a roaring fire, but you get the idea.
Looking at these pictures I just remembered on other item on the list for the weekend: scoop out the ashes in the fireplace.
So what changes have you made to your house lately and what's on your agenda for the weekend?