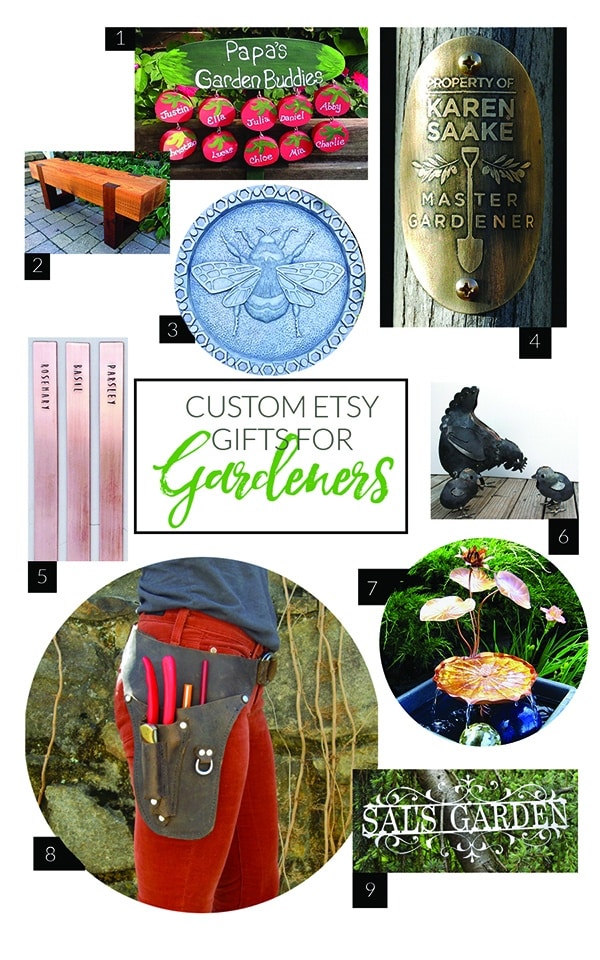 I held off as long as I could on holiday posts but I think it's time to get the show on the road. I'm planning to do a handful of gift guides (I'm sort of obsessed with them) this year and I thought I'd kick it off with one that you really have to get going on soon. Everything featured here is handmade by Etsy artists and they need a little lead time for orders so don't delay. All of these can be customized for a special touch. Don't forget to use Ebates, which gives you cash back on purchases at most stores, including Etsy. If you want to check it out, here's a
referral link
if you care to use it.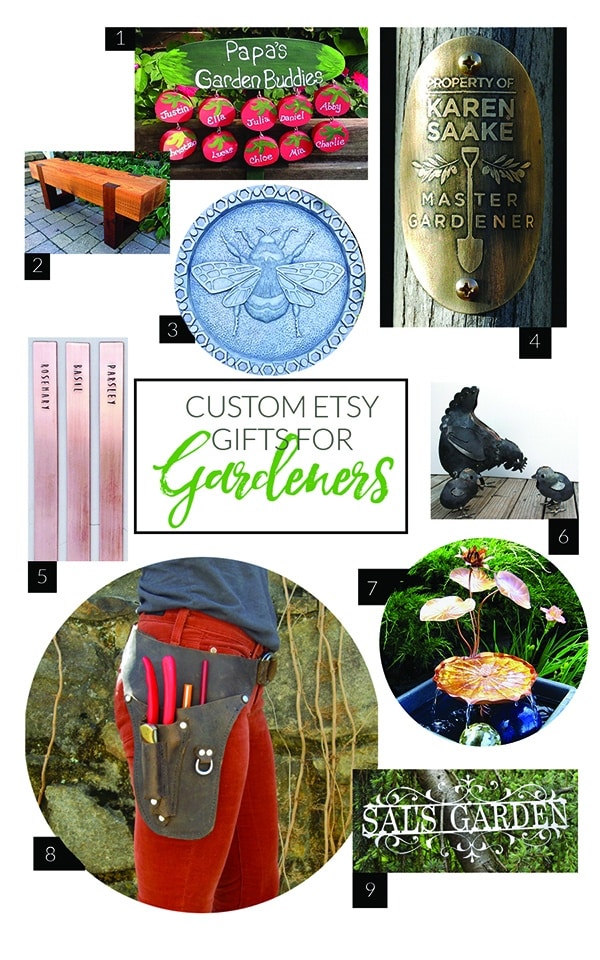 1. Handpainted sign: I think this little sign is so cute and any gardener with little helpers around would love it. I could even see working for a community garden. The same seller has all kinds of other cute signs as well.
2. Timber bench: Every garden needs a spot to sit but benches with backs can take up more visual space than you may have room for. This mod bench would work just about anywhere in the garden.
3. Bee stepping stone: Any gardener, particularly one with a passion for pollinators would love this beautiful stepping stone (which also comes in a green color). Plus you will win the contest for the heaviest present.
4. Custom garden tool badge: What a great touch for a favorite tool. This would be especially handy for someone who takes their tools to other gardens to work. No one will question whose spade it is.
5. Copper garden markers: These are flashy and beautiful and I can only imagine how gorgeous they would be after they develop a patina. They are custom stamped and come in sets of four so you could pick labels for special plants or perhaps for a container that sits somewhere they could be appreciated every day.
6. Metal chickens sculpture: If your favorite gardener can't have real chickens, maybe this is the next best thing.
7. Copper birdbath fountain: Can't you just imagine a bird enjoying a dip in this beauty? And it should make a lovely trickling sound in the garden. A special gift for a special gardener.
8. Garden belt: If Santa brings me one thing this year, I hope this is it. I love this belt, which also comes in a version with a scissors holder and other specialized tool belts. Maybe this would, once and for all, make me stop losing tools in the garden. I also love the Floral Belt and I think I'm leaning toward that one being a better fit for me (since I'm on the vertically challenged side).
9. Metal garden sign: Everyone loves a personalized gift and a beautiful sign for a person's garden is pretty much a no-brainer.
Anything strike your fancy (for you or for giving)?