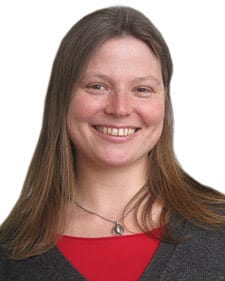 W hen I saw that the senior associate garden editor of Martha Stewart Living Magazine was on the slate of speakers for the Proven Winners Outdoor Living Extravaganza that I went to last weekend, I'll admit I had a preconceived idea of what Stacey Hirvela was going to be like: prim, proper and, well, very Martha-esque.
So imagine my surprise when a very down-to-earth gal walked to the front of the room wearing a great sweater, demin skirt and a simple ponytail. In the introduction, it was mentioned that while the other speakers were talking she had been sitting in the back of the room knitting. She looked like the kind of person I'd like to garden with.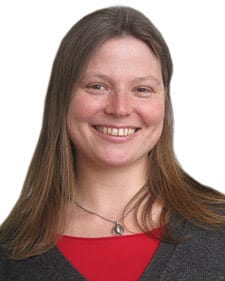 So if I wasn't already taken with this incredibly knowledgeable woman, just five minutes into her talk on "Gardening For—and with—All Five Senses" she had me.
Showing off one of the stunning slides featured in her talk of a very unusual but creative wall of regular old garden pots taken during the Buffalo Garden Walk, she said, "Is this classy? Is this something that Martha would approve of? I don't know, but I love it."
Dear Stacey, will you be my new BFF?
After I got past wanting to run up to the front and asking Stacey if she wanted to exchange gardening tips over a cosmopolitan later, I settled into her talk which was, as she urged the crowd of about 300 people to do with their gardens, full of "simple, rich, satisfying moments."
Good gardens, she said, should be "bursting with vitality and life" and that's something that's accomplished through using all five senses in the garden.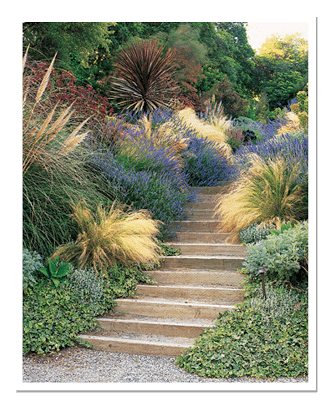 Don't you just love this garden path? From the wonderful color palette to the sound of rustling grasses it invites you to follow it to explore what is lies beyond. Martha Stewart Living photo
Sight might be the most obvious of those senses but how you get to a pleasing looking garden can sometimes be difficult. Hirvela used the idea of a jewelry box to show one way to achieve great results. Showing a slide of a tiny area of a cemetery that had somehow escaped the wrath of the lawnmower, she showed how a presumably accidental planting of seeds that had grown up into a bright mix of wildflowers is a mini jewelry box. Apply that principle to your entire garden and you're onto something, she said.
And if all those colors are the jewels (flowers) in your box (garden), then the standout of them all—the diamonds—are whites. White is a controversial color in the garden. Some people love it for its ability to brighten up a dark corner, but others say it interrupts the eye, stopping the flow in the garden. Hirvela said she looks at it as a "Band-aid" that will tie everything else together.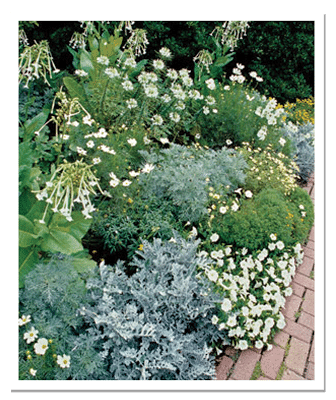 She also talked about the sense of touch, and this applies to texture in the garden, both in a small (fuzzy lamb's ear) and large (the whole garden) scale.
"Gardeners are not good in art museums," Hirvela said. "We need to reach out and touch things."
Don't you find that to be right on? If I am in a nursery, the first thing I do when I see a plant I'm interested in is touch it. I feel the leaves and the stems. I'm the same way in clothing or fabric stores, touching everything. I'm a shopkeeper's nightmare.
Hirvela showed a photo of a woodland setting in which the prominent feature was variegated Japanese Knotweed, which is nicely considered a garden thug on the East Coast. But in this context it was a wonderful strong horizontal accent, that pulled the texture together (and it was kept in check by planting it in a shady spot instead of the sunny spot that it apparently loves). The best way to judge the texture in your garden is to convert photos of the garden to black and white, she said. By eliminating color, which tends to overwhelm the senses and keep us from seeing beyond it, from the equation, we can get a much better feel for the texture of a garden, which is equally as important as color, if not more so, because texture is always there but color is fleeting.
Can you see the texture in this garden?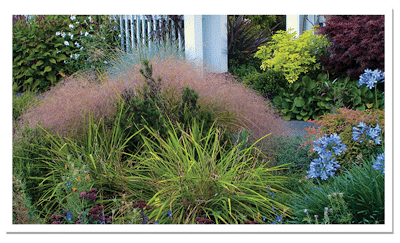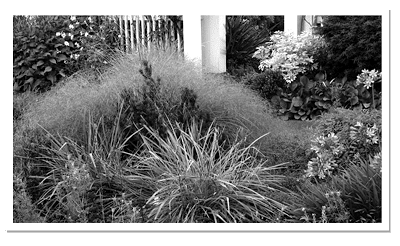 Hirvela was quick to warn of overplanning.
"You need serendipity in your garden," she said. "If you maintain your garden within an inch of its life you won't get those special, unplanned moments."
Nature, as we all know (or undoubtedly find out at some point in our gardening lives), makes the best combinations. If we're too quick to pull out all the volunteer seedlings or move a plant that has spread beyond its original allotted space, we might miss a great "moment" that we wouldn't have thought of. Chalk one up for the lazy gardener!
The sense of sound, she admitted, at first can be difficult to bring into your garden. Of course there are water features (including a giant croaking toad feature she showed a slide of from a Nantucket garden), but there are so many other sounds a well: Birds singing, bees buzzing, hummingbirds zooming by (illustrated by a fantastic photo of a house whose owner had taken the doors off a porch-type area and hung hummingbird feeders in each doorway to literally create a hummingbird thoroughfare through the middle of the house), tall grasses rustling. It's all part of the gardening experience.
Hirvela also encouraged gardeners to create a space for themselves in the garden. I have a great blue bench in my garden but I don't think I've ever sat on it. Like most gardeners, I can't stop. If I sit there, I see a weed that needs pulls, a plant that needs pruning or a hosta that needs dividing. Resist the urge, she said.
"You owe it to yourself to sit down and enjoy your hard work," Hirvela said.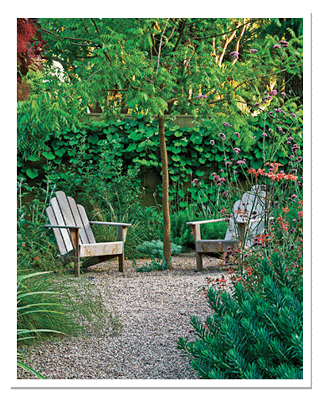 Hirvela offered excellent suggestions to improve one's gardening experience accompanied by photos of the gardens of "super rich people on Nantucket" to a lowly but creative pot wall, but of all them, this was my favorite:
"I say do whatever the heck you want."
Amen.