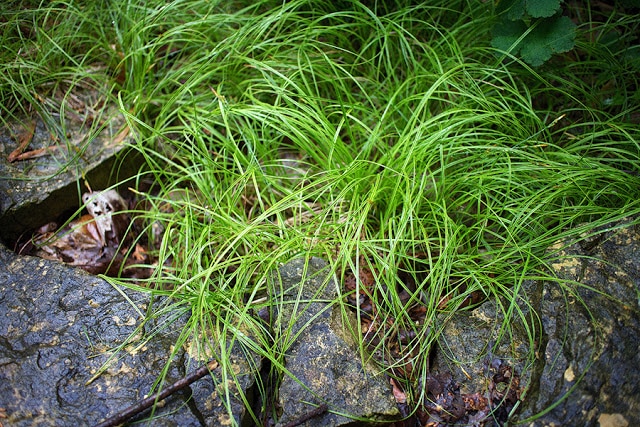 But a couple weeks ago I had the opportunity to see her gorgeous garden in person and what I found was that, although I recognized parts of it from photos, it had a completely different feel than I expected. What struck me most, was the variation in the topography on Linda and Mark's very large city lot. Linda told me that topography is part of the reason they chose the property, which had no garden whatsoever when they bought it a couple decades ago.
The undulating terrain offers so much interest and creates garden areas with distinct personalities. What I also discovered is that Linda and Mark have a most interesting collection of plants, shrubs and trees. Several of them have been added to my list.
At first I had no idea what this caged plant could have been, and then Linda told me: It's an oak sapling (or maybe technically it's still in the seedling stage). A giant Bur oak (which a local historian believes is from a time before Wisconsin was a state) marks Linda and Mark's driveway and last year three seedlings made it through winter. This one made it through the following winter as well.
These pinecones caught my eye from 25 feet away. They were absolutely gorgeous. I'll have to ask Linda the name of the tree again, as I have forgotten.
Alongside the driveway is a stunning forest pansy redbud. Linda explained that it has suffered some winter dieback over the years, but the pruning from this damage has created an interesting, open shape that is equally nice to look at from afar and from underneath. The leaves are the most lovely shade of purple with green veins.
Linda's 'Golden Shadows' dogwood is so lovely. I struggle so much with growing these.
The fence along the back of the property is one of the first things I fell in love with on Linda's blog. It was designed and built by Mark. The property behind it is for sale. What a bonus for new owners to have a back yard that shares this lovely feature.
I loved this apricot foxglove that stood by itself among a great selection of foliage plants.
This weeping Japanese katsura, Cercidiphyllum japonicum 'Pendula', was so lovely in a back corner of the garden. They prune it to be able to walk under and it was such a charming moment. I intend to add one to my garden some day.
Unless I missed, I don't think there is any grass on the property. Everything is connected by a series of paths, some rock stepping stones, some mulched, but all wheelbarrow accessible. When you walk around to the back of the house, the most phenomenal (and large) pond fills your view. A waterfall leads into it creating a lovely sound.
There are upper and lower areas to the pond.
Linda and Mark took great pains to select appropriate rocks for around the water feature. The result is a completely organic feeling. Sometimes ponds feel a little contrived (which is not always a bad thing) but this one really feels like it was always there.
I so enjoyed meeting Linda in person and touring her beautiful garden. What a treat to see a garden I've been admiring for so many years. You can see more of Linda and Mark's garden at their blog, and I highly recommend the "My garden odyssey" category of posts that detail the making of this great garden.