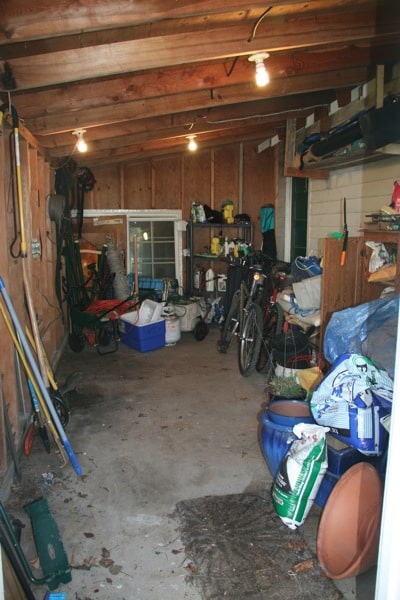 I'm not an overly organized person, but I aspire to be. That aspiration is perpetuated by my affinity for organizing systems. I could never go to The Container Store because I'd  top my credit card limit in a matter of hours.
I've organized a few spaces that needed it pretty badly in this house, but the most successful efforts have always used some kind of system. Our walk-in closet is still in really great order more than a year after we moved into it after we created it in the renovation.
When it came time to clean up an area that has been untouched since we bought the house (save for adding to the clutter), I knew we really needed some sort of system. The little lean-to addition on our garage was jammed with stuff when we bought this house almost 10 years ago. Among the treasures I have dragged out of it was a really pretty console table that has been in our living room ever since, a hammock that we frequently use in the summer, 1,000 terra-cotta pots and a nice collection of garden tools. But the space was such a disaster we couldn't find much in it and every time I walked in there a rake would jump out and try to trip me.
Two weekend ago we emptied the entire room and it was unbelievable how much stuff was jammed in there. Our neighbor even yelled over asking when the yard sale was because there was so much stuff spread out on the lawn.
Ugly before pictures:


Sadly, all this stuff was already out of there by the time I took this picture:


We were pretty relentless in deciding what went in the trailer to the dump and what got to go back in. If we hadn't used it in a year (and in lots of cases, ever), it had to go away. There was a cute rush-seat bench that I have been wanting to paint and bring in the house, but I decided it had to go to Goodwill because I have way too many to-be-painted projects sitting around. A couple cute folding side tables were donated as well. Almost all of the terra-cotta pots that came with the house went off to the dump. The good news about our dump is that on any given Saturday afternoon it's full of people just hanging out waiting to see what people are throwing away, so I knew that when I sent Mr. Much More Patient off with a trailer-full of castoffs that most of it would be snatched up before it got anywhere near the Dumpster. And I was right. Mr. MMP reported that there was a horde of people digging through the trailer as soon as he pulled in.


This bench had to go to Goodwill even though I'd long planned to paint it and bring it in the house.




This is what the yard looked like once we got everything out. This is AFTER we took a trailer full of stuff to the dump.
It was so nice to be able to sweep the entire room out. We've never been able to do that. Once we got everything taken out and pared down, we put up Rubbermaid Fasttrack system rails. There are some really cool garage storage systems out there, but they can get expensive quickly. We wanted some flexibility to move things around and we wanted a step up from pegboard or nails on the wall and the Fasttrack system, which has a variety of hooks, baskets and holders that fit on the rails.
I can't tell you how geeked out I got about hanging up all our rakes, shovels, hoes, etc. on one wall. I couldn't wait to organize them all and once they were all hung up, I couldn't stop staring at them. The machinery (lawnmower, snowblower and mosquito eater) had to go back into the far corner, and I put the shelving unit that used to be on the back wall around the corner from the door. All of my small gardening tools including my pruners, hori hori, trowels, small sprinklers and huge collection of gardening gloves went into a cavernous basket on one of the rails. Golf clubs, skis, snowshoes and other sporting goods equipment went on the opposite wall. With my pot collection almost cut in half, Mr. MMP built three widely spaced shelves out of brackets and wood on our neighbor's burn pile (it's nice to have a contractor for a neighbor because he always has scrap wood around) for me to put them all on.
Ahhhhh, after:


The difference is unbelievable. I don't even mind going in there anymore and I'm not afraid to reach out for something (before I was always afraid that some sort of creature would be lurking). And even better yet, I can actually walk through that part of the garage to get to the main part of the garage, so I don't have to open up a big garage door to take the garbage out.
I'm not sure how long it will stay so nicely organized but I sure am enjoying it in the meantime.
What's on your organizing list?