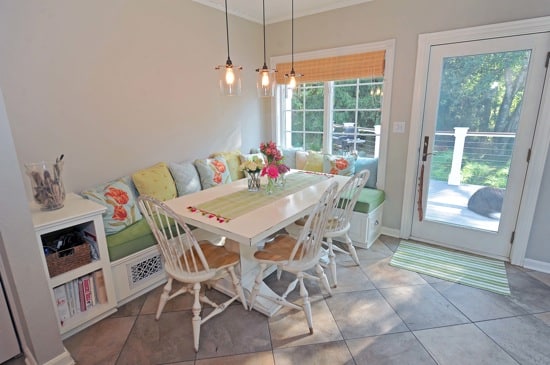 I got the most lovely e-mail message the other day. Brigitte wrote me to tell me that she was so inspired by the eating area in our kitchen, that she created her own. I thought that sounded pretty cool but when I looked at the photos, I was blown away. Brigitte did this all herself (with a little help from her husband).
Here's mine:
You might recall that I cut down a table from the Restoration Hardware outlet and painted it (read about that process here), then had a local woodworker make the banquette, which I topped with cushions made by a local upholsterer and throw pillows made by my mom.
But Brigitte did it all. I mean she built the banquette and the table! (Let's all take a moment to bow Wayne's World style to Brigitte the amazing builder woman!)
Brigitte used a couple of Ana White's plans to help her build the banquette and drawers (here and here). And here's what she said about making the table:
The table base is made of two hemlock newel posts and hemlock stair railing from Home Depot and four 10 1/2″ maple corbels from Lowes. The apron is pine, and the table top is birch plywood trimmed in hemlock quarter round. The base components are assembled with lag screws. I followed the tutorial from This Old House "How to Make a Trestle Table". The paint is tinted to match the existing trim, but it's from Fine Paints of Europe. I used Cabots pre-stain conditioner for everything that was stained, Rustoleum oil based stain in American Walnut, and Cabots satin oil-based polyurethane. I also tried Daly's poly and wasn't impressed. Sanded it down and put Cabots. The banquette and bookshelf is primarily birch plywood with some hardwood, some pine, and some hemlock trim. The bench top is pine with the same stain process as the table top. The pine turned out nicer. I wish I had chosen
Dark Walnut instead. It would match the seat tops on the chairs better.


I love my thick cushion on my banquette, but Brigitte has three little kids (yes, she did all this with three kids in tow!) and she wanted to make it an easy-to-clean area for the kids to eat. I think the stained wood top is stunning.
Thank you so much for sharing this, Brigitte!