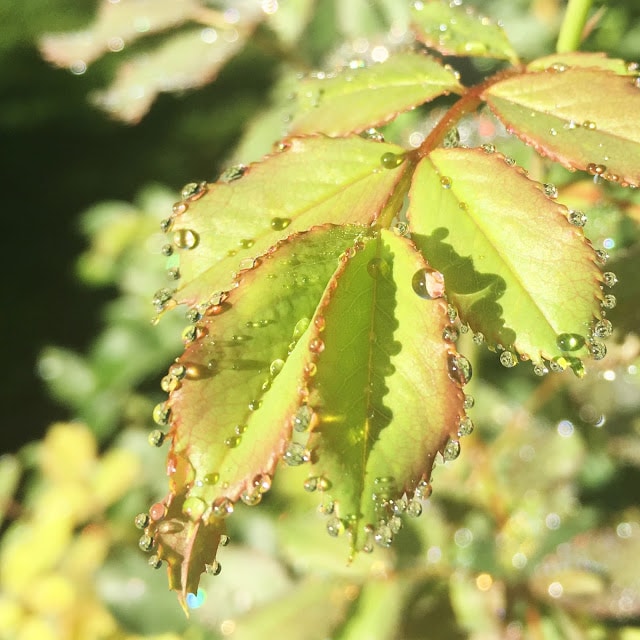 It's officially fall. I will allow myself to use the word now, but that doesn't mean I'm happy about it. But there's nothing to be done about it, so I might as well make the most of it and enjoy what really is a beautiful time of year (even if I spend it dreading what comes next).
Affiliate links may be used below. Thank you for supporting this blog!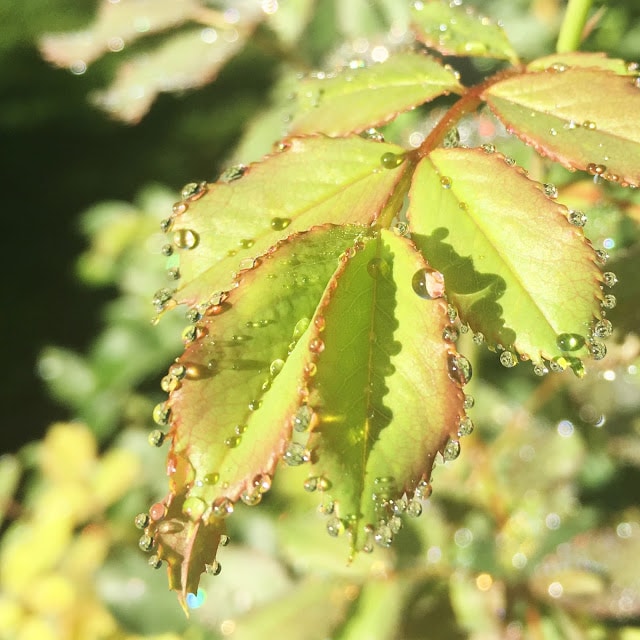 First, I wanted to share this photo I snapped on my way out the door the other day and shared on Instagram. My rose in a pot is putting out great new growth (so much so that I'm going to grow more roses in pots, because I'm a sucker like that), but I just loved how these fresh leaves looked with their little water droplet jewelry.
• • • • • • • • • • • • • • • • • •
You know I'm a bit dahlia nutty, but growing them for show is an entirely different animal. Look at some of these utterly gorgeous dahlias Matt over at Growing with Plants shared.
• • • • • • • • • • • • • • • • • •
Gardenista's Hardscaping 101 series is featuring bricks, which is an option I like more and more these days. In my dream vegetable garden I envision gray bricks set in a herringbone pattern leading to the bespoke greenhouse and running between the raised beds. Hey, a girl can dream, right?
• • • • • • • • • • • • • • • • • •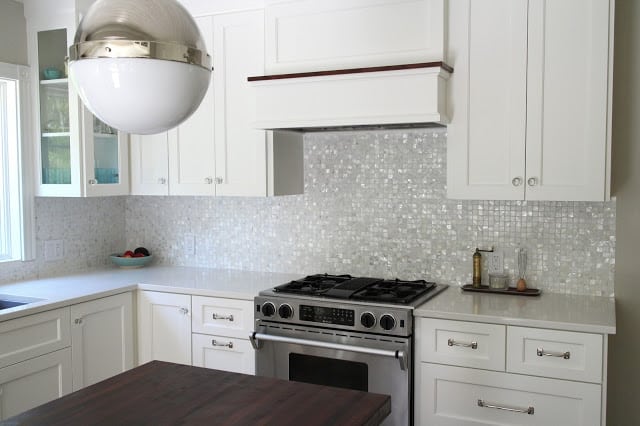 Apparently the only closeup picture I have of our kitchen island. How is that possible?
Over at Thrifty Decor Chick, she's talking about different ways of finishing butcher block, but never mentions my favorite, which is just oiling it. I use this oil on our walnut kitchen island and I love it. It's super easy, holds up and, well, what else is there? The only down side is that any paper you set on it will pick up some oil if it's been oiled recently.
• • • • • • • • • • • • • • • • • •
Dale Sievert spoke to our master gardener group last night and I was so enamored with the beautiful photos of moss gardens that he showed us that I immediately ran over to his blog to see more. Check it out but be prepared to consider going full moss in your garden. But think hard first. He told us that he spends 60 hours a week in his garden in spring and fall and about 25 hours a week during summer. In fall he rakes, then blows, then VACUUMS his garden so there is no debris left on the moss over winter.
• • • • • • • • • • • • • • • • • •
On another note, since it's officially fall (and I swear the leaves on the trees started turning overnight, damn them) I need to ditch my unimaginative but summer wardrobe (crop pants + solid T-shirt + sandals, literally every day) and get some clothes for fall. As I get older I find myself getting worse at cooking and dressing myself. I have no idea what that is about but I need some serious help to get my style in shape. I tried Stitch Fix and it was a complete disaster. Anybody have any good ideas for me of where I could get some help to boost my style?
• • • • • • • • • • • • • • • • • •
That's it for this week! Hopefully the weather will cooperate to allow lots of time in the garden this weekend. What are you doing? Moving into full fall mode or holding out as long as you can? By the way, this was one of those random two-post Fridays. If you missed my post earlier today updating you on my plan for the circle garden, you can
find it here
.