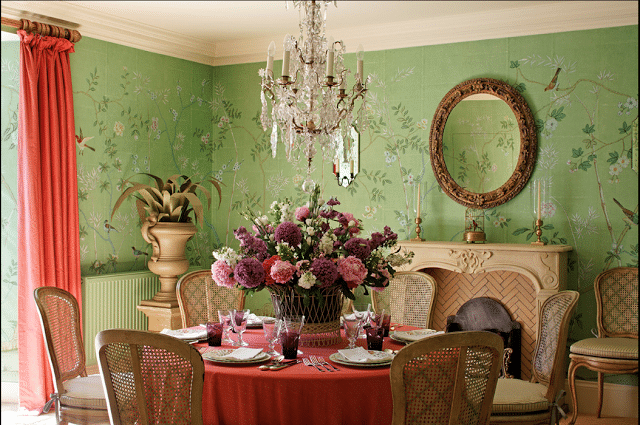 Winter came back. I knew it would. I knew that this mild winter and early spring that we were blessed with was just too good to be true, but mentally I had moved on. The end of the week brought us horrible weather and this morning the trees were shimmering with ice on their branches and every sign of live in the garden has been covered up with a blanket of snow. Other signs of life became apparent in the form of tracks in the snow. There appears to have some kind of wildlife party on our patio last night.
If you can make it through these spring weather events, both mentally and physically, the pain doesn't last for too long. The sun has heat to it these days and quickly melts what's fallen. And a little extra water in the garden isn't a bad thing.
I shall plod along with my seed starting to get my garden fix, as clearly nothing is happening out there this weekend. But thoughts of spring are firmly in my mind.
I just got the April issue of House Beautiful and was completely captivated with an entry designed by Christopher Maya that featured a de Gournay wallpaper called Temple Newsam. It was a mural style and I desperately wanted to show it to you, but I the pictures aren't online at this point. So I fell into the de Gournay website and holy smokes there is some amazingly beautiful stuff there. I shudder to think of the cost.
It's worth flipping through. By the way, I don't know that I would have been as taken with that entry if it weren't spring. This is why I'd make a lousy interior designer (well, in addition to the fact that I have no training): I'm far too influenced by seasonal whims. In spring I want pastels and verdant greens, in summer I want tropical colors, in winter I like a calm palette.
Speaking of spring, I'm hosting Easter for our family. I'm not a great hostess, but I enjoy having Easter at our house. It's a low-pressure holiday (not like Thanksgiving or Christmas) and its a good excuse to buy a lot of pretty flowers. I'm also not a great flower arranger, but I like looking for arrangement inspiration online. I'm wildly in love with this bright bouquet full of spring flowers from Floret Flowers.
Anytime multiple gardeners fall down a major slope whilst gardening is considered extreme gardening in my book. But it was so worth it.
This is a Garden Rant classic and I agree almost wholeheartedly with it. I make an exception if someone were to say they wanted to plant something really stupid that we know, without question, will be invasive. In my area that would be something like garlic mustard, which would infect the entire neighborhood in two years.
Here are some
fun seed starting tips
that are guaranteed to bring a smile to your face. Because really, let's not get too serious about this seed business. It is supposed to be fun.
That's it for this week. Sometime between now and Sunday I have to figure out how to cook a leg of lamb. I did find a recipe in Julia Child's The Way to Cook. I'm not a great cook because I play fast and loose with recipes (and yet somehow I'm a pretty good baker, I cannot explain it), but there are two chefs whose recipes I've decided will never fail you if you just follow them to the letter: Julie and Ina. My sister-in-law and I have a saying: In Julia we trust. So I'm going to trust her to not let me ruin a very expensive piece of meat.
Do you have Easter plans for the weekend? Or do you expect to get in the garden at all?
This was the scene on the way home last night. From my series of photos on Instagram.