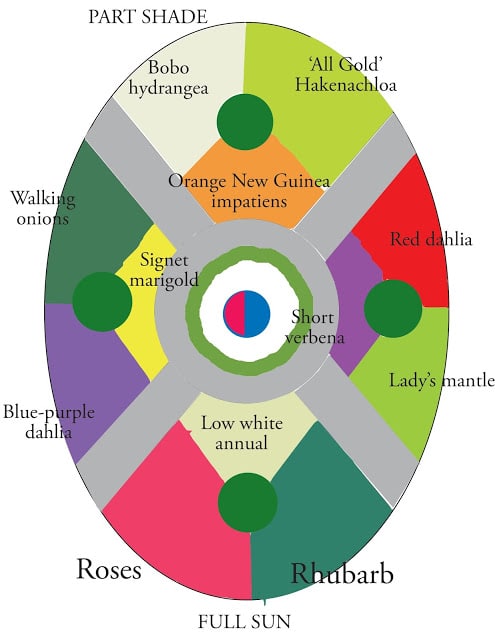 The oval garden is a departure from the rest of my garden. Now redesigned with straight paths in an X pattern, it is far more formal in a structural sense than any other place in the garden. It is divided from other gardens by floating in the lawn near the front door, but it can't feel like a foreign place.
So the goal in designing this garden was to be a departure from the rest of the yard while not looking out of place. That's a tall order. And the only way to do that was by having a combination of informal plants in the confines of a formal design. Like all gardens, I fully expect this garden to be a work in progress and I think this first year will be largely experimental. I'm sure there will be things that work better than others. Perhaps the whole concept will be a flop. But hopefully it will be a riotous entry to the yard.
Four paths (created laboriously by me in fall) lead to a center circle and create four sections. Each section will have a small boxwood ball in the center and have three segments that radiate out from it. Each segment will be planted with a single plant. Deciding what should go in each segment was a bit like a Sudoku puzzle. I wanted each section to have a seasonal flowering aspect (such as a flowering perennial or shrub), a foliage element for texture and a flowering annual that should bloom all summer. I wanted a combination of warm and cool colors and I wanted some serious play on texture. And each segment had to play well with the segment next to it and across from it to balance the garden. Complicating the matter is the fact that although this is a smaller garden—about 30 feet long—because of the large trees that line our driveway, part of it is part sun to part shade and the other part is full sun.
There is a budget for this project. Not a specific budget, but I can't run out and buy all new plants just for this. So some of the plants need to be divisions from elsewhere in the garden or grown from seed to make it reasonable.
So here's what I came up with. What you don't see in the diagram is the chive hedge, saved from the previous design of this garden. Each segment will be "outlined" in chives. Although there is no repetition in the plants save for the uniting ties of the boxwood balls and the chive hedges, I'm hoping repetition will come in the form of texture and color rather than actual plants.
Moving clockwise, starting at 12 o'clock, here's what will be in each segment:

'Bobo' hydrangea: I've been hoping to work this diminutive hydrangea into my garden for a few years and I think this is the perfect opportunity. Its fluffy flowers will contrast well with the rest of the plants plants for this segment.
Hakenochloa 'All Gold': This is certainly one of my favorite plants and I'm happy that it likes my yard. When I redesigned the back/side yard a few years ago I used 'All Gold' divisions from another garden there. Now those division have grown enough that I can divide them to fill this bit for free.

'The Alnwick Rose': Ordered from David Austin roses.
Rhubarb: I relocated two rhubarb plants from the old garden and I hope to get several more crowns from my grandmother's garden. I love it for its huge leaves but obviously also for eating. It will take a bit to establish this section so I don't anticipate this part looking great this year.
A white annual: I've shown a low-growing nicotiana here, but I may use a Profusion zinnia or something else.
Dahlia 'Serkan': This is another low grower so I hope to not have to stake it. I love the waterlily-type dahlias and I think the relatively simple form of this flower will contrast well with the multi-petaled rose in the segment next to it.
Egyptian walking onion: I think this plant is one of the most interesting forms there is. I dug out and potted up several of them from the garden last fall and I'm hoping they'll overwinter well. This is a rather experimental choice, but if it works, I think it could be stunning.
Signet marigold 'Lemon Gem': This is one of my must-have flowers that I grow from seed. It blooms like crazy, smells delicious and has the most lovely small textured leaves and flowers. The flowers are edible as well.
Other plants that will play a role in the garden are the two clematis in the center circle—'Venosa Violacea', planted last year and 'Avant Garde', which I randomly ordered Sunday morning after seeing a photo of it. Around the outside of the inner circle, I'm envisioning a ring of lime thyme, which is a lovely groundcover that looks better than it tastes, in my experience. And then I'd need a more upright but still low annual inside of that to hide the ankles of the clematis. Of course, the chives (upper right corner) are a factor and I think I'll probably go with 'Green Gem' boxwood for the centers of each section.