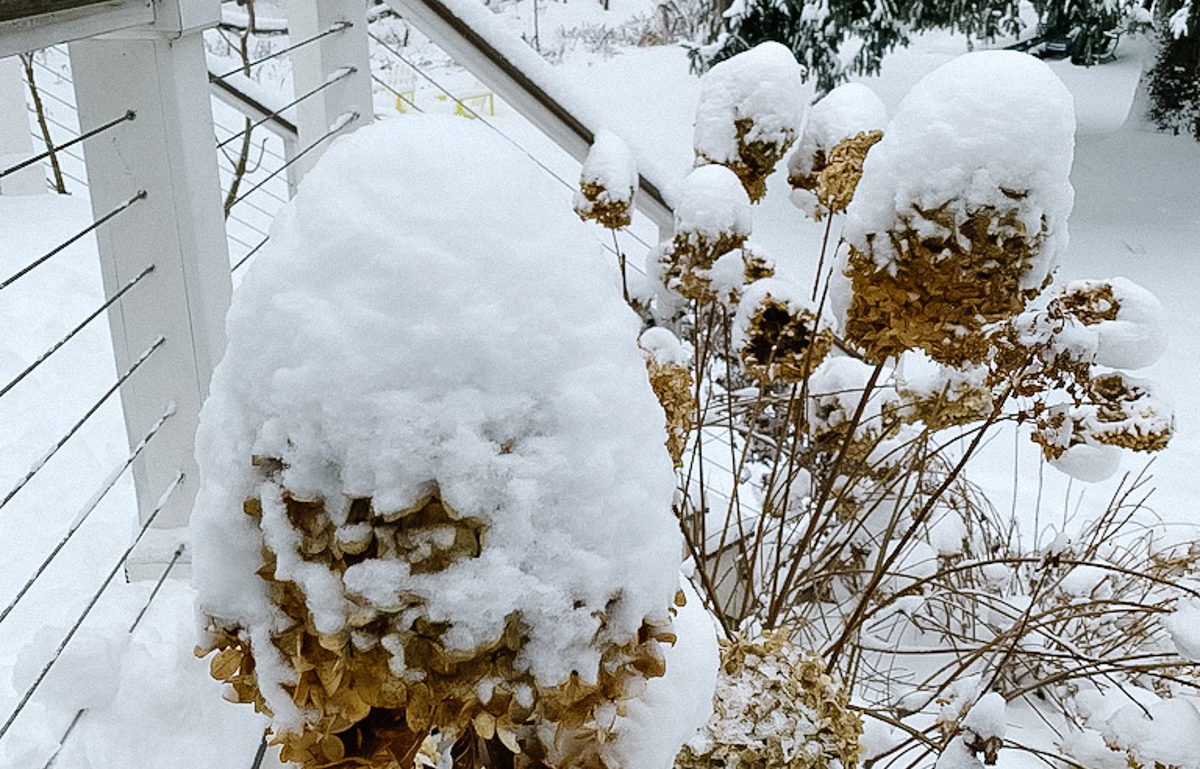 Winter has arrived. Cue the griping.
I know I complain about the weather somewhat frequently, but as I've explained before, that's pretty much my birthright as born Midwesterner. Winter (and whatever spring we have) in Wisconsin can be so boring that we literally can't think of anything else to talk about. So a lot of conversations that go like this:
Person 1: "Hey there! Are you managing to stay warm?"
Person 2: "Tryin'. Can you believe how cold it is?"
Person 1: "I know! And we're going to get snow too."
Person 2: "Can't wait until spring."
Person 1: "Yep. OK, well stay."
So to sum up: Winter is cold and gray and often slippery, snowy, wet or all of the above.
The last time I went downhill skiing was the day before I had my first knee surgery more than a couple decades ago, so I don't have a lot of winter outdoor hobbies to look forward to. From a personal standpoint, snow is a drag. From the gardener's standpoint it's a blessing.
And never before have I wished for more of that blessing. Like much of the country, we're in the middle of another extreme winter. In the last week the low at our house was -17 degrees. That's Fahrenheit. The forecast suggests it will be colder than that in the middle of this week and the long-range forecast shows little relent from extreme temperatures.
I live in zone 5, and technically zone 5b, which is supposed to be the warmer end of that zone 5 range. Zone 5 is temperatures down to -20. 
In other words, we are dipping precariously close to temperatures that are very dangerous to most of the plants of my garden. And other than just crossing my fingers, there is only one other thing that will help at this point.
Snow.
That fluffy white stuff (at least I hope it's fluffy, because the only thing that stinks more than a big snowfall is a big, wet snowfall) is the best insulator there is. According to this site, a foot of snow provides as much insulation as a wall filled with fiberglass insulation.
I have no idea how that translates to actual temperature, but I know it will help keep the roots of my plants protected, and that's the most important bit.
Last winter wreaked havoc on my garden, leading to more plant losses than I've ever experienced in a single year. I blame very warm temperatures in early winter followed by a cold blast for that. Had there been some snow on the ground (I don't recall really having much until very late winter) plants would have been protected from both of those extremes.
By the time you read this post it's likely we'll be in the middle of a very large snowfall, possibly up to 15 inches over 12 hours or so. With the foot or so of snow we already have on the ground, the plant insulation is adding up.
So even though I'm dreading the snow clearing and terrible driving conditions that will follow I say let it snow, and let it snow a lot.