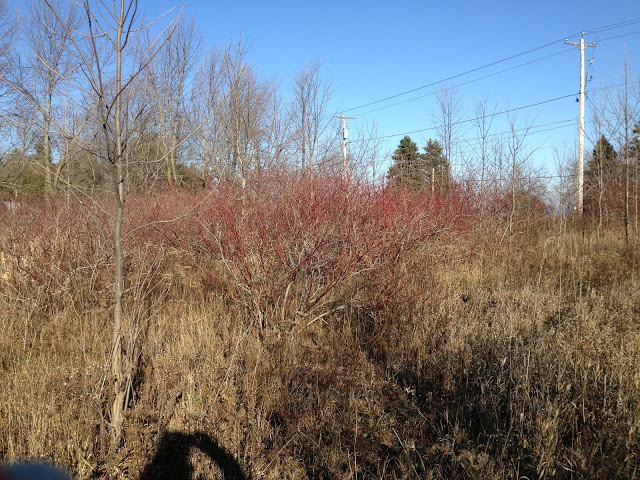 I can't tell you how thankful I am that because of the early Thanksgiving this year we have an extra weekend thrown in before Christmas. It takes so much pressure off.
The rest of the world, though, seems to be full-on into Christmas prep mode. Shopping, baking, decorating and lighting up their houses like crazy. I can't tell you how many fresh Christmas trees I saw strapped to the tops of cars this weekend. How in the world do people keep fresh trees in their house so long? Of course, I'm a pretty poor tree waterer so my trees don't last long anyway.
While everyone else was taking advantage of weekend sales, this is where I was: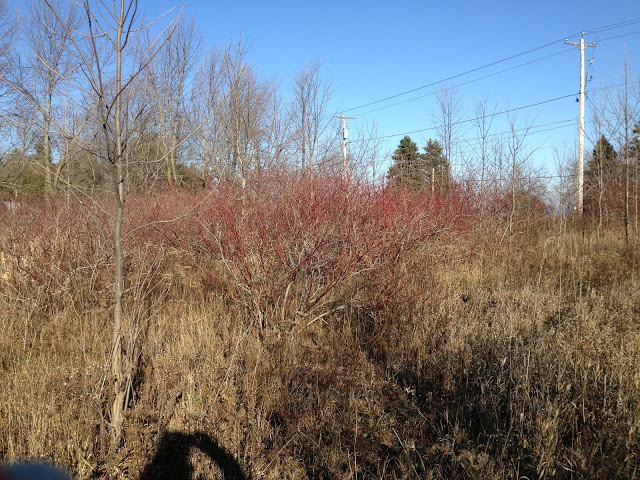 Do you see what I see? Red twig dogwood, my friends. I was traipsing through this overgrown field near my parents' house in search of red twigs. It's getting harder and harder to find them as the field is being taken over by other weedy invasives and ash trees, but with enough looking I can scrounge up enough branches to fill my outdoor containers and the container at work. It pains me to have to pay for dogwood twigs at the nurseries, even though theirs are from dogwood farms and are usually redder and straighter.
I've lost entire piles of cut dogwood in that field by leaving them somewhere and planning to come back to get them only to have them seemingly vanish. This year I left them at the base of the biggest tree in the field so I wouldn't lose them while I was off trimming more.
I used to just stick the branches directly into the soil of my containers but I've learned that they look much better when you bundle them first so I've been wiring them together before putting them in. For the bigger containers, I take a page from Deborah Silver's playbook and wire them to a bamboo or other pole that I plunge deep into the container making the branches much more stable.
I'm now on a hunt for greens to fill my containers, and I've been pretty unsuccesful. I can always find cedar branches, but there are no pines or firs with good branches for filling containers growing in my yard, so I have to supplement my containers with some purchased materials. It's been so hard to find good evergreen boughs this year that I'm contemplating buying a cheap tree at Home Depot just to cut apart into boughs.
Decorating the outside and putting together my holiday containers is by far my favorite decorating of the season, even if it numbs the fingers and toes a bit. All the better to enjoy a hot cup of tea in front of the fire.