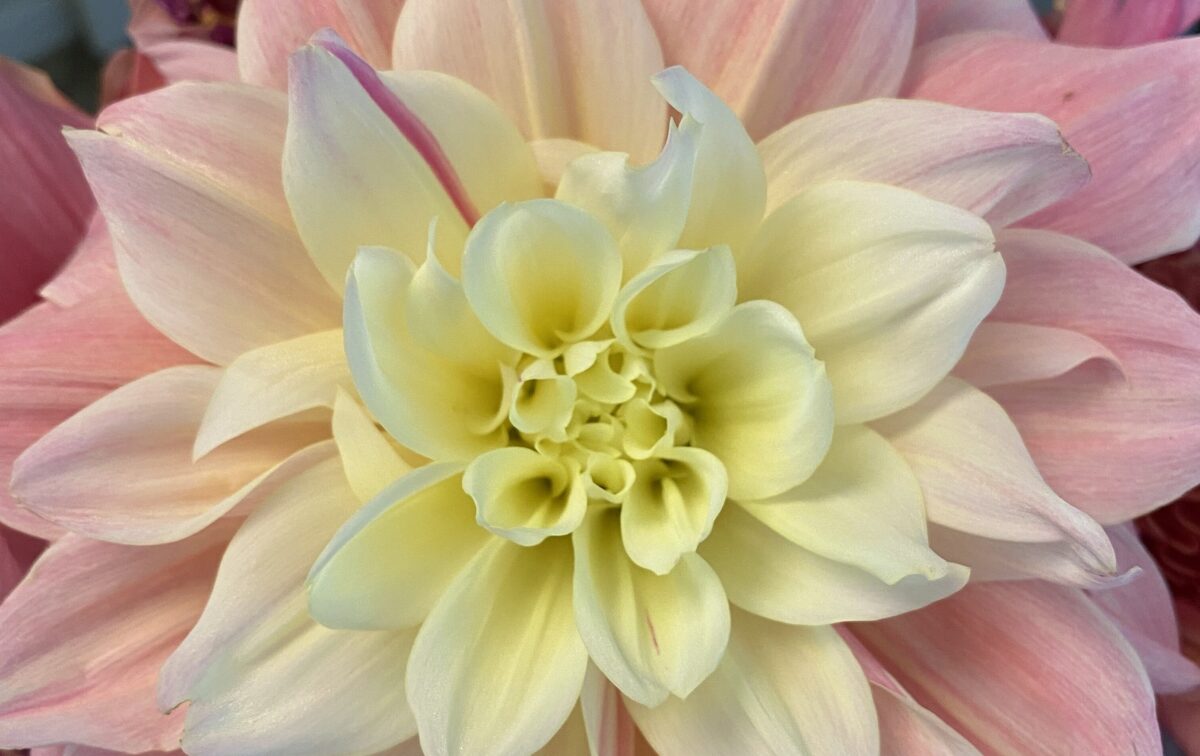 Hello flower lovers! I'm partnering with Longfield Gardens on this post, but you know the drill: all words and dahlia obsessions are my own.
We interrupt your regularly scheduled holiday activities to talk about something that is, dare I say, even more important. And if you know me, you probably know that the only thing that could tear me away from my Christmas cookies is dahlias. 
I know it seems impossibly early to be thinking about dahlias but specific varieties  sell out quickly and take it from one who knows, there is nothing worse than needing a specific dahlia (and it is a need) and not being able to find it.
I fully recognize that not every gardener is quite as insane as I am about dahlias, so I thought it might be helpful to offer a few suggestion for a variety of dahlia "starter kits" that might be helpful for gardeners who want to give dahlias a try without turning into some kind of dahlia maniac (like, um, me). 
All of these dahlias can be found at Longfield Gardens, which is where I start my dahlia shopping. (Longfield Gardens is sponsoring this post, but I was a customer long before I connected with them professionally.)
BIG AND BOLD
Ask someone to picture a dahlia and my guess is that a big dinnerplate variety is what comes to mind. So if you're after the quintessential dahlia experience, go big or go home. 
Remember, however, that big-flowering varieties are needy buggers, more so than any other dahlia, in my experience. You can't skimp on the sun, staking or regular watering. I grow these big varieties in a south-facing bed alongside the house, so they are protected from the wind fully on one side, but I still employ a serious staking system.
I'd kick off this group with 'Breakout' for its easy-going nature. It's free-flowering and goes with almost any other dahlia with the exception of a bright orange variety. A perennial favorite of mine is 'Penhill Dark Monarch', which can do a bit of color changing, but generally falls in the medium pink arena. And I'd round out the grouping with deep, rich 'Thomas Edison'.
Feel free to swap out any of those for the absolutely astounding 'Penhill Watermelon' which blew me away last year.
MASS-PLANTING MASTERS
When I mass plant dahlias, my go-to varieties are usually ball types because the form just lends itself to looking bountiful. And most ball dahlias seem to be generous with bloom production. I like to look for varieties that grow a little shorter (30 inches is my sweet spot, but I'll push it to 36 inches tall if I have to), and I prefer those that keep their centers closed a bit more.
Forced to choose, I'd start with 'Jowey Mirella', a deep, dark, sultry number I grew for the first time last year and it just produced like crazy. Then I'd add in  'Linda's Baby', which is just perfect in every way, and 'Petra's Wedding', because you wouldn't believe how often a white ball dahlia would come in handy when making an arrangement. 'Maarn' is a particular favorite of mine as well, but its true orange color doesn't go well with my other choices in this category.
MID-RANGE MASTERPIECES
I think of these dahlias as some of the best there are, but they defy common dahlia definitions. All of these would work really well planted in a perennial or annual garden bed because to me they say "flower" more than they say "dahlia."
There are two varieties that are no brainers here including 'Labyrinth', a dahlia that fell utterly head over heels in love with two years ago. The shine is off that love just a bit only because my eye is always caught by the newest girl in the garden, but I'll always have it. It has bigger flowers and I grow it with the dinnerplates, but it's extremely floriferous.
The next no-brainer is 'David Howard', which I think should be in contention for the best dahlia … ever. It has lovely orange flowers with just a tinge of rust, but best of all, beautiful dark foliage. The contrast is striking. 
Choosing a third variety for this group is nearly impossible because there are so many good options, but forced to choose, I'd pick 'American Dawn' because it has the most lovely color combo. I found that it works with so many other flowers in a vase or in the garden.
POLLINATOR-FRIENDLY PICKS
Dahlias are not typically thought of as great flowers for pollinators but if you choose varieties with fewer petals and open centers, they are a big hit with bees and butterflies. The single dahlias I grow are among the most often visited flowers in the garden. But steel yourself a little, because if you're new to dahlias you might not even recognize these as dahlias. They are, and they are quickly becoming some of my favorites.
There is no way that 'HS Date' wouldn't be a the top of this list and you probably new that if you've been following my dahlia story for any amount of time. Gorgeous flowers that hold so well in a vase, pollinator magnets and oh, did I mention that it has almost black foliage that is mind blowing? Yeah, it's that good. 
Next up I'd pick 'HS Flame', which is one of the only red flowers I truly love in my garden. It has that same dark foliage and the addition of a yellow center. My last pick in this group would be a collarette type, which I'm just personally starting to get into. 'Kelsey Annie Joy' is all pinks and peaches and really what's not to love?
PERFECT FOR CONTAINERS
A lot of people choose to grow dahlias in containers either because it's the only place they can grow them or because, well, they want some fabulous dahlias all front and center. This requires careful selection. Big dinnerplate varieties are probably not the best choice because 1. They will be even taller and require more staking in container that brings them up off the ground, 2. They typically start blooming later in the season so that's a long time with a container missing a star, and 3. See the mention earlier about them being extra needy.
So what you're looking for is one that is a reasonable size, puts out a lot of blooms and starts blooming early in the summer. I give bonus points for interesting foliage because I think that's even more important in a container.
So, forgive me for being repetitive here, but I go back to 'HS Date'. As long as you dead-head the spent flowers regularly (every few days, please), it will keep putting out new flowers. 
But I also think you should look at the Gallery series of dahlias, which is really perfect for containers. Not only are they short—between 12 and 18 inches tall—they bloom all season and keep producing flowers. 
You really can't go wrong with any of them so I say pick the color you like best but 'Gallery Art Deco' is a longtime favorite of mine and I think that 'Gallery Bellini' packs a big punch in a small package. If you don't want to grow these in containers, plunk them at the front of the border and they won't let you down.
WHITE WONDER
White gardens are experiencing a bit of a moment, and I think that so long as they are in sun, dahlias can be a major player in them. Look for texture and form differences to make a great combo here. I don't grow nearly enough white dahlias but if I were, I'd do a combo of ''Fleurel', 'White Onesta' and 'Tsuki Yori No Shisha'. The first is a classic dinnerplate, the second is a charming waterlily type (or close to it) and third is a wild fluffy number unlike anything else you'll grow.
(Sidenote: I chose those three and then went back and realized that Longfield Gardens has those as a combo, so you can save a bit of money buying them that way.)
THE CLASSICS
Let's say you want the dahlias. The ones that everyone talks about. These are the ones you want, and this group starts with the queen of the dahlia prom: 'Cafe au Lait'. You know it, you love it (Fun fact: It is actually illegal in 30 states not to love 'Café au Lait'). But it's popular for a reason. Its color changes throughout the season so embrace those changes. Next up is 'Kelvin Floodlight', a giant yellow that I haven't grown but if I had a dollar for every time someone told me I should grow it, I'd have a lot more money for dahlias. 
And I think I'm going to put 'Rip City' in this last slot as one of the most popular dark dahlias and a great grower. 
So that's my guide to choosing dahlias based on your need, but if you're into cutting your flowers, I highly recommend you check out the Flirty Fleurs collections at Longfield for an idea of how different varieties can come together in arrangements. They are so inspirational.
OK, so what dahlias are you picking up this year?